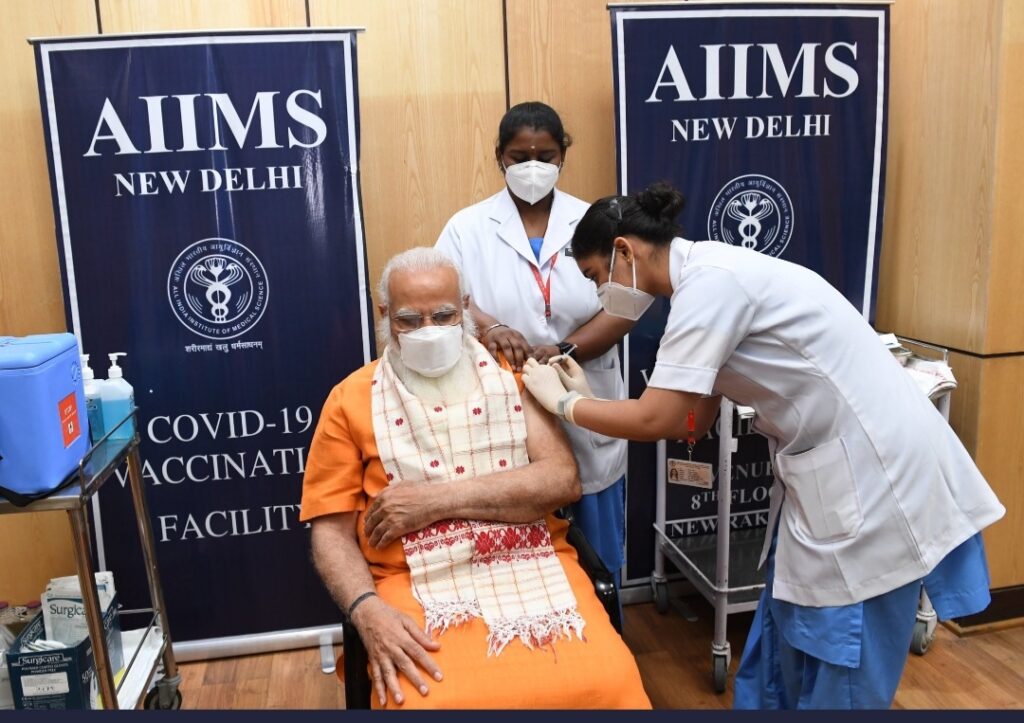 New Delhi, 8th April 2021:  Prime Minister Modi on Thursday took a second jab of COVID-19 vaccine at AIIMS, Delhi, and asked others to take it soon to defeat the virus. He had taken his first jab on March 1 at the hospital.
He also posted a picture of him receiving the jab. Modi has taken, Covaxin India's homegrown vaccine developed by Bharat Biotech.
After taking the second dose of the vaccine, PM Modi himself tweeted and informed about it. Along with this, he appealed to the people to get the vaccine by registering on the Co-Win app as vaccination is one of the few ways through which the virus can be defeated.
The PM also shared a link to the CoWin website, a portal to register for the vaccine. "Register on http://CoWin.gov.in," tweeted PM Modi.
https://twitter.com/narendramodi/status/1379974475278557187
According to the news, the second dose of the Covid vaccine was given to PM Narendra Modi by Nurse Nisha Sharma from Punjab.  However Puducherry's nurse P. Niveda was also present with him during this time.
The two nurses who administered the Covid-19 vaccine to PM Modi on Thursday are P Niveda from Puducherry and Nisha Sharma from Punjab. P Niveda was also involved in administering him the first dose. Nisha Sharma said, "I have given the second dose of covaxin to our Prime Minister Narendra Modi today. He spoke to us. It was a memorable moment for me as I got to meet him and vaccinate him." 
Follow Punekar News: