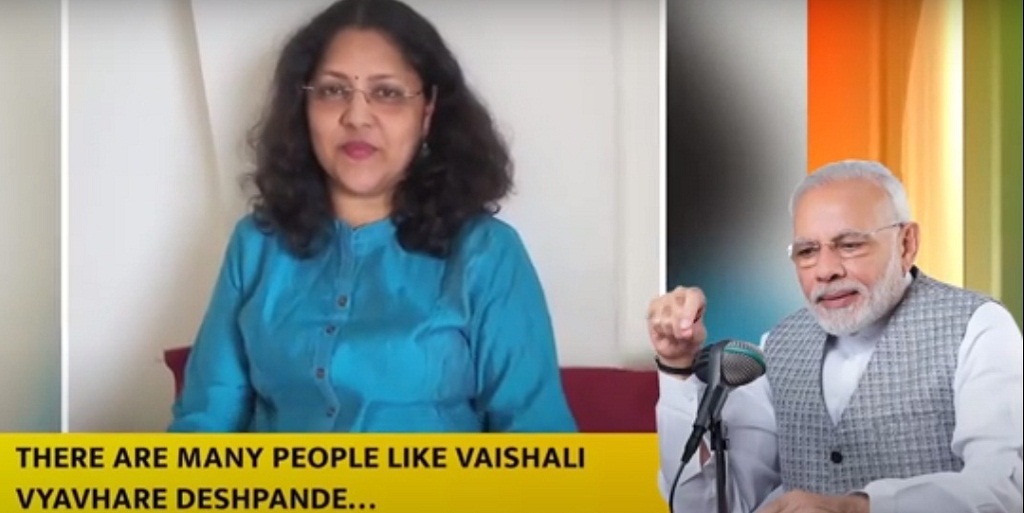 Mrunal Jadhav
Pune, September 28, 2020: Pune-based Vaishali Vyavahare-Deshpande, a well-known author who has been working on the psychological development of children in municipal schools for the last two years, was accoladed by the Prime Minister Narendra Modi in his 'Mann ki Baat' show on Sunday. In order to continue education unhindered during the Lockdown, Vaishali had started a YouTube channel. Her effort was recognised by PM and praised her for enabling 'uninterrupted flow of knowledge'.
The study of psychology holds an important place, especially in today's stressful times. Vaishali has been teaching this subject with spontaneity to students of municipal schools studying from Std I to X.
Vaishali said "we started this project/a movement two years ago and named it 'Asmi'. I am a writer and psychology is my favourite subject. My mother (Dr Kalpana Vyavahare) had donated her house?, using this money we had started Project Asmi for this foundation."
Adding to this Vaishali said that the project aims at the emotional and mental development of young children. For this, they formed a team of psychologists. "By going to the schools of the municipality, slums and befriending children there, we developed a system to teach them interestingly," she said. Her team prepared the syllabus and taught this subject by fortnightly visiting the schools for a duration of 1 hour.
"We visited 22 schools in Pune. Every 15 days children were eagerly waiting for us to come to their school, which was our first step towards success," Vaishali said. "All these activities boosted the confidence of the children and also developed their personality. However due to Coronavirus infection lockdown was imposed across the country, but we decided to keep continuing this activity," she added.
"Then we changed the nature of this initiative. We started a YouTube channel called Asmi Gammat Katta. We have completed its 15 episodes. We tell a 5-minute story to children that they will love and then ask to do an activity. The parents tell us children do this activity enthusiastically," said Vaishali.