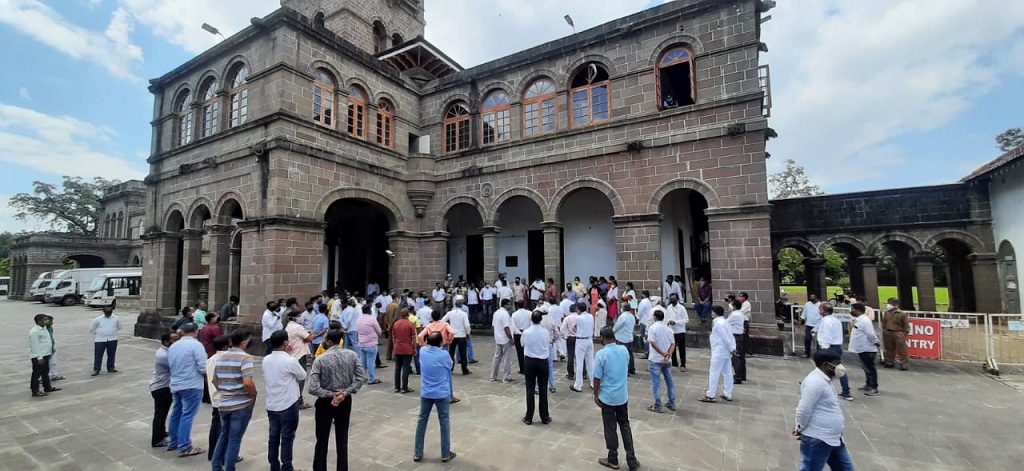 Pune, September 28, 2020: The indefinite strike called by the non-teaching staff members of Savitribai Phule Pune University (SPPU) has put a pause on university functions, worrying the administration as the final year examinations are also around the corner. The non-teaching staff members have been on strike since Thursday. 
The agitation by the university officers has brought the operations at the varsity to a standstill. Hence to resolve the issues of the members at the state universities, the Maharashtra education minister Uday Samant held an online conference along with the representatives of the non-teaching staff members association on Monday. After discussing all the pending demands of the members, the minister requested to call-off the protests for the sake of students. However, the agitated non-teaching staff members gathered in front of the SPPU main building continued their protest.
What are their demands?
Implement 7th pay commission for staff and officers of all 13 state universities in Maharashtra.

Fill vacant positions in University and its affiliated colleges

Start 5-days a week operation in universities
These are few among the list of demands the staff members have held in front of the state education minister.
Pune university's non-teaching staff member action committee's vice-president Sunil Dhiware said, "we have discussed all the demands with the minister. We are likely to receive a written assurance from the directorate of higher education. After which the pointers will be discussed amongst the members and a decision on whether to call off the strike or not will be taken then. This will take at least two days. Until then we are not stepping back– will continue the strike here."
"We concluded a meeting on pending demands of non-teaching staff members of state universities and their affiliated colleges. The state government is positively considering their demands, therefore, there will be no purpose to hold a strike any further. So have requested the members to call off their strike and resume work for students' welfare," said Samant.