Prime Minister Shri Narendra Modi Kickstarts 12th South Asian Games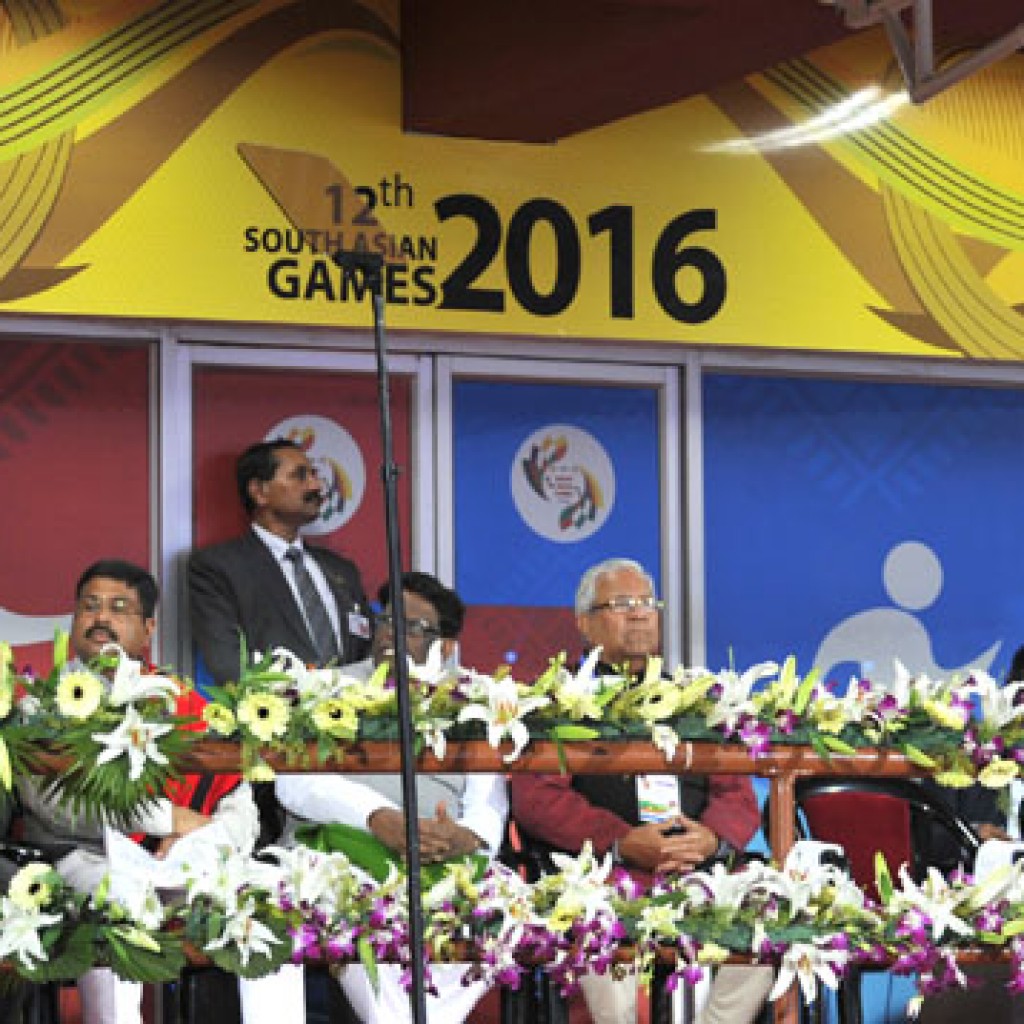 The Prime Minister Shri Narendra Modi today inaugurated the South Asian Games at Guwahati, Assam in a glittering ceremony in the presence of a galaxy of national and international dignitaries including Chief Minister of Assam Shri Tarun Gogoi and Union Minister of State (I/C) Shri Sarbananda Sonowal. A colorful March- Past by players of participating countries enthralled the audience.
The events related to South Asian Games are to be held in Guwahati & Shillong till 16-Feb-2016.This is the biggest sporting extravaganza ever held in the North East India. and the 1st ever gender equal South Asian Games with men & women participation in all the sports. For conduct of the games an organizing committee has been set up under the Chairmanship of Shri Sarbananda Sonowal, Minister of State for Youth Affairs & Sports (I/C) Government of India and Shri N. Ramachandran President Indian Olympic Association as co – chairman.
SAARC nations namely Afghanistan, Bangladesh, Bhutan, India, Maldives, Nepal, Pakistan and Sri Lanka are participating in the games. SAARC is a platform for the people of South Asia to work together in a spirit of friendship, trust and understanding so as to achieve lasting peace and prosperity of its member nations. South Asian Games play a vital role in achieving this objective.
228 events in 23 Sports disciplines will be played during the games. Total No. of medals for medal tally – 228 Gold, 228 Silver and 308 Bronze medals. 16 Sports Disciplines will be played at Guwahati – Athletics, Basketball, Volleyball, Swimming, Triathlon, Hockey, Weightlifting, Wrestling, Squash, Shooting, Kho Kho, Kabaddi, Handball, Cycling and Tennis. 7 Sports Disciplines will be played at Shillong – Archery, Badminton, Boxing, Judo, Table Tennis, Taekwondo, Wushu. Men Football will be played at Guwahati and Women football at Shillong.
Games logo symbolizes peace, progress & prosperity in the region. It consists of 8 petals representing the 8 countries participating in the Games. Colors of petals are from the flags of the 8 countries. Mascot "TIKHOR" a Baby rhino is Sharp, Naughty, Sporty & Modern. He is a Motivator, friend and messenger of peace, progress & prosperity. The theme song is 'Ei Prithibi Ekhon Krirangon, Krira Hol Shantir Prangon' sung by the world famous musician late Dr. Bhupen Hazarika. It means that the whole world is a playground and sports is a symbol of peace. The song is being translated in official languages of all SAARC nations and will be sung in each of these languages.