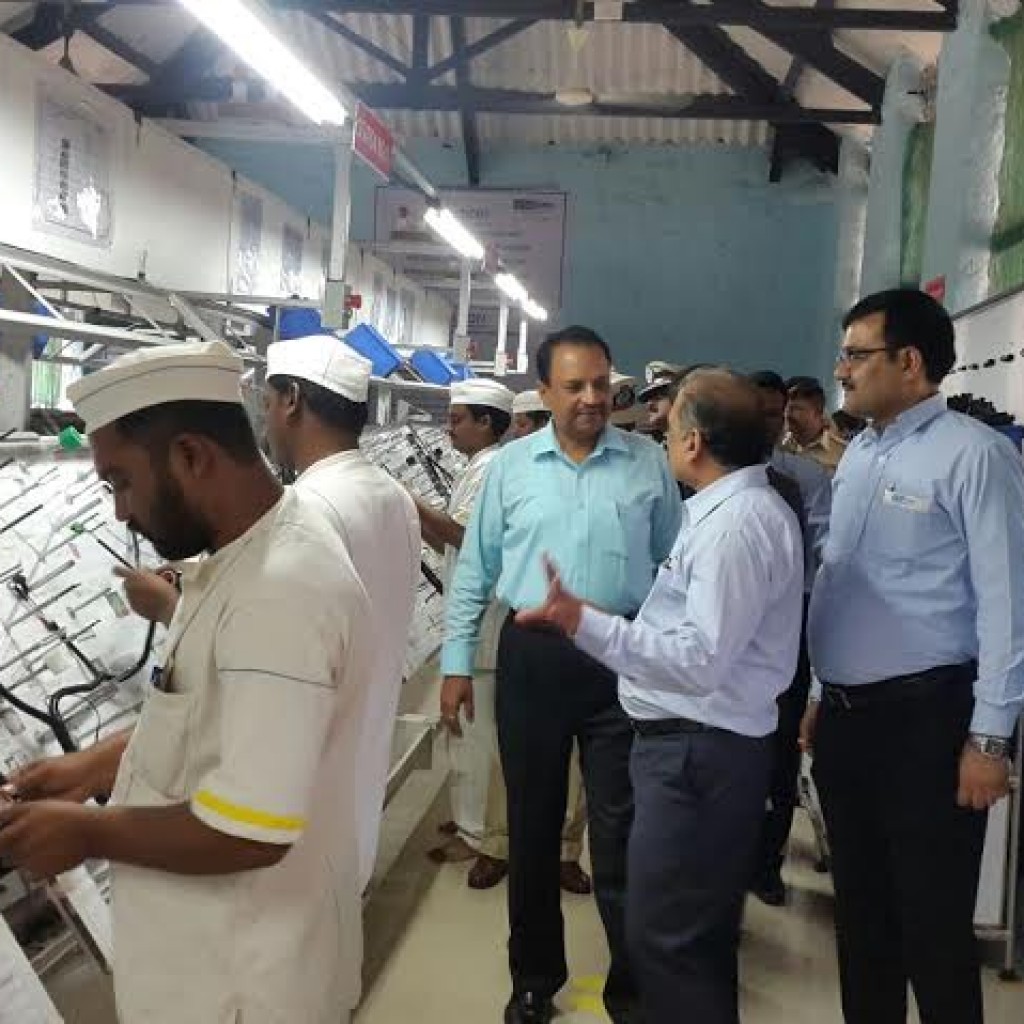 Pune, October 27 : Spark Minda, Ashok Minda Group in their continuous social upliftment programs has now started a new facility at Yerwada Jail, Pune to manufacture Wire Harness within the premises of Jail Authority for its esteemed customer, Mahindra & Mahindra Ltd. This Public – Private Partnership project is a collaborative project between Minda SAI Ltd, Yerwada Central Prison and Mahindra & Mahindra ltd.
Minda SAI Ltd. is a leading manufacturer of broad range of Wiring Harnesses, Battery Cables, Wiring Sets, connectors & terminals and Interior Plastic Components. The Company supplies to each vertical of the automotive world and Off-Road Vehicles.
The project kick started in February 2015, in which Minda SAI Ltd set up a manufacturing assembly and a production unit for the inmates at Yerwada Central Prison (YCP). The Company has engaged around 30 inmates as of now and will be increasing the number in future. The YCP management has whole-heartedly supported Spark Minda, Ashok Minda Group for this socio-business initiative and has provided them an infrastructure on lease in the premises along with other facilities as per norms.
Dr B K Upadhyay, the additional director general of police and head of Maharashtra prison department, said, "Nobody is a born criminal but it's the circumstances which makes him commit a crime for which he has to spend years in jail. Our aim is to reform and rehabilitate them. Therefore we are collaborating with private companies to set up plants in jails which will help prisoners develop their skills. By the time they will complete their prison term, they will become experts in their field and will be issued a certificate also, which will help them get job and lead a decent life."
Upadhyay announced that a similar plant will be set up in Nagpur central jail also.
YCP factory manager Pradip Jagtap said, "The facility is spread over 2,000 sq ft. "After production we get Rs 200 per unit, of which the prisoner gets Rs 55 and remaining goes into welfare fund and government treasury. Everyday about 80 units are being produced."
Spark Minda, Ashok Minda Group investment at Yerwada Jail includes machinery, raw material and other quality systems and procedures as per the policy and the facility is being run by Jail convicts under the supervision of Minda SAI officials. In this manufacturing unit, Wire Harness product, a key automotive component, will be manufactured by the Jail convicts and will be supplied to our Key Customer M&M. An MOU was signed between Yerwada Jail and Minda SAI on Feb 07, 2015 and production commenced in last week of Feb'15.
Upadhyay added, "It is an important day for us as Yerwada Central Prison has got the unique distinction of becoming the first jail in Maharashtra to get first of its kind modern wiring harness assembly unit at its premises. Reformation and Rehabilitation of prisoners has always been our core focus area and we undertake various activities to develop skill sets of the inmates. This Wiring Harness Assembly unit set up by Minda SAI Ltd, a business group company of Spark Minda, Ashok Minda Group, and supported by Mahindra and Mahindra will go a long way in providing the perfect platform to enhance the skill sets of the inmates and enable them to earn their livelihood."
Speaking on the occasion Mr. N.K Taneja, Group Chief Marketing Officer, Spark Minda, Ashok Minda Group said "It is imperative that for bringing an effective change in the society, every section that belongs to it is thought and taken care of. We, at Spark Minda, Ashok Minda Group had consciously decided to encourage the change in the inmate's lives and this is our 3rd initiative that we set up at Yerwada Jail after Tihar Jail in 2004, New Delhi and Dresden Jail, Germany in 2005. The YCP authorities have been very cooperative and encouraging in providing the necessary approvals for the venture. We are pleased to get this opportunity and we also sincerely thank M&M for their support for this noble cause. We just hope that our small fervor to help these inmates change their outlook towards life and give them a chance to carry further respectably and will render the outcome that we wish for. Also, we have, through this venture, tried to contribute in our way to the Skill Development mission of the government."
As the joint partner in the initiative Mahindra & Mahindra, Vice President –SSBU, Mr Nitin Tikle said, "Mahindra is very happy with this initiative of Spark Minda, Ashok Minda Group. It is in line with Mahindra's Rise philosophy of Driving Positive Change in the lives of our stake holders. We will continue to support this initiative and we wish them all the best in their venture."
The Quality check within the jail authority is also given a very special standpoint; the Company has placed checker board for 100% inspection of the product and Circuit checking and Visual inspection of harness for final inspection before dispatch from YCP unit to M&M. These check points cross check the quality of each and every product in the same way as it is done in the official production unit of the company.
Just to keep the quality level of the product excellent, the company also conducts preliminary test and inspection by Doctors for color blindness test, which is must for operators to work in wiring harness manufacturing. This product is then supplied to M&M for further assembling in their Utility vehicles.
Minda SAI has two weeks of Induction training program for the new operator; same is implemented for the inmates. All inmates have to go through On Job Training and continual supervision by the Minda SAI representative for 2 months. These training sessions help inmates in recognizing their caliber and then the training certificate is also given by the company, which will help them to acquire job outside the YCP.
To ensure the discipline of Jail, the raw material entry and the dispatch of finished product has been kept under the control of Minda SAI for smooth execution of work. To facilitate this entire process, few employees are fully deployed at the Jail; thus smoothing up the complete coordination and assuring Quality process. The Management team also visits this unit on a frequent basis to ensure the system & policy deployment in accordance to the Company's requirement.
‪#‎YerwadaJail‬ ‪#‎Prisoners‬ Minda SAI Ltd ‪#‎Skills‬ ‪#‎Inmates‬‪#‎Automobile‬ Mahindra & Mahindra Limited ‪#‎wiring‬ ‪#‎harnesses‬‪#‎vehicles‬