Producer & Actor Shantanu Bhamare Receives Legend Dadasaheb Phalke Award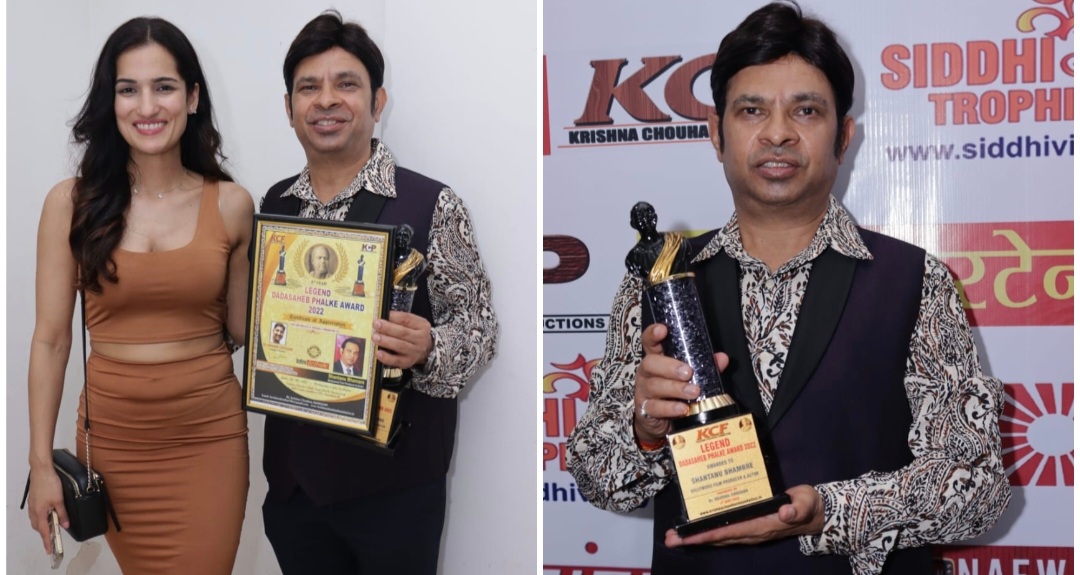 Pune, 6th May 2022: Producer & Actor Shantanu Bhamare Received Legend Dadasaheb Phalke Award in 3rd Legend Dadasaheb Phalke Award 2022 by Krishna Chouhan Foundation at Mayor's Hall, Andheri(W), Mumbai by hands of Anil Nagrath (Actor & IMPPA Secretary), ACP Bajirao Mahajan and Tinu Verma (Action Director).
Bhamare was accompanied by gorgeous Suhani Sodhi, Miss India Europe 2nd Runner up who hails from Germany. With help of Bhamare, she is trying to get a break in the Bollywood film industry. For the same reason, she accompanied Shantanu Bhamare so that she can meet people from the Bollywood Industry.
Also Read Is it too late to be an IITian / Top Doctor?
Prior to this Award, Shantanu Bhamare got an International Award in Leadership which he got in Denver, USA. He is also Awarded Rajshree Shahu Samaj Ratana (Social Diamond) Puraskar (Award) for his significant contribution to Information Technology, Education & Social Work, Best Producer of Maharashtra Award, Awarded By Maharashtra Governor Shri Bhagat Singh Koshyari, Bollywood Legend Award, Shakti Ratna Puraskar (Award), Prestigious Mother Teresa Award and many more awards.
He has done debut in Hindi Feature Film RED. He has played a very significant role of a Jailer in Hindi Feature Film RED against the very famous Kamlesh Sawant who is Drishyam fame. This significant role of a Jailer is portrayed by Shantanu is coming up as the highlight of the film – RED ! Shantanu, being a stage & theatre artist was able to enact this powerful role of a jailer in front of veteran actor Kamlesh Sawant without any retake!
Recently his Romantic Video Song Album 'Teri Aashiqui Mein' was released which is already a super duper hit song of the year 2022. In a short period of time it's very well received by the audience and has got more than 8,25,000 (Eight Lakhs Twenty Five Thousand / 0.825 Million) Organic Views which is commendable.
Album YouTube Link : https://www.youtube.com/watch?v=9up084TmJMU
Other upcoming Hindi Feature Films Projects of Shantanu in which he is going to play a significant role are :
1) Shaque- The Doubt! – Under banner of 'Avanti Arts and Avanti Films'.
2) New York to Haridwar – Under banner of 'Avanti Arts and Avanti Films'.
3) Breaking News – Under banner of Chaikoffee Entertainment / SRR Production and 'Avanti Arts and Avanti Films'.
4) Bhagwa – Under banner of 'SSAN Media & Entertainment'.
5) Sorry Mother Under banner of 'SSAN Media & Entertainment'.
6) Half Satya i.e. Half Truth – Under banner of 'Dowdy Dudes Films Pvt. Ltd.'
He is all up to doing different roles let it be serious ones, romantic ones, comedy ones as he trained and multi-talented actor! Many top production houses/banners are inviting him and welcoming him as an Actor / Producer / Co-Producer in their Upcoming Hindi Feature Films.
It's a way to go for Shantanu and we all praise and appreciate his talent, we all are sure is going to change the outlook of Bollywood!
Shantanu Bhamare is the Sole Proprietor of Shan Se Entertainment, the banner registered under. Indian Motion Pictures Producers' Association (IMPPA).
He has stayed in 30+ countries like USA, Canada, UK, Singapore, Australia, Philippines, Japan, etc.