Pune: 98% waste-pickers continue to work, Citizens felicitate and award these champions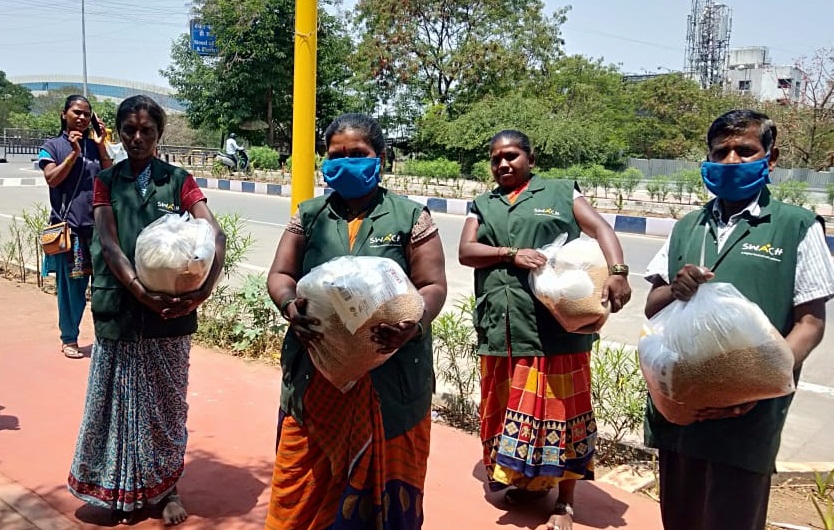 Pune, April 6, 2020: In the middle of the countrywide lockdown –3500 waste-pickers of the Swach Pune Cooperative, authorized by the Pune Municipal Corporation, continue to provide door to door waste collection service across Pune City, at risk to their lives and wellbeing.
Waste-pickers hail from the most socially and economically marginalized sections of society and struggle on a daily basis to earn their living. The Corona Virus pandemic has disrupted life everywhere and while most are worried about how to get food, they can at least pay for it if it is available. For waste pickers who are dependent on waste recycling everyday have no money to pay for their daily needs. Sorting waste could be a health hazard and the scrap dealers are also shut for business leaving no options for waste pickers.
But Pune City, known for its sensitivity to social issues, has seen several citizens and elected representatives step forward and support these brave warriors in this time of need. From rations to cooked meals and personal protective equipment, citizens have tried to support waste-pickers in different ways.
As Rekha Chagan Kuchekar walked into Parijat colony, SUS Pashan road for her daily waste collection rounds, she was greeted by applause from the local residents who were standing on their balconies and doorways. The surprise got even more special as she was handed a garland made with Rs. 100 notes adding up to over 2800 rupees.
This comes at a time when many waste pickers are struggling to recover their wages which are drying up due to the corona virus lock-down. "Many waste-pickers cannot make any money as recycling is also not happening and we cannot pay for our day to day groceries", she says, "But when our work is valued we are encouraged to do better with renewed vigour. The applause is something that will
resonate in my ears longs after the fear of Corona has vanished. That the residents, of their own volition, helped in such a concrete way is something I will cherish".
Arvind Mudalik, one of the citizens who took the lead in felicitating Rekha says, "We see her working day in day out. And when we are so afraid to even step out of our homes, she is going to hundreds and ensuring our daily waste is taken care of. We just wanted to express our appreciation. She is the real hero of our society, and I wish more citizens would ensure that their waste-pickers are taken care of
in these trying times."
Natraj Society, in Kothrud, chose to commemorate their waste-picker, Mahadev Dhawne and other sanitation workers in their areas by issueing a notice to all their members and a certificate to Mahadev.
"A little compassion from everyone will go a long way," says Suman More, chairperson of the board of SWaCH. "However those working in slums have in fact had to be compassionate and accommodating themselves as they continue to work despite not getting even their rightful dues. The residents themselves do not have any work and have not paid for waste collection. We can fight this battle
only if we are supported by the citizens. No battle was ever won on a hungry stomach and we hope we do not have to do so either".
Many citizens have chosen to pay higher user fees, give rations, provide soaps,
and access to hand washing facilities in their common areas. Not everyone is so fortunate though. Shanta Nana Shendge who has spent most of her lifetime working in waste recycling and earning a living from it, is scared of not having any food to eat. "Waste picking, sorting and recycling is not easy work but it paid for our daily needs and kept food on the table. I have never seen anything like this
and there is nothing to be done. After completing a month's work sincerely we are uncertain of being paid for it, but we continue to work as otherwise the city health and all of us will suffer." says Shanta.
"With shops and hotels also closed down, we have a slightly lighter load from these places, but it also means that we have to wait to be paid our regular fees till they open for business hopefully. Some home-owners have also locked up their homes and gone elsewhere and in some cases and we do not know when they will be back. We need support in the interim and this support from our residents
and leaders helps keep our morale and our kitchen fires burning", says Suman Devidas Jadhav who services some commercial establishments, along with homes.
Various elected representatives have also stepped up to recognize the waste-pickers working in their areas. Some have donated rations, and others have donated food packets and personal protective equipment like masks and gloves. Yet others have requested citizens to cooperate with waste-pickers in their day to day work.
Despite issues linked to public transportation and access to fuel, 98% of the waste-pickers are attending on any given day and waste-collection is being ensured. In case of any issues, citizens can contact the Swach helpline @ 9765999500.
To make contributions of support to SWaCH waste pickers you can call 9765999500 or visit the website www.swachcoop.com for the link.
Attachments area