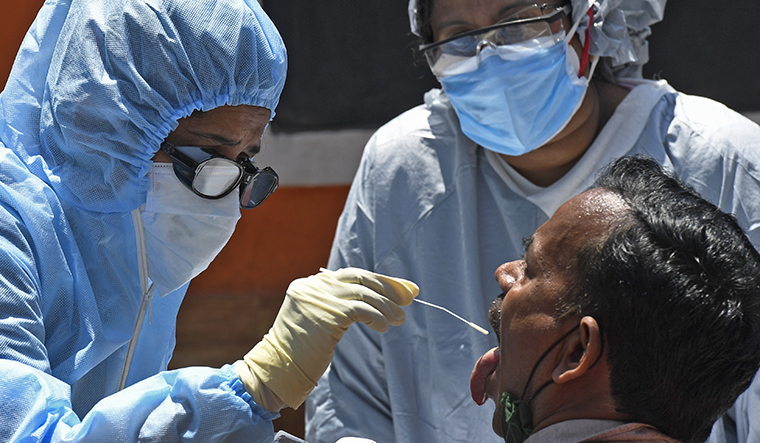 Pune, 29th November 2021: Maratha Chamber of Commerce Industry and Agriculture (MCCIA) backed Pune Platform for Covid-19 Response (PPCR) today organised an interaction with experts and senior officials of Maharashtra State Government and Pune and Pimpri Chinchwad Municipal Corporations and District Administration, in the backdrop of emerging threat due to omicron, the new variant of Coronavirus.
Dr Raman Gangakhedkar, a former Indian Council of Medical Research (ICMR) scientist, stated that this variant has accumulated 50 mutations and has caused a lot of concern. He stated that the number of mutations by itself should not cause panic if the hospitalisations and deaths do not register a substantial jump.
He suggested that we should not look at the increase in infections as a worry but closely monitor the hospitalization and deaths. He mentioned that fully vaccinating a larger number of people is very important. The new variant may reduce the effectiveness of vaccines but those would still be effective. This is evident from the decline that we have observed over the last few months when the vaccination drive has picked up and the number of infections has gone down.
He added that :
1. There is a need to increase the number of people who are fully vaccinated. Then we would be better prepared to deal with the new variant
2. Need to ensure Covid-Appropriate Behaviour among people
3. Unless we have data – we would not be able to suggest that the new variant is very worrisome. However, we need to exercise caution and follow all the prescribed norms. – wear the mask and other Covid appropriate behaviour.
4. There is a need to motivate people to get tested if they observe something abnormal, Contact Tracing, Isolation and other measures to reduce the spread of the new variant
5. After about a week, we will have some more clarity about the infectivity and other data of the new variant
6. In terms of steroids and other prescribed medicines- we should be prepared well
7. For now the variant appears to be stable, with high transmissibility but low virulence which perhaps explains the lack of a surge in hospitalisations and deaths where it was earlier reported
8. There is no clarity on whether the present RT-PCR or Antigen Tests will be able to detect the new variant.
9. We have to be careful while deciding whether to reduce the gap between two doses of vaccines (currently 84 days). He said that reducing the gap may lead to reducing the efficacy of the vaccines and affect the immunity of people.
10. Booster shots should be introduced in India only after sufficient data about the new variant – in effect, the booster shots should be administered only of second-generation vaccines or at least a combination of presently available vaccines.
He thought it is a good thing that India did not start on the booster doses as yet. It is better to wait for sufficient data to emerge before we start administering the booster doses.
MCCIA president Sudhir Mehta stated that there are four important points to consider and act upon :
1. Lot of discussion about which tests will be able to detect infections from the new variant
2. Whether the symptoms will be the same for infections from the variant – as they were for the earlier ones
3. Response to Immunity
4. What is needed to support the Government machinery
5. How do we encourage everyone who is eligible to be fully vaccinated
Pune Divisional Commissioner Saurabh Rao stated that :
1. Even though the new variant is a cause of concern, people should not panic
2. There is no doubt ambiguity about the nature of the variant, but there is absolute certainty about the need for
a. Quick detection
b. Extensive Contact Tracing
c. Timely Testing
d. Quick Treatment
He stated that with the support of partners/stakeholders like PPCR, the hospitals are prepared to tackle a surge in infections to the extent of 100%. However, if the infections go up 5 to 6 times, then we will need to worry. The administration is already preparing the facilities which were designated as Covid Treatment centres, with audits for Oxygen Supply and availability, maintenance of critical equipment etc. Compared to April/May 2021, the medical facilities across Pune Division have added close to 100% capacity in the Oxygen availability in terms of Oxygen Plants / other means of supply. International Experts have trained close to 5000 Doctors and Medical staff of Government Hospitals. Contractual Staff will be redeployed as per the need in the Pune division to deal with a possible increase in Covid patients.
He suggested that the communication with people has to be intensified to instill confidence and also to encourage them to vaccinate themselves as well as come forward for testing in case of flu-like symptoms/possible infections.
He stated that the rate of infections may be high due to the variant. However, it is unlikely to register a huge spike in infections, if we go by the trend we observed after Ganeshotsav and Deepavali celebrations.
Rao stated that the four prominent institutions in Pune – National Chemical Laboratory (NCL), Indian Institute of Science Education and Research (IISER), National Institute of Virology (NIV) and Sassoon Hospital, are engaged in genome sequencing of the variant of the virus.
He stated that the administration will reactivate the Dashboard about bed availability to the fullest extent possible to boost the confidence of people. He hoped that Pune would come out stronger in its fight with the latest variant, based on our earlier experiences with the two waves of infections caused by the coronavirus.