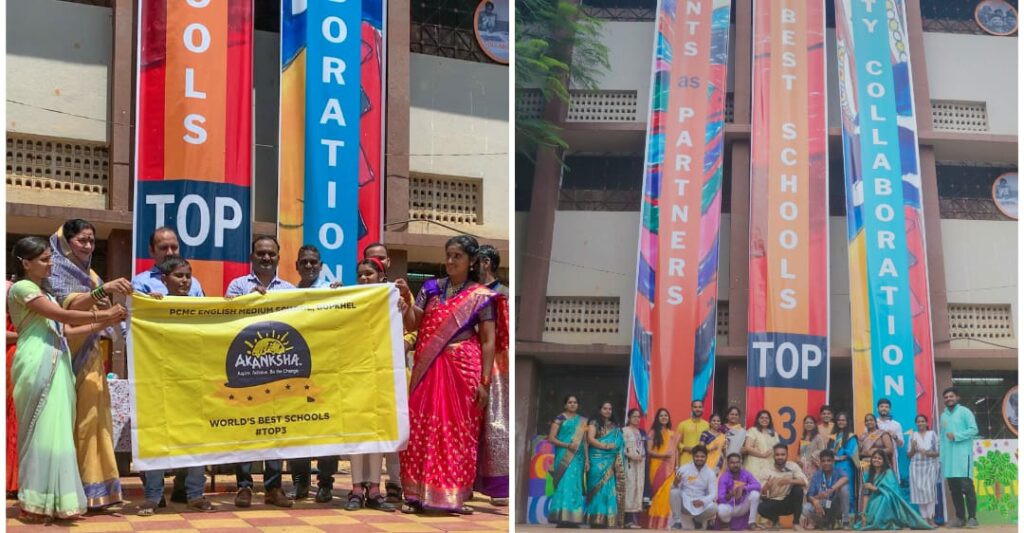 Pune, 22nd September 2022: The Akanksha PCMC English Medium School in Bopkhel, Pune, has been named a Top 3 finalist for the $250,000 World's Best School Prizes, launched this year by the UK-based organization T4 Education in collaboration with Accenture and American Express.
Akanksha PCMC English Medium School, Bopkhel, which has created a cultural dynamic centred on close ties within the community and with parents, is a Top 3 finalist for the World's Best School Prize for Community Collaboration.
With the knowledge that parents have a profound impact on children's ability to learn and absorb information, the school makes home visits to better understand students' home environments and build strong relationships with their parents, instilling in them the importance of education.
PCMC English Medium School, Bopkhel also launched a programme of free medical check-ups in the community and 'Master Chef' style classes were launched that taught families about how to have a healthy and balanced diet.
Saurabh Taneja, CEO of Akanksha Foundation, said "This recognition gives us a wonderful opportunity to share Akanksha's excellent practices on the global stage. This is both a moment of pride and a huge responsibility to keep up our commitment to building high-performing, innovative schools for our students, parents, and communities."
The five World's Best School Prizes – for Community Collaboration, Environmental Action, Innovation, Overcoming Adversity, and Supporting Healthy Lives – celebrate schools everywhere for the pivotal role they play in developing the next generation of learners and for their enormous contribution to society's progress especially in the wake of COVID.
Next steps:
The Top 3 finalists for each of the five World's Best School Prizes will now be entered into a Public Advisory Vote. Members of the public have until October 2 to tell judges who they think should win each prize at worldsbestschool.org/
The Judging Academy, comprising distinguished leaders all across the globe including academics, educators, NGOs, social entrepreneurs, government, civil society, and the private sector, will be presented with the results of the public advisory vote and will assess the finalists  based on rigorous criteria.
The winners will be announced on October 19 2022 at World Education Week. A prize of US$250,000 will be shared equally among the winners of the five Prizes, with each receiving an award of US$50,000.
All shortlisted schools across the five Prizes will share their best practices during events at World Education Week and through School Transformation Toolkits that showcase their "secret sauce" to innovative approaches and step-by-step instructions on how others can replicate their methods to help improve education everywhere.
Join Punekar News Whatsapp Group, Telegram, Instagram And Twitter  For Regular Update about Pune City And Pimpri-Chinchwad
Also Read Political News On Sarkar Khabar