Pune: Amit Shah Dares Maharashtra CM Thackeray To Resign And Challenges Shiv Sena, Congress, NCP To Defeat BJP In Election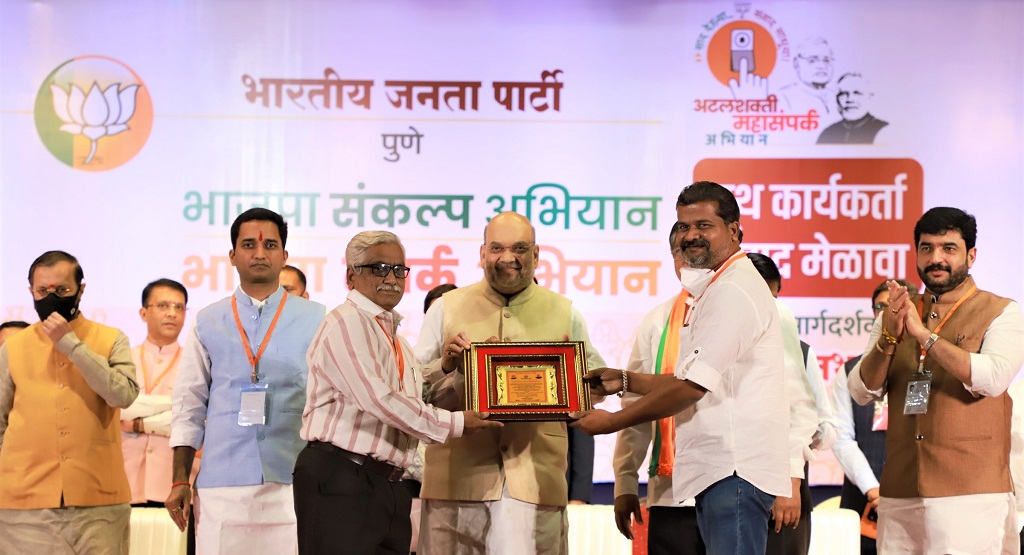 Pune, 19th December 2021: Union Home Minister Amit Shah today strongly targeted the Maha Vikas Aghadi (MVA) government in Maharashtra. Shah also lashed out at Maharashtra Chief Minister and old alliance partner Uddhav Thackeray. 
He said that Uddhav Thackeray compromised with Hindutva for power and betrayed us. Shah described the MVA government as a three-wheeler with punctured wheels. It is not running, it is only spreading pollution.  
"If there is courage, the Chief Minister should resign, the three parties should fight together and defeat the BJP," Shah said. He was speaking during a program of BJP workers.
Speaking on the occasion, Amit Shah said, "Prime Minister Modi created DBT which means 'Direct Benefit Transfer'. Direct supply of aid to the needy. However, Congress, Shiv Sena and NCP came up with a new definition of 'DBT'. Congress is 'D' meaning 'dealer' instead of 'direct', the Shiv Sena is 'B' meaning 'broker' and the Nationalist Congress Party is the one who gets 'cut money in transfer'. We call it Direct Benefit Transfer and they call it business of dealers, brokers and transfers. Tell me what the people of Maharashtra want."
He added, "This is the city of Lokmanya Tilak. Tilak had said, Swarajya is my birthright and I will continue to get it. Shiv Sena says power is my birthright, I will get it anyway. Now they have got Chief Minister post. I would like to say even today if you have the courage, resign and contest the election. BJP workers are ready to fight with both hands. The people of Maharashtra are also ready to take stock. The people of any state will never like this kind of unprincipled politics."  
Talking about price rise, he said, "There was so much talk of inflation. Suddenly, Prime Minister Modi decided that he would reduce the price of petrol and diesel. BJP-ruled states have also reduced the rates. A total of Rs 15 was reduced. However, it seems Mahavikas Aghadi government did not heard about it. Modi had said in his message that the state governments should also reduce the rates. However, they made alcohol cheaper. Petrol, diesel became cheaper by Rs 15 across the country, why not in Maharashtra? You should ask the Uddhav Thackeray government to answer this." 
Shah said, "Chief Minister Thackeray's health is not good. May God give him good health, but even when his health was fine, people used to ask where is the government? In 2019, I had clearly said that the Chief Minister would be from BJP, but he compromised with Hindutva for power." 
महाराष्ट्र के पुणे में भाजपा कार्यकर्ता सम्मेलन में आए बूथ कार्यकर्ताओं के साथ संवाद करते हुए। https://t.co/zblJi0aZdK

— Amit Shah (@AmitShah) December 19, 2021
Shah unveiled a statue of Dr BR Ambedkar at the Pune Municipal Corporation (PMC) headquarters and laid the foundation stone for the memorial of Chhatrapati Shivaji Maharaj. During his speech, he alleged that Congress always humiliated Dr Ambedkar, the architect of the Constitution, during his lifetime and even after his death. 
He said, "The Constitution gives equal rights to all. However, the Congress party did not leave a single opportunity to humiliate Ambedkar ji even after his death. Congress party did not celebrate 'Constitution Day' fearing the legacy of Dr Ambedkar would reach more people. However, Narendra Modi ji became the Prime Minister and the celebration of 'Constitution Day' started."
Join Punekar News Whatsapp Group, Telegram, Instagram And Twitter  For Regular Update about Pune City And Pimpri-Chinchwad