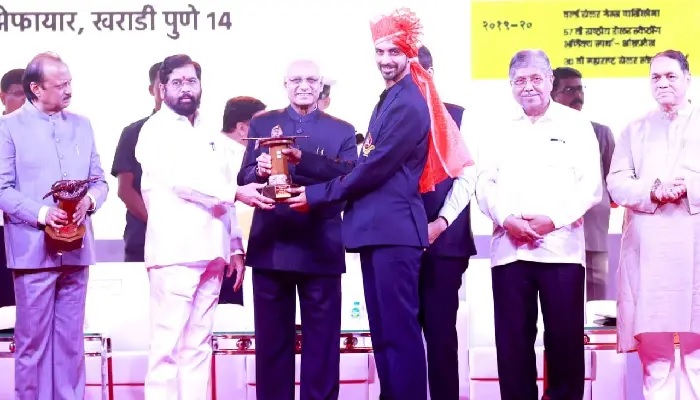 Balewadi, 28th August 2023: The Maharashtra State Government today bestowed the prestigious Shiv Chhatrapati State Sports Awards upon accomplished sportspersons who have exhibited exceptional prowess in the realm of sports. 
Notably, Pune lad Arhant Joshi, son of retired ACP Rajendra Joshi, was recognized for his outstanding contributions in the category of skating. The esteemed accolade was presented by the State's Governor, Ramesh Bais.
The event also served as an occasion to acknowledge the commendable efforts of sports mentors, coaches, and players who have significantly contributed to the field. The ceremony for the distribution of the Shiv Chhatrapati Awards was graced by the presence of dignitaries including Chief Minister Eknath Shinde, Deputy Chief Minister Devendra Fadnavis, Deputy Chief Minister Ajit Pawar, Sports Minister Sanjay Bansode, Pune Guardian Minister Chandrakant Patil, and Dilip Walse Patil.
The 'Shiv Chhatrapati State Sports Award' is a distinguished recognition presented to athletes who have showcased exceptional achievements within the realm of sports. The awards were announced for three consecutive years: 2019-20, 2020-21, and 2021-22. Notably, a total of 28 players from Pune city and district were honored with this distinction. Among them, Arahant Rajendra Joshi was the recipient of the Shiv Chhatrapati Award for the year 2019-20.