Pune Cantonment Organizes Countdown Day Program For 8th International Yoga Day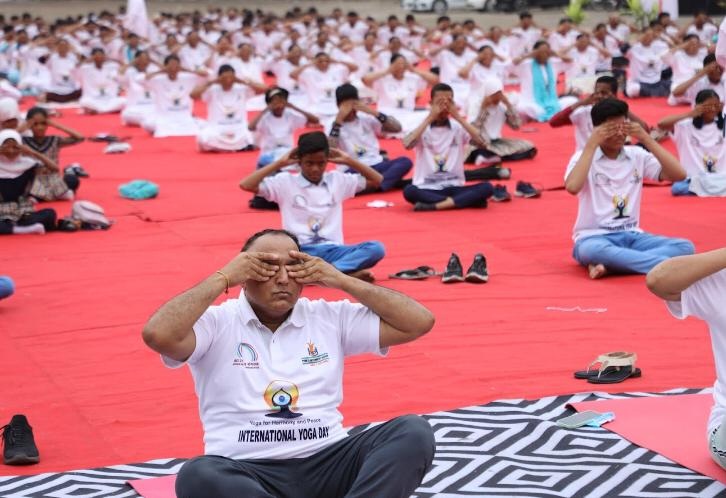 Pune, 20th May 2022: The Ministry of Ayush has allotted each ministry / Department a designated date before June 21 to practice Common Yoga Protocol (CYP) in the morning and also to conduct yoga-related activities in the run-up to the final event on 21.06.2022. Ministry of Defence has been allotted two dates i.e. 19.05.2022 & 30.05.2022 for conducting Yoga Progammes as 75 days countdown to IDY, 2022 (7th April to 21st June 2022).
Pune Cantonment organized the Countdown Day Programme for the 8th International Day of Yoga, 2022 on 19.05.2022 from 7:15 hrs to 8:30 am at GolibarMaidan, Shankarsheth Road, Pune. The Countdown Programme was attended by KJS Chauhan, Principal Director, Defence Estates Southern Command alongwith Directors and Senior Officials and Staff of Directorate, Subrat Pal, CEO, Pune alongwith Staff and School Children of Cantonment Board Pune and CEO, Kirkee alongwith staff & School Children of Cantonment Board, Kirkee. 
Amongst the 08 Cantonment Boards Pune was one of the Cantonments to be connected to Delhi through Webcast. The Raksha Mantri and Raksha Rajya Mantri had graced the event in Delhi. The programme was organized by DGDE on behalf of MoD.
Around 2000 participants participated in the Yoga Session. The Common Yoga Protocol was performed by all the participants under the guidance of Yoga Gurus from AtmaSadhan Yoga Research Institute. As part of the countdown programme, an art/drawing competition was also conducted for the students of the Cantonment Board Schools. The programme was concluded through a prize distribution to the winners of the Art / Drawing Competition.