Pune: CSIR-NCL Organizes ICT Accessibility Awareness Talk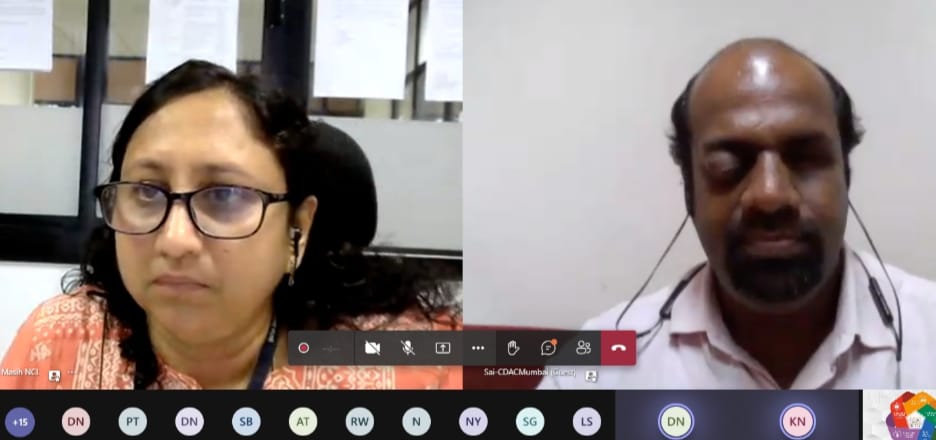 Pune, 14th June 2022: CSIR-National Chemical Laboratory (CSIR-NCL), Pune, organized an online awareness session on "ICT (Information and Communication Technology) Accessibility and Standards" in which two experts from C-DAC gave talks on data accessibility. The talks were conducted to make participants aware of the importance of accessibility of data, the significant problems faced by people with disabilities, and the steps to improve the situation.
In his welcome address, Dr. Ashish K. Lele, Director, CSIR-NCL, touched upon the importance of diversity, equity, and inclusiveness as the key aspects of any organizational ethics. He said that practicing inclusiveness is also essential from a business perspective since it helps to increase the customer base, the image, and the branding of the products and services. Dr. Lele highlighted the importance of data accessibility in realizing the Digital India vision. He commended C-DAC, a non-profit society under the MeitY (The Ministry of Electronics & and Information Technology, Govt. of India), for their role in championing data accessibility in India. C-DAC has been studying prominent international standards for data accessibility, identifying the level of prevailing harmonization between them, and assessing the suitability of the recommended international standard for Indian needs in consultation with experts and other stakeholders. He informed the audience of C-DAC's engagement in formulating an ICT Accessibility standard along with STQC (Standardisation Testing and Quality Certification (STQC) & BIS (Bureau of Indian Standards) as part of the "Knowledge & Resource Centre for Accessibility in ICT (KAI)" initiative.
Mr. Saidarshan Bhagat, Senior Technical Officer, C-DAC, Mumbai, talked about "Awareness towards digital accessibility and assistive technologies." Mr. Sai explained the concept of accessibility and its purpose to provide freedom to the user. Talking about web accessibility, he encouraged the listeners to visit the site of Knowledge and Resource Centre for Accessibility in ICT (KAI) at https://ictaccessibility.in/. Mr. Sai talked about mobile accessibility and explained its shortcomings for a disabled community in various ways.
Mr. Sai listed the disabilities mentioned under WHO (World Health Organization) and discussed how these could be overcome by using assistive technologies like screen readers, braille, braille embossers, screen magnifiers, softwares, etc. Being a vision-impaired person, Mr. Saidarshan inspired the listeners by sharing his experience with various assistive technologies in his daily life. He added that even with assistive technology, if the digital platform is not properly designed, the user may find it challenging to use, e.g. lack of headings, closed captioning, pop-ups, etc. In India, the standard for ICT accessibility is the IS 17802: Part 1 and the IS 17802: Part 2.
The second speaker, Mr. Shubhanshu Gupta, Principal Technical Officer, C-DAC, Pune, talked about the "Basics of Authority Accessible document." The talk was more about the technical details of how documents can be made accessible. Mr. Gupta presented a demonstration and showed how a blind person could be easily misled if the document is not designed with the necessary titles or text that could be read using screen reader software.
Mr. Gupta emphasized the need for universal design and accessibility of products. He continued the talk by explaining the need for accessible documents. He explained in detail the best practices for digital authoring documents for accessibility, including topics like navigation, text and language, multimedia, images with embedded objects, tables and headings, document forms, color, shapes, and contrast, etc. Mr. Gupta concluded the talk with another demonstration that showed how a screen reader software can easily read out a properly-designed table.
The Associate Director of the C-DAC, Ms. Lenali Singh, briefed the calendar of events scheduled by C-DAC and encouraged the listeners to follow C-DAC webpages. The session was concluded with a vote of thanks by Dr. Wafia Masih, Senior Principal Scientist, CSIR-NCL.