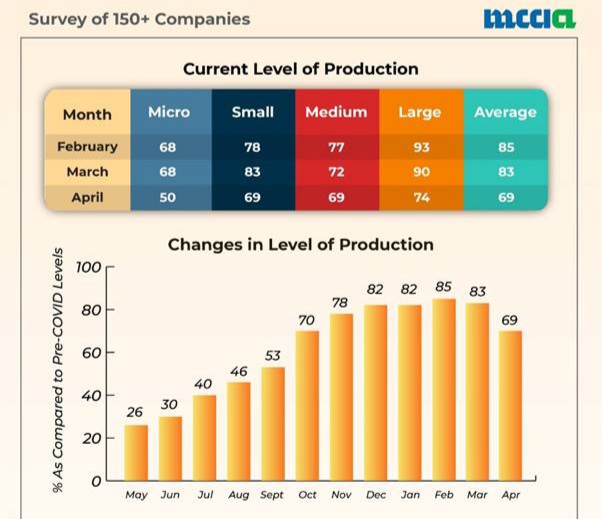 Mubarak Ansari
Pune, 2nd May 2021: The Mahratta Chamber of Commerce Industries and Agriculture (MCCIA) has conducted its 13th survey during the Covid times. Over 150 organisations participated in this survey from Pune District.
Current level of Production: On average, the surveyed companies said that their current level of production has decreased from 83% in March to 69% in April.
Import of Oxygen Concentrators for personal use included in exempted category list
Employees Working: On average, the surveyed companies said that the number of employees working has decreased from 86% in March to 70% in April.
Future expectations: The surveyed companies were also asked about when their production levels were expected to be the same as they were pre-pandemic. 24% of the companies said their production was already at pre-COVID levels. 19% of the respondents now said that they expect their production levels to go back to the pre-Covid levels in less than 3 months. 35% of the respondents said they expect it to take between 3 to 6 months and 22% said it would take more than 6 months.
Profile of respondents: The distribution of organisations surveyed from micro, small, medium and large scale organisations was 14%, 34%, 21% and 32% respectively.
66% of the organisations surveyed were from the manufacturing sector, 14% from the services sector and the rest were involved in both manufacturing and services.
Centre Shouldn't Have Exported The Vaccine: Deputy CM Ajit Pawar
 Sudhir Mehta, President, MCCIA, said, "Supply chains are once again disrupted and we are really concerned about the small, informal manufacturers and contact-based services. Government at centre and state must front-load their allocations for MSMEs, industries and infrastructure development in FY 21-22."
Prashant Girbane, Director General, MCCIA, added, "Given the heightened levels of restrictions, the drop was expected. Glad that the drop is not as bad as it was in April 2020. God forbid if there is any more contribution of restrictions, it needs to come along with an increased level of economic activities and not reduced as the impact on livelihoods for those who work at the bottom of the economic pyramid is unbearable."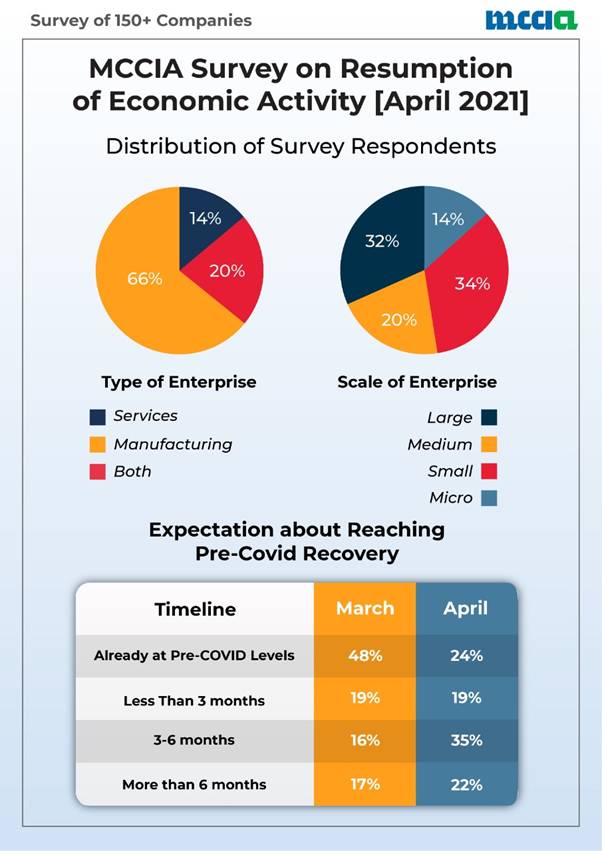 Join our Whatsapp Group and Telegram for each update about Pune and PCMC
Follow Punekar News: