Pune: Environmentalists Call For Scrapping Of Riverfront Development Project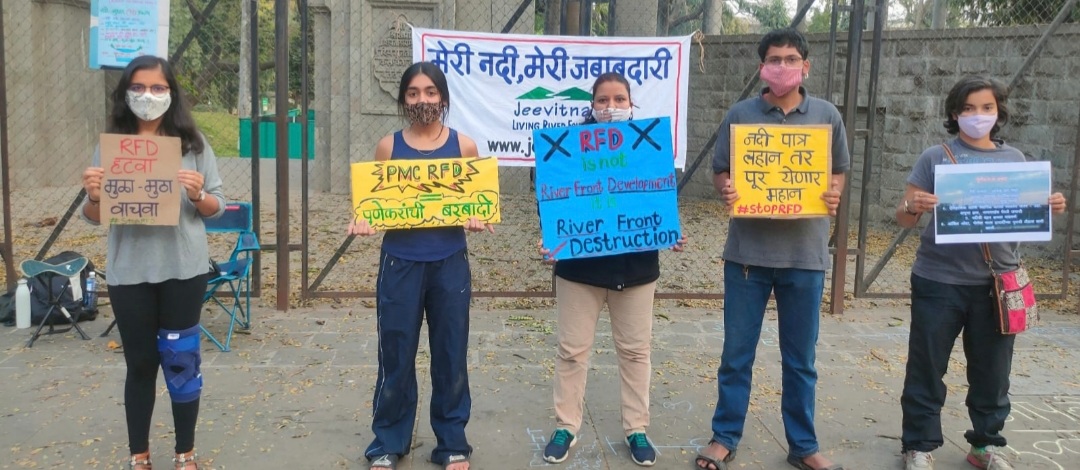 Umang Bafna
Pune, 14th February 2022: Environmentalists and campaigners have spoken out against the Pune Municipal Corporation's approval of the Mula-Mutha Riverfront Development Project (RFD). They have proposed an alternate project, which will focus on the 'natural regeneration' of rivers, as the need of the hour. They claimed that the RFD should be scrapped.
On Sunday, environmentalists held an awareness programme at Sambhaji Garden on JM Road to inform the public about the negative effects of the RDF Project.
Tara Shinde, who was in charge of the programme, said, "There should be some sustainable river project than commercialise rivers."
Vivek Velankar of Sajag Nagrik Manch expressed his displeasure with the ruling party of the PMC, saying, "The ruling party believes that by presenting this as a development project, they would be able to gain more votes and Punekars will not be affected."
RDF is a plan by the Pune Municipal Corporation to turn Pune's 44-kilometre-long rivers into canals by erecting 30-40-foot-high concrete walls (enclosures) on both banks. The wetlands and riparian zone along the riverbank will be 'reclaimed' as a result of this project, which will involve dumping soil on them.
According to an environmentalist, the space will be sold to private parties, and more water will be added to the existing sewage water, forcing residents of Solapur to drink sewage water.
Environmentalists oppose the RFD project because they believe it will harm the ecosystem. The embankments will be constructed within the flood lines, narrowing the river and reducing its cross-sectional area, resulting in a straight river. Pune will also be more flood-prone as a result of the RFD project. Furthermore, the river will be exploited to generate revenue, signalling the beginning of river commercialization. RFD is not approved by the Environmental Protection Agency.
When asked about the RFD project's connection to the PMC Elections 2022, Akash Agarwal, an environmentalist, remarked, "This is an election ploy in the name of development to attract votes from fellow Puneites."