Pune Festival to Host All-India Mushaira on September 22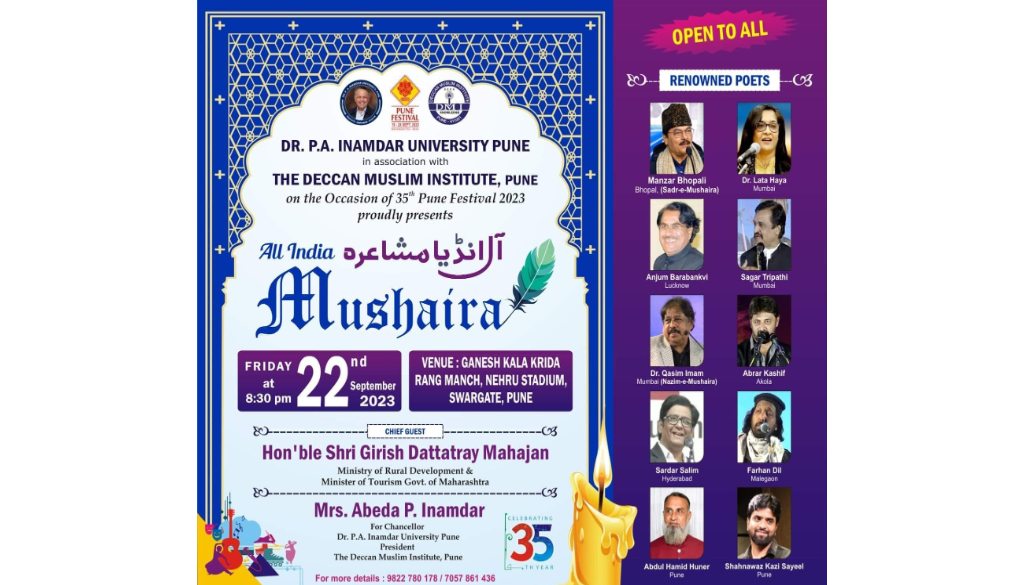 Pune, 19th September 2023: The Pune Festival's All-India Mushaira, a celebration of Urdu poetry and culture, will be held on September 22, 2023, at the Ganesh Kala Krida Kendra in Swargate at 8:30 pm. The event is being organized by Dr. P. A. Inamdar University and the Deccan Muslim Institute.
Girish Mahajan, the Minister of Rural Development and Tourism for Maharashtra, will be the chief guest for the inaugural ceremony. Renowned poets from across India will participate in the Mushaira, including Manzar Bhopali (Bhopal), Dr. Lata Haya (Mumbai), Anjum Barabankavi (Lucknow), Sagar Tripathi (Mumbai), Dr. Quasim Imam (Mumbai), Abrar Kasif (Akola), Sardar Salim (Hyderabad), Farhan Dil (Malegaon), Abdul Hamid Huner (Pune), and Shahnawaz Kazi Sayeel (Pune).
The Mushaira has been a regular feature of the Pune Festival since 1992. It is a popular event among both Urdu lovers and the general public. The Mushaira is an opportunity to enjoy the beauty and power of Urdu poetry, as well as to learn about the rich cultural heritage of the language.
The Pune Festival is an annual celebration of the city's culture and heritage. It is held over a period of 10 days and features a variety of events, including musical performances, dance recitals, cultural exhibitions, and sporting events. The festival is a popular event among both locals and tourists.