Pune Forest Department Alerts People From Entering Khadakwasla Lake After Crocodile Hatchling Found Near Khanapur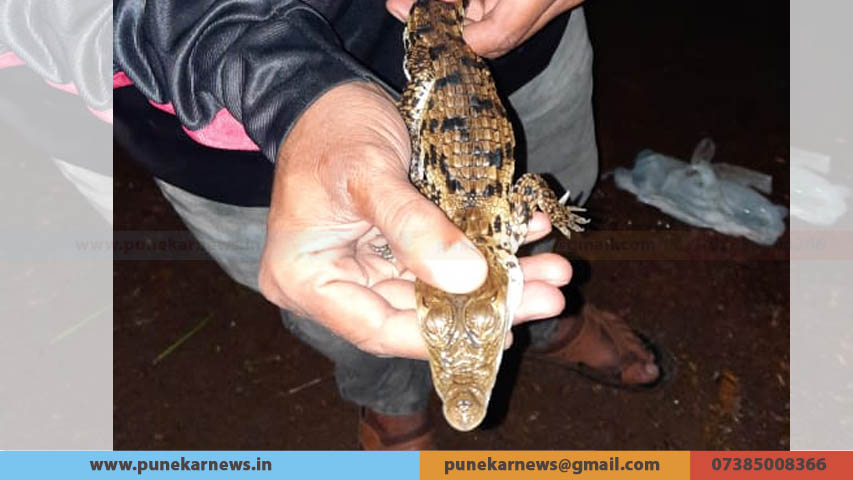 Pune, 18th September 2021: A crocodile hatchling was found at the backwaters of Khadakwasla dam at Khanapur village on the night of September 15 (Wednesday). The news which spread like a wildfire created chaos for some time. However, the nature lover group handed over the reptile to forest officials.
A few years ago, a crocodile too had been found in the Khadakwasla dam water. Now, a four-month-old hatchling has been found. It has been handed over from forest officials to Rajiv Gandhi Zoo in Katraj for treatment.
According to the experts, the Khanapur side of the backwater is known as a breeding place for crocodiles. However, there have been no incidents of a crocodile attacking human beings in the area.
The local Preliminary Response Team (PRT), formed by the forest department to prevent human-animal conflict, includes Tanaji Bhosale, Akshay Jadhav, Dhaval Tudamwar and Suraj Kavade work for the preservation and protection of the animals, reptiles and birds.
Tanaji Bhosale said, "a crocodile lays 50 eggs at one time. But not all the eggs hatched. They feed on the fishes in the water".
He said, "this four-month-old hatchling came out of the water. If it had been left in the water again, it wouldn't have survived. So we have handed over it to the zoo officials and once it is grown up, it will be let in its natural surroundings".
Meanwhile, the Pune forest department has cautioned people from entering Khadakwasla dam backwater.