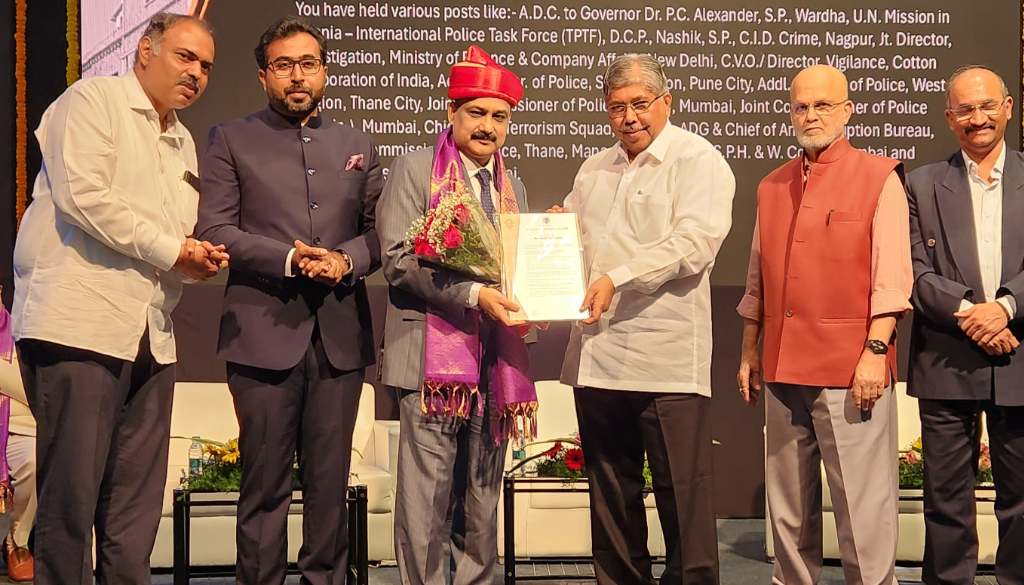 Pune, 14th September 2023: The new education policy can help students to take education in their mother tongue which can facilitate innovation and research opined Chandrakant Patil, Minister of Higher and Technical Education, Government of Maharashtra during the COEP Abhiman Award ceremony held at the COEP Technological University Campus today.
Distinguished alumni of the COEP were presented with the award in recognition of their outstanding work in their respective fields. Dr. Pramod Chaudhari; Chairman, Board of Governance, Prof. S. D. Agashe, Vice Chancellor of COEP Tech, Bharat Gite, President and Dr. Sujit Pardeshi Secretary of the COEP Alumni Association were present for the award function.
This was the 31st edition of this award ceremony and the awards were presented to IPS Vivek Phansalkar – Commissioner of Police, Mumbai, Arun Kudale – Technocrat Entrepreneur, Educationist, and Social Worker, Chetan Dharia – Founder and MD of Anant Defense Systems Pvt. Ltd, Ravi Bhatkal – Managing Director, India Element Solutions Inc and Cookson India Pvt. Ltd, Vijay Patel – Outstanding Scientist, TD (CLAW), Aeronautical Development Agency, Bangalore, and Ashish Achlerkar – Founder and CEO of Near U Services, US.
Chandrakant Patil in his speech said, "The Britishers introduced the education system to create manpower who could handle their routine administration. They did not have an agenda to create innovators, researchers, and scientists. In the post-independence era, the same education system was followed for decades which also produced some good quality human resources. However, with the introduction of NEP in the year 2020 under the leadership of Prime Minister Narendra Modi the focus is on creating entrepreneurs, innovators, researchers, and scientists. Secondly, an option to take technical education in mother tongue is also being made available. Unfortunately, the previous Government in the State adopted a non-cooperative approach just for the sake of opposing and the State lost more than two years as far as the implementation of NEP is concerned." He termed such an attitude of the previous Government as a dangerous one.
"The present Government has started working on the implementation of NEP with focus areas like education in the mother tongue and vocationaliszation of the courses. The current Government within a very short span of a year has created content in Marathi for streams like Arts, Commerce, Science, Polytechnic, and Engineering. It is heartening to see that more than 65% of students of the Polytechnic have asked for permission to write the exam in Marathi. We are also introducing software developed by IIT Mumbai which can help convert English into Marathi in real time. This will help students to comprehend the subject better even when it is taught in English", he added.
"I have advised the ITIs in all the districts of the state to conduct a meeting with nearby industries every year in the month of January to understand their need of manpower and update the courses accordingly. A lot of focus is now being given to internships and industry participation in education", he informed.
Sighting an example of how the innovation, research, and development-centric approach can help the country, Patil said that the indigenous development of corona vaccine not only helped us in the vaccination of our citizens but also helped us to bond with over 60 countries to whom we provided vaccines during the difficult times. He also mentioned that once upon a time even a screw for any defense application was imported. Now, the situation is such that our country has produced defense goods worth Rs.1 Lakh Cr of which Rs.16000/- Cr is an export. He assured full cooperation to the new Board of Governance of COEP Technological University from the State Government and advised COEP to not lose the spirit of competitiveness since the nearest competitor is far behind.
Speaking on the occasion Dr. Pramod Chaudhari informed that the new campus of COEP which will come up at Chikhali about 25 kilometers away from the current campus is being developed as the research and innovation park. He also appealed to the alumni of COEP to facilitate mindshare if not wallet share for guidance on entrepreneurship with a thrust on research and innovation. He advised the past students to explore research assignments with the involvement of the current COEP students. In his speech, he reiterated his vision to bring the overall quality of education in COEP at par with IIT standards.
Prof. S. D. Agashe, VC, COEP Technological University said, "The past students of COEP are so attached to this institute that the father of Dr. Jaldeep Daulat who was an alumnus of COEP informed to donate all the money in his account to COEP after his death. Thus as per his wish Dr. Jaldeep donated Rs.1.1 Cr to COEP which will be used to set up an ultramodern AR-VR (Augmented Reality and Virtual Reality) Lab. I also request COEP past students to give about 2 hours per semester for interacting with the current students of COEP."
"Some of the past students have already commenced a mentoring activity to develop much required soft skills among the students of COEP", Agashe added.
In his speech Mumbai CP Vivek Phansalkar, one of the awardees of the COEP Abhiman Award today said that he was happy to be back on campus after 37 years. He shared some of the memories associated with COEP and on a lighter note appealed to the COEP management to make the canteen facilities better, which won a massive round of applause from past and current students. He also recollected the memory of not letting any other college win the Purushottam and Firodia Trophy as long as he and his team were in COEP and the way he defeated the ABVP candidate to become the University Representative.
Bharat Gite, President of COEP's Alumni Association shared the glory of COEP by narrating some facts and figures like this is the 3rd oldest engineering college in Asia which has a legacy of 170 years with over 50,000 engineers working in different parts of the world making India proud. He congratulated Ashish Achlerkar and thanked him for the generous donation of Rs.10 Cr. He also shared plans for the year 2023 like introducing the concept of Chair Professorship, building one more new hostel, contributing in the development of a second location of COEP at Chikhali, and facilitating tie-ups with the top American and European universities. He also thanked the parents of Late Gauri Shah who donated Rs.5 Cr to COEP.
Some of the current students of COEP Tech were also felicitated in recognition of their brilliance in academics. Dr. Sujit Pardeshi presented the vote of thanks and Piyush Goregaonkar anchored the program.