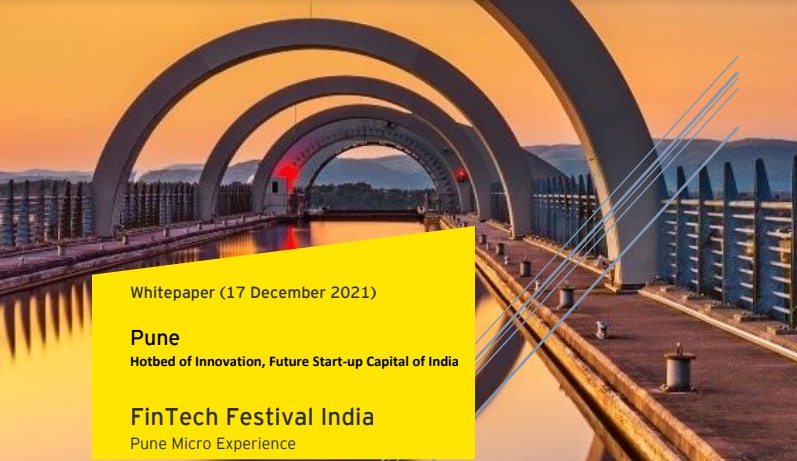 Pune, 17the December 2021: India's leading startup and fintech hub, Pune today witnessed 'Fintech Festival India', the largest fintech event in the country organised by Constellar Exhibitions (a subsidiary of TEMASEK and Singapore Press Holdings which organizes Singapore FinTech Festival) and supported by Niti Aayog and six central government ministries.
Attending the Pune Micro Experience of FinTech Festival India 2021-22, Kaustab Roy, Senior Payment & Solution Architect at Monetary Authority of Singapore, said, "Monetary Authority of Singapore sees a lot of promises in the wholesale CBDC related to cost border payments especially at the settlement lens. Retail CBDC for Singapore is not urgent right now."
Talking about the impact of Covid, he added, "Due to Covid there has been a change in the mindset and behaviour of the users, the merchants which have accelerated the use of digital means in the last couple of years…"
Akshay Mehrotra, Member FACE, Co-Founder & Chief Executive Officer, EarlySalary said, "In the coming times, consumers are going to look at the invisibility of financial assets. Embedded finance is going to take the center stage. The industry needs to build trust for the consumers. Any financial industry takes about 10 years to mature. Technology has given a digital lending great boost. Today the top-10 fintech in consumer lending gave more credit access to consumers than what the credit card industry did in the last 43 years. Our regulator today is looking at innovation and at the same time open to newer ways of doing business."
Talking about India's InsurTech landscape, Abhishek Poddar, Co-Founder & Chief Executive Officer at Plum said, "In India, there is a large population belonging to the low-income community, who live on the edge. A tiny misfortune or a disaster can push them into poverty. Owing to such grave financial consequences people get drawn into debt traps. These microinsurance products can save these families from such financial and health disasters. On the other hand for people who are privileged to be not living on the edge; there are a lot of situations wherein traditional insurance products fail to fill the gaps for example in case of flight cancellations. Hence we need these add on covers that can fill those gaps that exist because of the traditional covers."
"We are at the very start of thinking about parametric insurance or microinsurance in India. We need more and more entrepreneurs to think from the first principles of what is the customer problem that we are trying to solve and come up with product ideas," Poddar added.
The daylong conference in Pune was also attended by some well-known stalwarts such as Prasanna Lohar, Vice President Technology, DCB Bank, Satyam Kumar – Member FACE, Chief Executive Officer & Co-Founder, LoanTap, Mandar Agashe – Founder, Vice Chairman & Managing Director, Sarvatra Technologies, Manoj Chopra – VP & Head – Products and Innovation, Kiya.ai, Abhishek Poddar – Co-Founder & CEO, Plum, Anurag Sinha, Co-Founder & Chief Executive Officer, OneCard & OneScore amongst others.
A white paper on 'Pune: Hotbed of Innovation, Future Start-up Capital of India', published by FFI's Knowledge Partner – Ernst & Young (EY), was also unveiled today in front of the august gathering. The white paper deep-dives into the Pune fintech ecosystem from an innovation standpoint highlighting how it's a hotbed and considerations to make it the startup capital of India.
Fintech Festival India is the country's largest FinTech confluence to be held till March 2022. It will witness participation from over 500 Indian and global leaders and 12,000+ delegates. FFI will see participation from Brazil, Israel, the UK, Russia, Canada, Finland, Japan, Singapore among others.
The conferences are being supported by the Government of India's Ministry of Finance, Ministry of Electronics & Information Technology (MeitY), Ministry of Small & Medium Enterprise (MSME), The Agricultural and Processed Food Products Export Development Authority (Ministry of Commerce and Industry), Broadcast Engineering Consultants India Limited ( A Government of India Enterprise – Under Ministry of Information & Broadcasting) and Startup India (Department for promotion of Industry and Internal Trade & Invest India). It has also received support from the Government of Tamil Nadu, Government of Karnataka and Electronics Corporation of Tamil Nadu Limited (ELCOT).
Fintech Festival India is being conducted in physical and digital format through 10 Micro Experience Conferences in Hyderabad, Bengaluru, Delhi, Guwahati, Chennai, Mumbai, Gift City (Ahmedabad) and Pune. The festival will end with a 3-day mega event in New Delhi from March 9 – 11, 2022.
The next Micro Experience will be held in Ahmedabad on 7th January 2022.
In addition to the government, FFI which aims to unleash the power of FinTech across the country has also drawn interest from industry including Indian insurance behemoth Life Insurance Corporation (LIC) and World Trade Centre Mumbai among others.
Join Punekar News Whatsapp Group, Telegram, Instagram And Twitter  For Regular Update about Pune City And Pimpri-Chinchwad
Advt
To Download PEO Privilege App click on this link  https://t6kq7.app.goo.gl/zpka