Pune: How 'Chickie' Helped Improve Services For Animals At Government Veterinary Hospital Aundh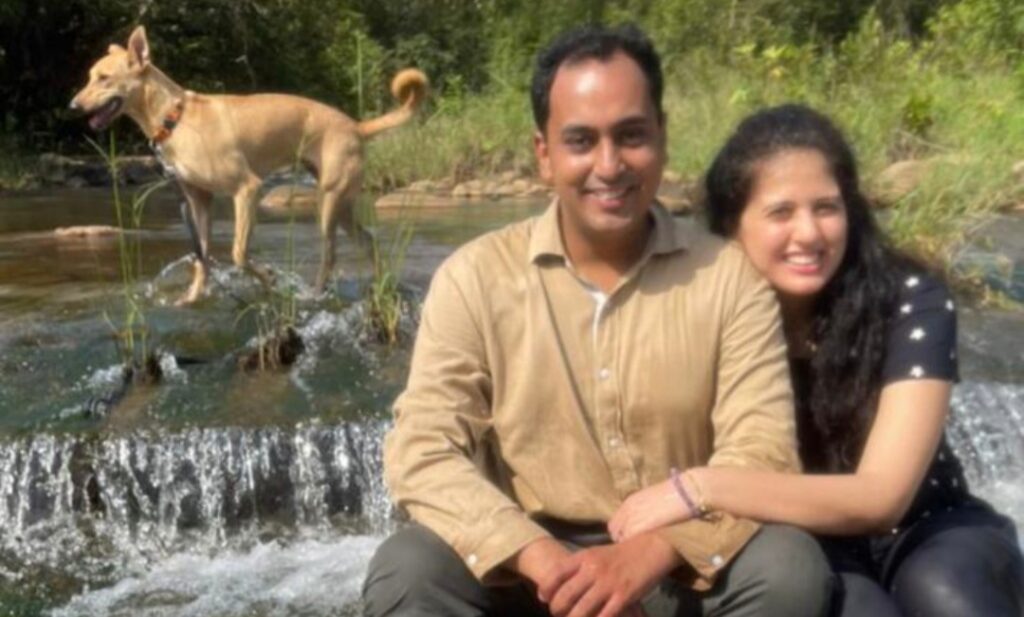 Ayush Prasad
CEO, Pune Zilla Parishad
Pune, 1st April 2022: We had never had a pet at home and therefore I had always been afraid of dogs. Every time a dog would come to sniff me, I would freeze in my place.
On the other hand, my wife always had a dog at home and loved playing with them. While working at BJ Medical College as a Pediatrician, my wife heard a faint cry in the parking space in front of the old library building. She found a pup, a couple of days old in the care of a Security Guard who told her that the pup had been run over by a car a few hours ago and was dying.
She brought the pup home. When she told me over the phone that she had brought a pup in need of urgent medical care. I asked my team in the office and they informed me that there is a government veterinary hospital at Aundh.
I advised her to take the pup to the hospital. They plastered her legs and said that the pup needs surgery but cannot undergo it immediately due to swelling. When I saw the pup after returning from the office later that evening, my heart melted to see a little pup in so much distress but had the determination to walk and live.
The next day the pup was named Chickie by my wife. She cared for her during all her free time – feeding her milk through a little straw and giving her the prescribed medicines.
A representative of an NGO had met me in the office a few weeks ago about man-animal conflicts, I asked them to advise me. I also asked some veterinary doctors working in the Pune Zilha Parishad. Some said it's best to put Chickie "to sleep" while someone provided crutches with wheels saying that Chickie won't be able to ever walk. I felt very disheartened but said that we will leave it to God.
Chickie limped, cried in pain, again tried to walk and this cycle continued for a few days. I held a dog for the first time in my hands when I thought she would fall again. As her swelling reduced, we decided to take her for surgery at Government Veterinary Hospital at Aundh.
Since my wife was on duty, I decided to drop her to the hospital and then go to work. When I saw Chickie again in the evening in her box, she seemed to be in pain than before though I was informed that the operation was a success.
Since she was a "VIP Referred patient" one attendant at the hospital had even filmed parts of the surgery and sent me a video over WhatsApp to highlight how well they had worked. I saw that she had cried through the entire surgery – I asked why was she not sedated for an operation where her bones were being fixed. I was told that they did not have a gaseous anaesthesia machine. I requested District Collector, Dr Rajesh Deshmukh and he immediately agreed to sanction it.
I spoke to senior officers in New Delhi and in Mumbai to understand the best hospital and they advised me to study the hospital in Hyderabad. The Joint Commissioner of Animal Husbandry Dr Shital Mukhne and District Animal Husbandry Officer Dr Shivaji Vidhate were sent to Hyderabad to study their hospital.
They came back and prepared a draft plan that was further improved by senior Doctors in Shirval, Bombay veterinary Hospital and the Indian veterinary research institute. The plan was presented to Commissioner Animal Husbandry, Sachindra Pratap Singh and Dr Rajesh Deshmukh, District Collector Pune for their approval.
After incorporating all changes, it was presented before Deputy Chief Minister of Maharashtra Ajit Pawar at the Zilha Parishad review meeting on 2nd September 2021. He also saw Chickie while inaugurating the Mobile Medical Clinic at Pune Zilha Parishad.
The project to upgrade the Government Veterinary Hospital at Aundh was approved and is being jointly financed by the Pune District Planning & Development Committee, Pune Municipal Corporation and Pimpri Chinchwad Municipal Corporation.
General Bodies & Standing Committees of both the Municipal Corporations accorded sanctions to the project. Member of Parliament Girish Bapat has also supported the project. A proposal has also been submitted to the Government for additional support for the upgraded hospital. I wholeheartedly thank everyone for supporting, improving and approving the proposal.
Work order has been accorded and funds have also been transferred to the office of Joint Commissioner Animal Husbandry to execute the project. Land clearing work has begun. The work would formally start next week after Bhoomi Pujan in presence of Dy. Chief Minister of Maharashtra Ajit Pawar and other dignitaries.
Chickie underwent four surgeries at the Government veterinary hospital at Aundh and now has rods in both her legs and a clip to support her knee. With the grace of God, her determination, the care of my wife Dr Indrani Misra and the skills of veterinary Doctors, Chickie has fully recovered. She can run, trek and has grown to be a good guard dog. I would have liked her to serve the nation as part of the Police or the Army, but they do not recruit Indian Breeds or female Dogs.
Pune and Pimpri Chinchwad cities are said to have the third-largest number of pet dogs in India after Delhi and Bangalore. Pune District has among the largest number of cattle and poultry in India.
With improved infrastructure, the brilliantly skilled doctors in Government veterinary Hospitals at Aundh and other locations across the district would be able to serve their patients in a much better manner. The mobile medical clinics in the district operated by Pune Zilha Parishad and veterinary hospitals in rural areas would be able to refer patients to the district level hospital. Rescue workers and private clinics would be able to refer patients for advanced care.
Pune Zilha Parishad currently operates 25 Mobile Medical Clinics and we would be doubling the number this financial year. The government of Maharashtra is operating 6 advanced mobile medical units. The mobile medical units can be reached on phone number – 1962.