Pune: HSBC Technology India Joins Hands With Lila Poonawalla Foundation For COVID -19 Relief Essential Kits Donation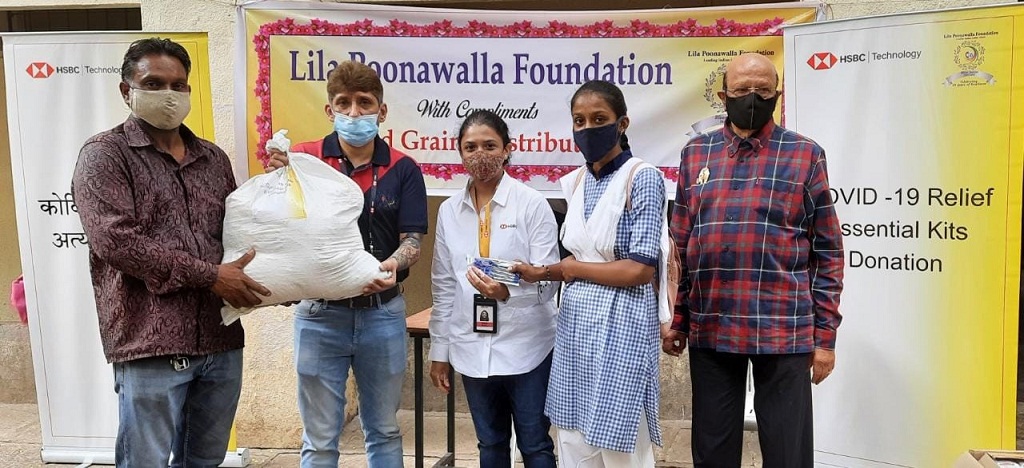 Pune, 1st November 2021: In the time of the Covid-19 pandemic, each passing day brings its own challenges about life and survival. With the fear of day-to-day survival looming everywhere, having food and a roof over one's head becomes a necessity.
Recently HSBC Technology India (HTI), one of LPF's valued partner joined hands to support such COVID-19 pandemic affected families through their funding contribution.
The COVID -19 Relief Essential Kits were given to a total of 3000+ families of LILA Juniors, LILA Seniors and LILA Girls from the School Project – '2Morrow 2Gether' who come from a financially challenged background, like daily wage earners and are the most affected. These families also include non-LPF supported school girls and their families and the school support staff. The kit distribution drive was organized in 15 LPF associated schools from Pune urban and rural areas.
These girls and their families were given one month of ration supplies, which would help the families to manage their basic food-related necessities.
Girish Bidani and Damini Khaire from HSBC Technology India (HTI) along with Firoz Poonawalla, Founder Trustee LPF, were present to hand over the kits personally to the girls.
"We're committed to supporting the fight against Covid-19, which has caused unprecedented challenges to public health and food systems. Our partnership with Lila Poonawalla Foundation is another step in this direction with food essentials and hygiene supplies being provided to the families of disadvantaged school children" said Aloka Majumdar – Head of Corporate Sustainability, HSBC India.
"We are doing our bit by giving a helping hand to those families who are very badly affected by this unprecedented calamity. LPF highly appreciates the support of our great partner, HSBC Technology India. We have distributed food grains to meet the daily needs of these families consisting of wheat flour, oil, rice, dal, jaggery, sugar and salt to the LILA Daughters and their families and also the communities around them to last for one month", said Poonawalla.
In the year 2020, LPF under the leadership of Firoz Poonawalla, Founder Trustee, LPF has distributed such kits to 3,300+ LILA Juniors, their families, other social organizations, institutes and communities with a contribution of its Board of Trustees, Corporate partners and LILA Alumni.
HSBC Technology India (HTI) has been supporting LPF by contributing to 200+ meritorious and financially challenged LILA Girls pursuing Engineering and Nursing degree in Pune and Hyderabad. They are also supporting the LILA Girls in building their corporate readiness skills through employee volunteering programs and mentoring. Some of the girls are offered placement opportunities at HTI.
Advt