Pune: Khadakwasla Lake Speaks About Winged Visitors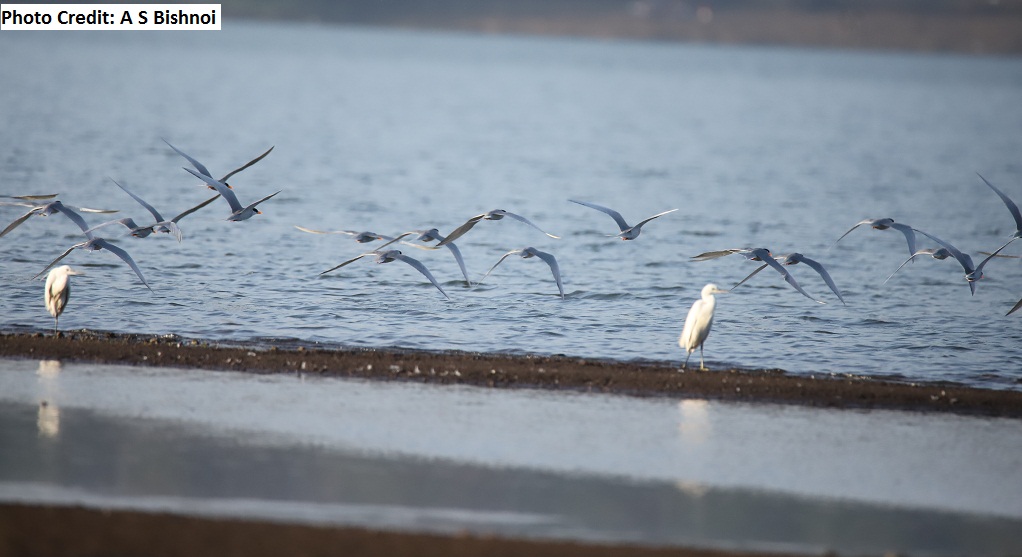 Shakti Bishnoi & A S Bishnoi
Khadakwasla, 24th December 2021: For the last one decade, we have been visiting Chilika lake, RAMSAR site (Odisha) as part of the team to undertake bird census. We have witnessed the change in the flora and fauna of Chilka lake and surrounding sites during bird census and the same is the case with each and every Bird sanctuary or stopover of migratory birds. Every year we come home with a heavy heart and feel helpless. If we don't act now, they will be only in books.  
Bird Migration
Every winter in India, a spectacle unfolds near the lakes, ponds and all RAMSAR sites in different states of India, as millions of birds after their perilous journeys land and enjoys their stay in soothing winter. Most of the thousands of bird species that engage in this annual migration travel at night, when wind currents are smoother and the moon and stars guide their way.
The birds typically follow established flyways, generally north-south routes that offer the best opportunities for rest and refueling along the way. Typically, these routes follow mountain ranges, coastlines, sometimes rivers, taking advantage of updrafts and the wind patterns that will help make their journey easier. Multiple bird species share these flight paths as they contend with rough weather, dehydration, starvation, and the threat of predation. Migration is such an integral part of the avian life cycle, it was likely almost as prevalent thousands of years ago as it is today. Why some birds migrate and others don't is the focus of a complex and active field of research. Finding food generally is believed to be the main driver. Additional motivations could include escape from inclement weather and reducing exposure to predators or parasites, especially during the breeding season.
Almost 1,800 of the world's 10,000 bird species fly long distances in their journeys of migration. Research into their migration shows that they avoid geographical barriers and very large stretches of water Arctic terns, for instance, undertake pole-to-pole round-trips spanning more than 60,000 miles—a record, believed to be the world's longest migration of any animal.  
With the approach of winter, daylight wanes and birds find it difficult to feed. Food is important to have a healthy reproductive system. So, they fly to warmer climes, feed well and when they know that it is time to fly back home, they leave. This is the reason why migratory birds do not build nests and breed in their host country. 
KHADAKWASLA LAKE HOSTING WINGED GUESTS
Come to winter, Pune and surrounding areas with catchment areas, lakes etc is full migratory birds activities till Feb-Mar. There are places to spot them, Kamal Nehru park, Pashan lake, Mula-Mutha river, Katraj and not to forget Khadakwasla Lake within a radius of 30 Km. However, there are other places that are more than 50 km to look for migratory birds in Pune (Bhigwan, Veer Dam).
We have been observing and monitoring migratory birds activities for the last two years near Khadakwasla lake and last year it was a boon as pandemic COVID-19 ravaged the world but for birds, they were at peace without getting disturbed by humans and camera swinging enthusiasts. But this year view relaxation in the COVID restrictions, humans have started coming out (of cage) as if they were caged for years in their respective home. So you name the place in Pune, they are there.
The silent victim Khadakwasla lake wants to share its experience. The premises of lake has been converted into Mini Chowpatty (for entertainment, camel ride, horse ride etc) and half the populace of Pune is cleaning themselves by taking bath (washing clothes), disturbing migratory birds by throwing stones, parking randomly creating chaos and inconvenience to moving traffic, young boys and girls looking for a private place near the lake, creating a traffic jam on weekends and last but not the least throwing garbage near the Lake and leave towards their cleaner home. The lake is witness to these kinds of inhuman activities and still with calmness is serving humans in the form of clean water and habitat to migratory birds and various other species as well.  
The lake welcomed the first landing of winged visitors in early Nov 21 and we were fortunate to spot Indian Spot-billed ducks in the middle of the lake. We were delighted to see them and they were in good numbers, but not so healthy as they have travelled a long distance. They were interacting amongst themselves about their perilous journey and must be looking for adequate food and it is the priority. Accordingly few of them who were elders (experienced travellers) and acquainted with lake/trajectory during previous visits must be sharing the secret hideouts and locations where they can find food and relax. As last year the lake was under the influence of COVID-19, the elders had a different opinion about the lake. What they did not realize this year the COVID-19 restrictions have been removed and the so-called mini Chowpatty near the lake shall play hide and seek game distracting now and then. 
We saw the gang of humans (children, elders, young) entering the lake as if they are taking a dip in Haridwar to cleanse their karmas and taking bath and a few started throwing stones towards the birds (what a mockery). Aren't they aware that the same water is being fed to Pune city in the form of drinking water? But later we realised somehow there is a respite for migratory birds as 5 days of the week are peaceful for them except weekends, where they have to shift to a temporary arrangement to cater the load of an influx of mad "Tourists". We have spotted more than 100 species near Khadakwasla lake including migratory and resident birds. As per the e-bird website record, there are 161 species of birds in and around Khadakwasla lake. The lake supports good avian species. 
Birds 
The water birds found near Khadakwasla lake includes Indian Spot-billed Duck, Gadwall, Tufted Duck, Little cormorant, Indian Cormorant, Great Cormorant, Gray Heron, Eurasian Spoonbill, Northern Shoveler, Eurasian Wigeon, Eurasian Coot, Common Sandpiper, Green Shank, Wood Sandpiper, Ruddy Shelduck, Garganey, little Grebe, little ringed plover, Mallard, Lesser whistling duck etc.
The other resident bird includes Black Kite, Eurasian Marsh Harrier, Brahminy Kite, Pied kingfisher, common kingfisher, white-throated kingfisher, laughing Dove, Intermediate egret, Rose-ringed parakeet, long-tailed shrike, white wagtail, Paddyfield Pipit, Western Yellow Wagtail, scaly breasted Munia, Blyth's Reed Warbler etc. The list is long. 
Concern
All is not well in the avian world. Climatic changes and global warming have played a heavy hand and there are cases of overstays. Another serious problem faced by migrating birds is that of poaching and hunting on their stopovers. For example, the population of the Siberian Cranes declined due to hunting when they broke their journey in Afghanistan and Central Asia. According to reports, these birds were last spotted at the Keoladeo National Park in 2002.
Visitors of any species are a joy to have around. We, as hosts must make it our responsibility, that they are treated well before they leave, whether they be two-legged or feathered. Can you imagine a world without the varied colours of our migrant-feathered friends?
We should keep our environment pure to welcome the birds, butterflies, animals, rivers and air. Destroying their habitat will in turn destroy the humans. Polluting the river and air which passes from your place shall, in turn, kill humans. Let us make this earth a better place to live and let our young generation enjoy the migratory birds with the naked eye rather than in books or media as they might become extinct if we don't care about them.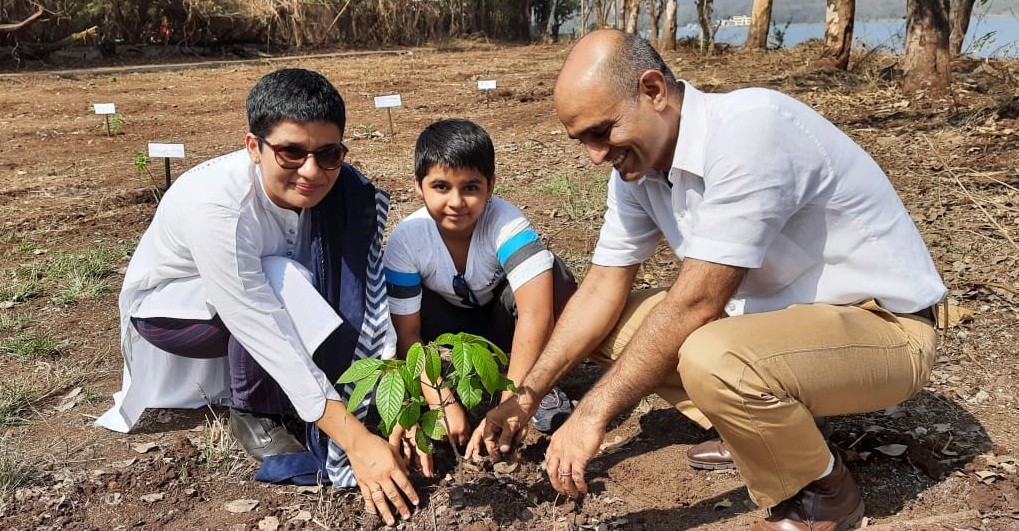 (Mrs Shakti Bishnoi belongs to a farmer family, a mother, counsellor, ornithologist, wildlife photographer, plant trees every year, marathon runner, nurturing butterflies since 2010 (1300 butterfly reared), a silent observer and live in sync with nature. She strives to increase green cover by planting native trees.
Mr A S Bishnoi is an ornithologist, entomologist and passionate wildlife photographer. Both of them have been contributing to the Chilika bird census for one decade and have planted Pune city's first Sacred Groove. He has planted 1500 trees during the COVID pandemic and all of them are alive.)