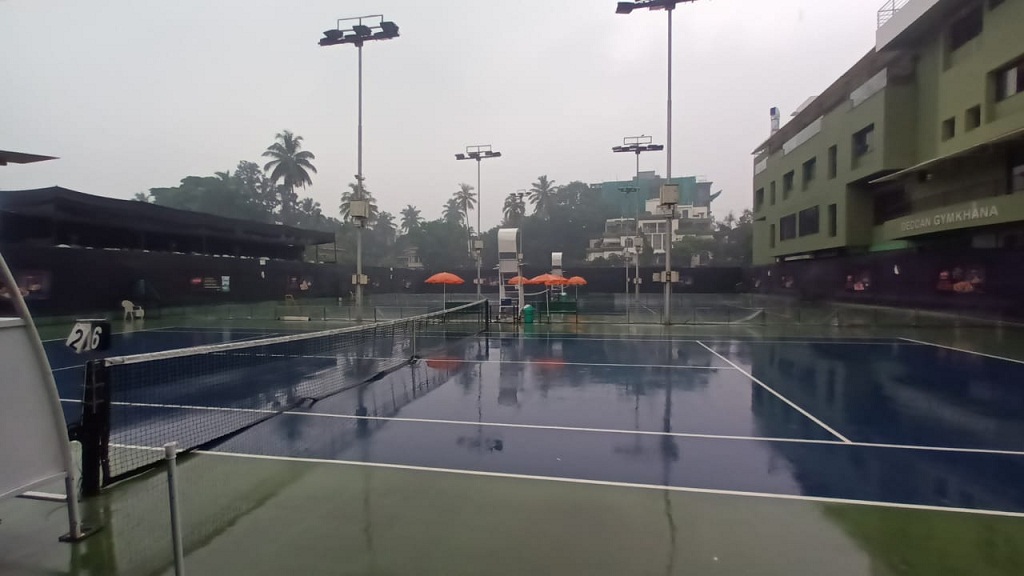 Pune, 1st December 2021: Movie, chit chat and relax – it turned out to be an unexpected schedule for players on Day 3 of Gadre Marine MSLTA – ITF Junior Grade-3 Under-18 tennis Championships as rain washed out the complete day at the Deccan Gymkhana tennis courts on Wednesday.
Moderate shower of rain which started in Pune city from around 5 am continued for the whole day as the players did not even get a chance to unpack their playing kit.
At 4:30 pm tournament supervisor Vaishali Shekatkar called off the day. 16 matches were scheduled for day 8 each – singles and doubles.
"We were expecting some play at least when rain stopped in the afternoon, we dried the courts completely and rain started again. Now we plan to start early on Thursday," said Tournament Director Ashwin Girme.
The Tournament is played under the auspices of ITF, Maharashtra State Lawn Tennis Association and Pune Metropolitan District Tennis Association.
For players, it was a fun time at the players' lounge as few preferred to watch movies and rest had a good time chit-chatting.
"Whole day off does not happen frequently – there might be interruptions but today was different as we got an unplanned day off. I am enjoying the weather in Pune," said a Korean player who did wish to reveal her name.
Another player said, "We don't get time to watch movies and switch off ourselves completely from the tennis in the middle of the tournament. Decca Gymkhana and Maharashtra State Lawn Tennis Association has made great arrangements for everything. From the courts to the lounge everything is very impressive."
advt