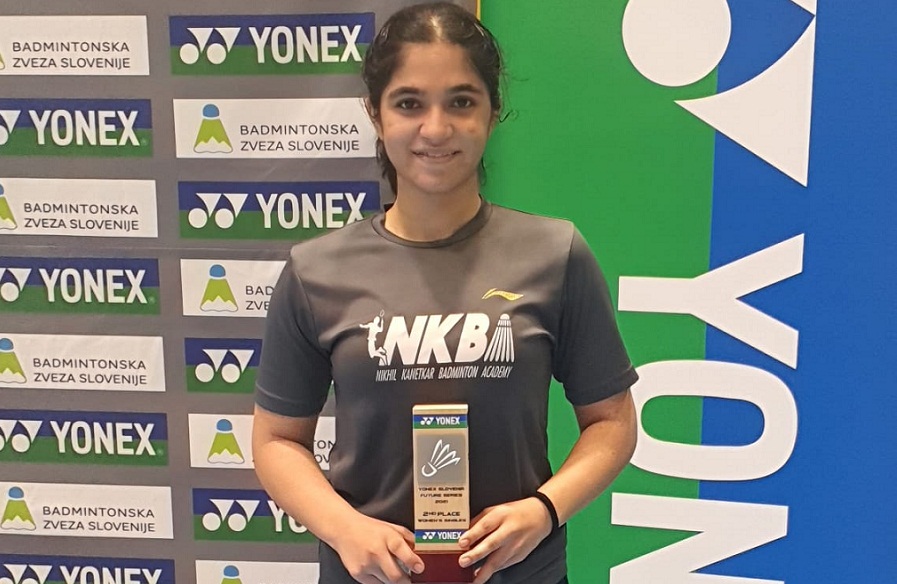 Pune, 28th November 2021: Nikhil Kanetkar Badminton Academy (NKBA) trainee Rhucha Sawant put up a wonderful performance on her debut as she fought well, but had to settle for a silver medal as she lost to Simona Pilgaard from Denmark 17-21, 21-17, 11-21 in the finals of the YONEX Slovenia Future Series 2021, which concluded at Brezice, Slovenia on Sunday.
Earlier in the semi-finals, Rhucha defeated Rosy Oktavia Pancasari from France 22-20, 21-13 to come one step closer to the title.
The quarterfinal encounter witnessed Rhucha defeating second seed Petra Polanc from Slovenia with the score reading 21-16, 21-19.
In the second round, Rhucha put on a good show as she defeated 6th seed Yasmine Hamza from Italy 21-15,22-20. In the first round, Rhucha got past France player Malya Hoareau 21-23, 21-11, 21-18.
Speaking after winning the silver medal Rhucha said "It has been a learning experience here. I would like to thank my coaches at NKBA for their guidance. I am now motivated to put in even more effort in the upcoming tournaments."
Praising the NKBA trainee Nikhil Kanetkar said "Rhucha is our first ever trainee when we started the Academy in 2011. It gives me immense pleasure to see her do so well at the international level on her debut. She is a very focused player and I am sure that this result will motivate and inspire her to achieve a lot more success in the years to come."
Results: (WS)
Round 1: Rhucha Sawant bt Malya Hoareau (Fra) 21-23, 21-11, 21-18.
Round 2: Rhucha Sawant bt 6-Yasmine Hamza (Ita) 21-15, 22-20
Quarterfinals: Rhucha Sawant bt 2-Petra Polanc 21-16, 21-19.
Semifinal: Rhucha Sawant bt Rosy Oktavia Pancasari (Fra) 22-20, 21-13.
Final: Simona Pilgaard (Den) bt Rhucha Sawant 21-17,17-21, 21-11.
advt