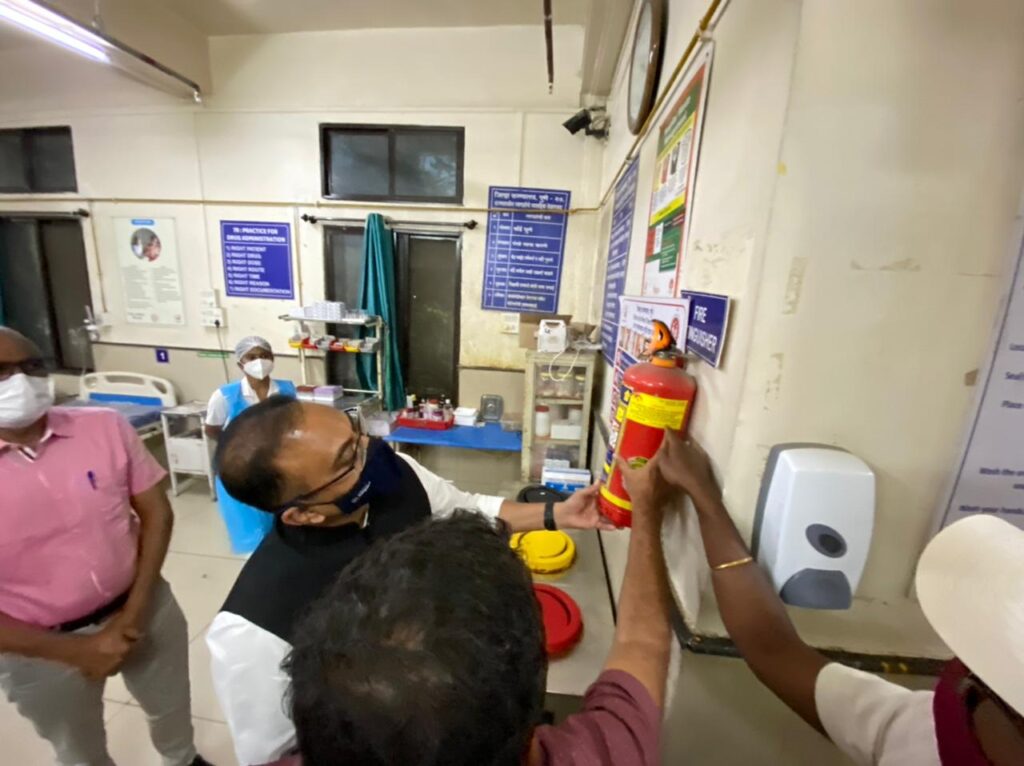 Sumit Singh
Pune, 8th November 2021: Training should be imparted in government hospitals on the use of fire fighting equipment by experts and a responsible person should be appointed to coordinate the measures to be taken to prevent fire accidents, said Pune District Collector Dr. Rajesh Deshmukh.
He was speaking at a review meeting on fire safety testing of hospitals at the Collectorate. The meeting was attended by Zilla Parishad (ZP) Chief Executive Officer Ayush Prasad, Resident Deputy Collector Himmat Kharade, Public Works Department Superintendent Engineer Atul Chavan and others.
Dr Deshmukh said that fire safety and electrical testing of Covid hospitals in the district has already been done. Necessary measures should be taken immediately to rectify the errors found in it. Funds have been made available to government hospitals through the District Planning Committee to make up for the shortfall. Incomplete safety measures of these hospitals should be completed by November 20.
When installing a new system in a hospital, special attention should be paid to the necessary changes in the electrical system and it should be checked by an expert or competent system. The system should be equipped to monitor devices that require more electrical load. Employees should be given the necessary training to respond quickly in the event of an accident. For this, the cooperation of the fire officers of the Municipal Corporation and PMRDA and the electricity branch of the Public Works Department should be sought.
Hospitals in the district which do not have covid treatment facilities should also be tested for fire safety.
Demonstrations should be organized this week for the necessary precautionary measures to respond to fire incidents immediately. Expert trainers should be called to train hospital staff. A meeting of representatives of private hospitals should be held in the next two days at the sub-divisional officer level, he added.
The district collector also directed that they should be given a clear idea that action would be taken if the errors found in the inspection were not rectified by November 30.
Examining the hospitals treating non-covid patients should note the difference between the electrical load capacity and the load actually used.
ZP CEO Prasad said that a mechanism should be set up to rectify the errors found in the inspection and to conduct such inspections within a specified period of time.
Also Read No Water Supply In These Areas Of Pune On Thursday, November 11: PMC
The meeting was also attended by Deputy Divisional Officers, Fire Brigade, Public Works Department officials.
Minutes of Meeting
1. Identify those hospitals who are yet to be audited for Fire and Electrical – ensure that they get audited immediately.
2. Identify the extra electrical load than rated capacity by Wednesday
3. Identify high electrical load equipment's such as autoclave machines, ventilators – check wiring and safety.
4. 26 Hospitals that have been given 7cr funds – finish work by 20th Nov
5. Reaudit of all government hospitals during 20- 30th Nov
6. Conduct fire drills in 7 large government hospitals by Thursday
7. Prepare master trainers in Health & Family Welfare Training Institute.
8. Train at least two staff in each ward / each shift.
9. Private Hospitals to file compliance report by Thursday. Meeting to be held under chairmanship of SDM.
10. Those who are not fully compliant to be given final notice and time till 30 Nov 2021. Post that legal action as per rules may be taken.
Also Read Pune: Agitation Will Start If Hinjawadi Metro Work Does Not Begin In 8 Days- BJP