Pune Receives Highest MM Rain Since 100 Years, Citizens Concerned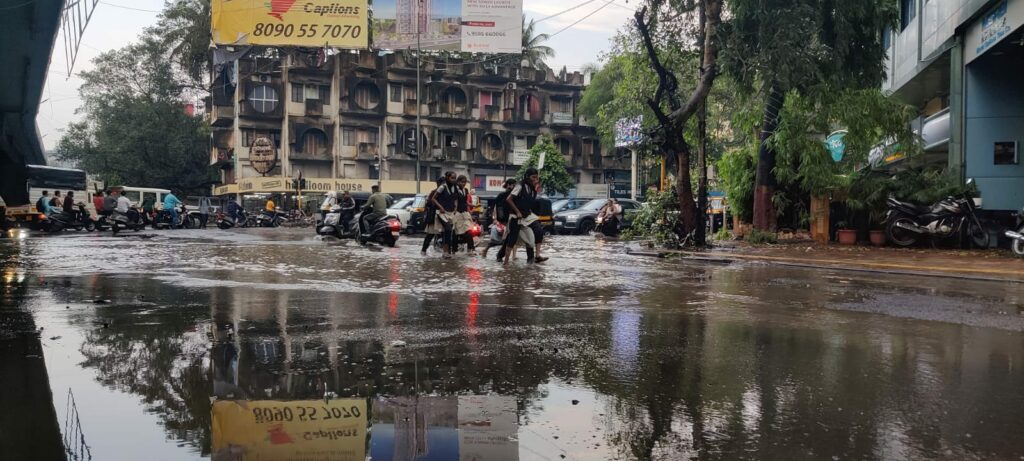 Pune, 18th October 2022: Citizens have raised questions about the work of the Municipal Corporation while the city is in a state of chaos due to the heavy rains that occurred yesterday. The storm drains in the city can carry 60 to 65 millimetres (mm) of rainwater, but the situation was triggered by 105 mm of rain in two and a half hours. Commissioner Kumar has claimed that yesterday's rain was a cloud burst.
Vikram Kumar was speaking when he interacted with the press today. Pune is considered to have heavy rain after 65 mm of rain. But it rained twice as much. Due to this, water overflowed in many places in the city, and a large amount of water started flowing from the roads. Water entered 18 settlements, and the wall collapsed at two places, but fortunately, no casualties were reported. The arrangement of rain sewers by the Municipal Corporation is made according to the capacity of 60 to 65 mm. As a result, water came onto the road. The rain gutters were blocked due to the soil, plastic and other garbage from the road being washed away with the water. "Our team worked throughout the night to remove this waste and drain the water," the Commissioner explained.
Rain gutters are laid while making cement roads, but due to heavy rains, water is flowing through the roads. 78 mm of rain fell on Friday, followed by 105 mm of rain yesterday, leading to this condition. Yesterday, the Meteorological Department issued an orange alert, expecting up to 65 mm of rain. But with 105 mm of rain, the water overflowed. Also, barricading has been installed by Metro while working. There, the water drainage system overflowed. Kumar also said the municipal employees removed the barricading and let the water flow.
A discussion was held with the Meteorological Department officials. Since 1882, it has been raining heavily in October. In October, 210 mm of rain has been received so far. Pune receives an average of 700 mm of rain every year, but this year it has received 1,000 mm of rain. As it rains heavily in a short time, it is not normal rain but a type of cloudburst. It is a kind of natural disaster.
While laying monsoon sewers, arrangements have been made so that even if there is 60 to 65 mm of rain, the water will be carried away considering the rainfall of the last 100 years. "But as the amount of rainfall is increasing, we will plan to increase the capacity of rain drains so that important roads and squares of the city do not get waterlogged," said Vikram Kumar.
Join Punekar News Whatsapp Group, Telegram, Instagram And Twitter  For Regular Update about Pune City And Pimpri-Chinchwad
Also Read Political News On Sarkar Khabar