Pune Rural Police Recover Stolen Materials Of Sinhgad Fort Waste Disposal Project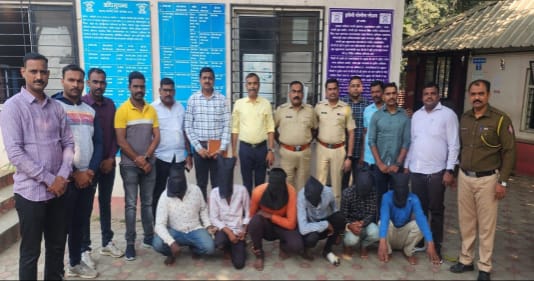 Pune, 23rd January 2023: Haveli police station and the local crime branch of Pune rural police have nabbed the gang who stole materials worth seven and a half lakhs from a waste disposal project at Sinhagad fort. It has been revealed that the main facilitator is the one working in the concerned place.
Sunil Shivaji Chavan (23), Akash Kaluram Chavan (25), both residents of Mordhari in Haveli taluka, Dada Baban Chavan (36) of Shindewadi in Bhor, Shubham Rohidas Bhandalkar (23) of Mahur in Purandar, Shambhu Dattatray Shitkal (22) of Purandar, and Sahimuddin Sajjad Ali Shah (30) of Gujar Nimbalkwadi in Haveli taluka are the names of the arrested.
There was an incident of theft of machinery brought for the garbage project at Sinhagad fort. A case was registered at Haveli police station in this regard. During the investigation, there were no eyewitnesses or CCTV cameras, and the forest department was not aware of the exact date of the theft.
Police Inspector Sadashiv Shelar of Haveli Police Station and Police Inspector Avinash Shilimkar of Local Crime Branch were instructed by Superintendent of Police Ankit Goyal to investigate the case immediately and solve the crime.
Police have nabbed a man working at Sinhagad who was the mastermind of the theft. A scrap dealer has also been arrested in this case.
The action was taken by team under the guidance of Superintendent of Police Ankit Goyal, Additional SP Mitesh Ghatte and Sub Divisional Officer Bhausaheb Dhole Patil. The team included Inspector Avinash Shilimkar, Inspector Sadashiv Shelar, API Netaji Gandhare, API Niranjan Ranware and Ajit Bhujbal, Raju Momin, Amol Shedge, Balasaheb Khadke, Mangesh. Bhagat, Dagdu Veerkar, Ganesh Dhanve, Raju Mundhe, Bhapkar, and Rajinikanth Khandale.