Pune: Sanghvi slams double ton at "PYC Filtrum Challenger Trophy" Invitation Under-25 2day Mens Cricket Tournament.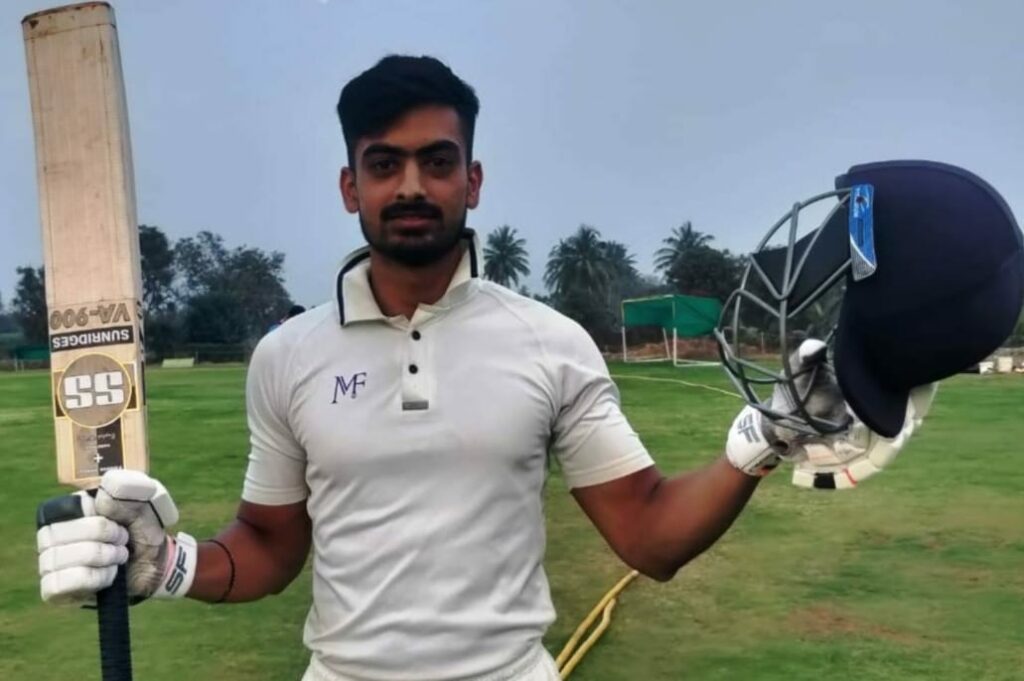 Pune, December 5, 2022: Harsh Sanghvi slammed 220 runs in 181 runs to take Deccan Gymkhana to massive 429 runs against United Sports in their first innings on the first day of the PYC-Filtrum Challenger Trophy 2 day Invitation Under-25 Mens Cricket Tournament organized by the PYC Hindu Gymkhana and played on PYC Hindu Gymkhana,Sunglow Cricket Stadium, Desire Sports Corporation, Barane Cricket grounds.
An 4th wicket partnership between Harsh Sanghavi(220runs) and Atharv Wanve(78runs) of 167 runs on 188 balls
6th wicket partnership between Harsh Sanghavi(220runs) and Soham Kumthekar(49runs) of 166 runs in 155balls helped Deccan Gymkhana to put up 429/8(declared)in 82 Overs against United Sports club who were 9 runs without loss at the end of the days play
A 9th wicket partnership between Sahil Churi(114runs) and Abdus Salam not out 14 of 96 runs in 194 balls helped PYC Hindu Gymkhana to 270 for all out in 70.5Overs in reply Punit Balan Kedar Jadhav Academy eneded the day at 53 runs without loss
In another match Atharva Dharmadhikari 124(137,24×4) helped Cadence to reach 296 runs all out in 65.2 Overs against Poona Club who in reply were in a precarious position at 33 runs for loss of 5 wickets in their first innings
The tournament was inaugurated at the hands of Mr. Niranjan Kirloskar, Managing Director of Filtrum, Mr. Kumar Tamhane, President of PYC Hindu Gymkhana, Mr. Sarang Lagu, Hon. Secretary and Mr. Vinayak Dravid, Cricket Secretary of the PYC Hindu Gymkhana.
Following are the results: League Round:
PYC Ground: First Inning: PYC Hindu Gymkhana: 270 for all out in 70.5Overs(Sahil Churi 114(178,22×4), Siddhesh Veer 54(52,11×4,1×6), Aditya Londhe 40(39,9×4), Nachiket Verlerkar 23, Abdus Salam not out 14, Akshay Chavan 3-25, Yash Khaladkar 3-69, Ganesh Mate 2-52, Aniket Indrajeet 2-96) VS PBKJCA: 53/0 in 17Overs(Digvijay Jadhav not out 34(57,7×4), Abhimanyu Jadhav not out 14);
First Inning: Deccan Gymkhana: 429/8(declared)in 82Overs(Harsh Sanghavi 220(181,18×4,13×6), Atharv Wanve 78(112,8×4), Soham Kumthekar 49(99,6×4), Atman Pore 22, Shashi Gawande 2-65, Nimir Joshi 2-127, Omkar Mohite 2-110) vs United Sports Club: 9/0 in 4Overs(Aditya Rajhans not out 3, Rohit Kharat not out 4);
Sunglow Cricket Stadium: First Inning: Cadence: 296 for all out in 65.2Overs(Atharva Dharmadhikari 124(137,24×4), Siddhesh Warghante 55(57,7×4,3×6), Aniruddha Sabale 44(53,7×4), Nipun Gaikwad 25, Harsh Oswal 3-57, Akhilesh Gawale 2-39) VS Poona Club:
Barne Academy ground: First Inning: Club of Maharashtra: 157/4 in 40.1Overs(Yash Kshirsagar 45(61,7×4), Rajwardhan Undre 42(49,9×4), Ashkan Kazi not out 23, Omkar Yewale 20, Viraj Darwatkar 20, Rohit Chaudhari 2-34, Mizaan Sayyed 1-12) VS DVCA: .