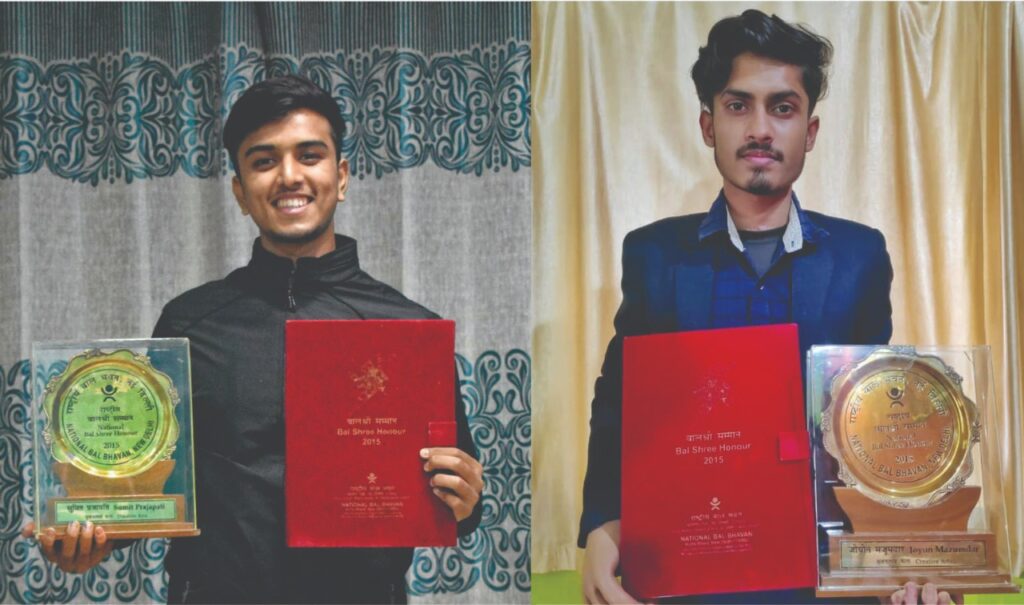 Pune, 12th December 2020: MIT Art, Design and Technology University, Department of Fine Arts and Applied Arts students Joyon Mazumdar, 20, won the coveted National Bal Shree Award in creative art in the special category on November 25. Mazumdar, who has an amputated right hand, paints with his left hand. He started drawing as a hobby in class V and now wants to make a career as an Illustrator or a Graphic Designer.

"During the competition, we were given on the spot topics and mine was on global warming. The painting depicted a barren land with a small boy who is trying to catch a drop of water to quench his thirst while numerous hands could also be seen doing the same. The entire globe was visible in the water droplet," said Mazumdar who is currently a second-year student in Bachelor of Applied Arts at MIT ADT University, Pune.

Another MIT ADT University student Sumit Prajapati also bagged the award for creative art- general category. "Competing at the national level was quite tough but also very exciting. In the first round my painting was on a cricket stadium, in the second I had shown the scene of a roadside Dhaba while in the third round my picture depicted a railway station. In the final round the candidates also faced an IQ test," said an ecstatic Prajapati.

Presently, Prajapati is a first-year student in Bachelors of Applied Arts at MIT ADT University, Pune. He started going to drawing classes at the age of 7 and since then there has been no looking back. Once he finishes his studies he wants to open a gallery in Ranchi and give artists from the city a platform to showcase their talent. He also wants to open a painting academy for students from this region who want to pursue a career in this field," added Prajapati.

The competition had 3 rounds – District, State and National. The participants had to go through various tasks and skill levels. The competition Bal Shree Honour hosted by National Bal Bhavan, New Delhi conducted in 2015- 16 was divided in four creative categories- performance, art, scientific innovation and writing while the awards were given in November 2020. The awards were due to be given by the President but owing to the pandemic, it was sent to the recipients.

Prof. Dr. Mangesh Karad, Executive President and Vice-chancellor, MIT-ADT University, Joyti Dhakane Karad, Executive Director, MIT SOFA, Dr. Mahesh Chopade, Registrar, Dr. Milind Dhobley, Dean MIT School of Fine Arts and Applied Arts, Prof. Parag Shelke, HOD, and Prof Dipti bhosale congratulate to Joyon Mazumdar and Sumit Prajapati for their success.
Follow Punekar News: