Pune Student Wins TiE Global Contest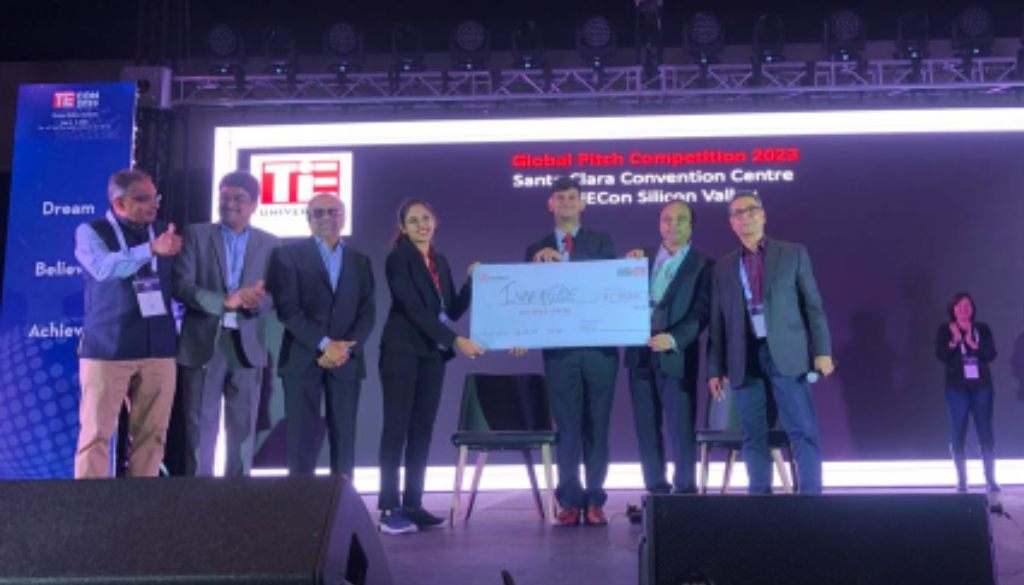 Pune, 18 May 2023: On May 5, Shalmali Kadu, a student entrepreneur, who was the Biz QuoTiEnt Pune winner, won big on the global stage. Her start-up Innergize that has developed a wearable patch to beat insomnia, anxiety and depression, was awarded the First Runner Up at the global pitch contest held in Silicon Valley, USA. Innergize also won the best women team award.
1400 teams from 34 chapters across the world participated in this contest. The First prize ($50,000) was won by Team Hubly from TiE DC, Second prize ($25,000) by Innergize from TiE Pune, and Third prize ($10,000) by Steadispoon, TiE Dallas.
The Contest had other categories too:
Sustainable category
1. West – Odyssey, TiE New Jersey
2. East – Saptkrishi, TiE Delhi NCR
Women Category
3.Innergize, TiE Pune
Social Impact category
4. West – Micro AcoustiX, TiE Germany
5. East – Backyard Creators, TiE Coimbatore
6. Best Elevator Pitch – Hubly Surgical, TiE DC
Shalmali, speaking from the USA, said "I am ecstatic beyond words after winning second place at this contest, as well as the award for the Best Female Entrepreneur. Innergize is a healthcare startup working on a wearable device for stress relief and management.
"Participating on the global platform helped me make connections with several established business owners, investors, and startup founders. Also, I received excellent feedback on my product. One of my biggest takeaways from the competition and the conference is to always think Big!"
"Through this support now we will be able to carry out our 200 Patient POC Testing and accelerate our journey towards the regulatory approvals. Getting global validation at such an early stage is a huge achievement for us. This win will play a pivotal role for us to achieve our goals and take our startup to the next level. I want to express my gratitude to the entire team of TiE Pune and my mentors for believing in me and supporting me in every way possible. I would also like to thank the TiE Global team for starting an initiative that supports young entrepreneurs like me. I am humbled and honoured to have received such a prestigious platform to present my start-up."
Ramesh Mirakhur, who chairs this TiE University program at TiE Pune, said, "It has been a privilege to lead this program and have our team win at the global stage for the second year in a row! In 2022 also, our TiE Pune team won the best prize in the Social Impact Category. My congratulations to Team Innergize and a big thank you to all the Charter Members of TiE Pune who devote their time selflessly to train and mentor young entrepreneurs."