Pune: This Is How The Leopard Was Rescued In Hadapsar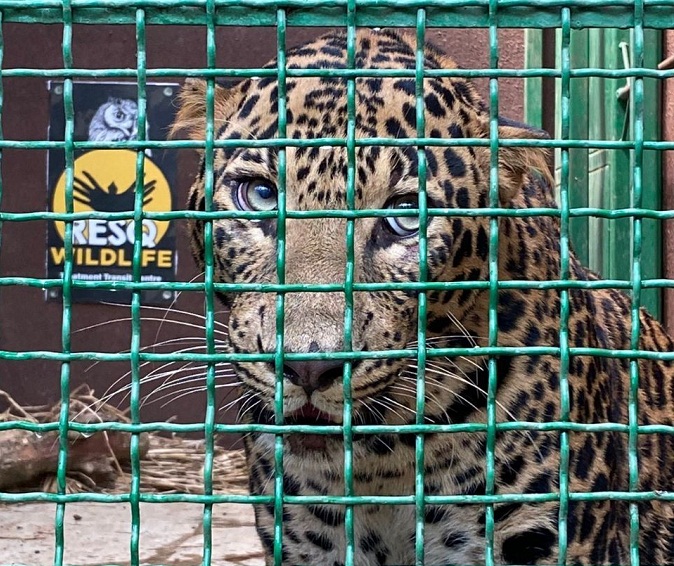 Pune, 27th October 2021: Yesterday around 6 am, a person claimed to be attacked by a leopard in Gosavi Vasti, Hadapsar, after which the Indian Herpetological Society team and Forest Department responded to the incident and confirmed it was a leopard based on the victim Sambhaji Atode's report and bite injuries.
Pune Deputy Conservator of Forest (DCF) Rahul Patil called the RESQ Charitable Trust Wildlife team at 9:30 pm to capture the leopard, as it was discovered to be hiding 200 meters away from the incident location.
After obtaining valuable information from Hon. Wildlife Warden – Aditya Paranjape, RFO Mukesh Sanas and Pune Forest Department team on ground, we began assessing the location. Tuhin Satarkar, Sumedh Tarde, ACF Mayur Bote, ACF Shendge, RFO Deepak Pawar and Neha Panchamia strategised the capture plan quickly and thereafter, our RESQ CT Wildlife team (10 members) began working while the Pune Police effectively controlled the public outside the rescue perimeter.
Tarde said, "We secured every escape route while the darting team, RESQ Wildlife veterinarians – Dr Chetan Vanjari and Dr Sushruth Shirbhate, took their positions. The leopard was safely darted and then safely transferred into a transport cage by Tuhin Satarkar, Nishanth Ravi, Harshad Nagore, HWW Aditya Paranjape and Pune Forest Department and moved out quickly to RESQ Wildlife Transit Treatment Centre (TTC), Bavdhan."
Gosavi Vasti is a densely populated area in Hadapsar, Pune. If the leopard had gotten out, it would have been an absolute disaster. The Pune Forest Department and RESQ CT have great working coordination and thus the operation went smoothly because we strategised effectively, was fully equipped, took proper measures to secure location and all other stakeholders cooperated – police, public and media.
Currently, at the RESQ Wildlife TTC, the leopard is now alert and awake. He is a healthy young male about 3-4 years old and has recovered well from tranquillisation, Panchamia informed.
Advt