Pune To Be Connected To Navi Mumbai Airport, New Airport For Pune Must: Devendra Fadnavis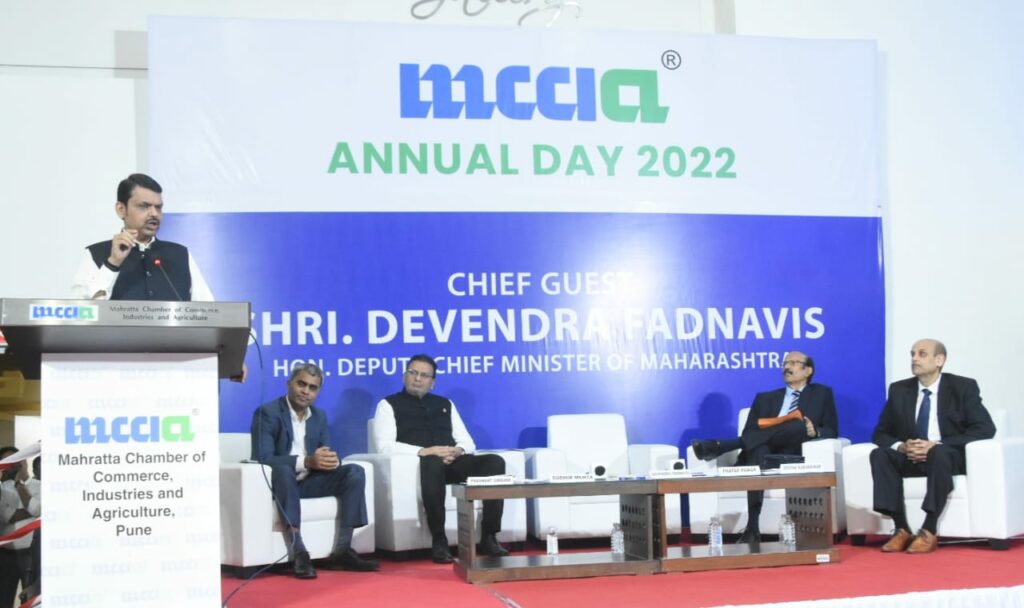 Pune, 25th September 2022: Prime Minister Narendra Modi's dream is to make the country's economy worth five trillion dollars, and if it is to be achieved, Maharashtra will also have to become a trillion-dollar economy. Deputy Chief Minister Devendra Fadnavis asserted that the Maratha Chamber of Commerce and Industries (MCCIA) and industries in Pune will continue to play a major role in the state's trillion-dollar economy.
He was speaking at the annual day program of the MCCIA, Pune. Former President of MCCIA Prataprao Pawar, President Sudhir Mehta, Designated President Deepak Karandikar, Director General Prashant Girbane, and others were present on this occasion.
Fadnavis said Mumbai Metropolitan Region Development Authority (MMRDA) and Pune Metropolitan Region Development Authority (PMRDA) are expected to see major development. Pune is an important centre of industrial production. A large number of exports are also made from here. Pune has earned its prominent name as a 'Startup Ecosystem' in the recently released 'Global Startup Index.'
Maharashtra is the hub of startups in the country, and Pune is the major hub of startups in Maharashtra. 15,000 startups out of 80,000 in the country are in Maharashtra. Out of 100 unicorns in the country, 25 unicorns are in Maharashtra. The necessary industrial environment for such industries has been created in the state. It should be considered how this industry-oriented environment can be taken forward. More emphasis has to be laid on infrastructure development.
The Ring Road in Pune will drive Pune's growth for the next 10 years. An investment of Rs 30,000 crores is expected for the ring road, and this route will be a value generator of 1 to 10 lakh crores in the next 10 years. This ring road will be the engine of the development of Pune. Innovative ideas from experts for land acquisition along this route will be welcomed. The work of two phases of Metro Rail is progressing rapidly in Pune. Given the industrial environment in Pune, Pune and Pimpri Chinchwad should be the first cities to use 100 percent electric vehicles or alternative fuels.
"Pune Airport has a great contribution to the economic development of Pune. Major countries of the world are connected with Pune. There is a need to increase flights from Pune. It is necessary to build a new airport for Pune as it is not possible to operate the current airport with more than a limited capacity. Efforts have been started to build a new airport at Purandar. A cargo and logistics park is also being planned here along with the airport. Navi Mumbai Airport will be connected to Pune, which will benefit Pune", Fadnavis said.
He added, "It is necessary to maintain the industrial environment in Maharashtra. Foreign investment in Maharashtra is steadily increasing. Maharashtra is ahead of other states in the country. Maharashtra will once again be number one in terms of investment in the coming year. The government has given special attention to strengthening roads, metros and other means of communication. It is necessary to maintain the industrial environment in Maharashtra while developing rapidly. Workers must be protected, but action will be taken against false workers. Industries have to be protected for industrial development."
"MCCIA plays an important role in the development of Pune and Maharashtra. In the future, efforts will have to be made to bring Fintech to Pune, for which the role of MCCIA will be important. This organization has a vision and has continuously guided the government in various contexts", said Fadnavis and assured that the government would extend all support to the activities of MCCIA.
The Deputy Chief Minister answered the questions raised by the industrial representatives. Work has been started to improve the quality of roads in Pune city. Emphasis has been laid on proper planning of transportation. A round-the-clock water supply scheme is being started in Pune shortly, and this will avoid the wastage of water. He also said that, in the future, the water from the dam will be given to the citizens and agriculture instead of directly to the industries, and the purified water will be given to the industries. He also said that Pune's educational institutes like IITs and IIMs are imparting the best quality of education.
Karandikar also expressed his thoughts on this occasion. Small and medium enterprises have played an important role in the development of the country. He said that there is a need to increase the use of green energy in these industries.
Mehta said MCCIA has cooperated to empower health facilities in Pune. With the help of the government, efforts will continue to make Pune the cleanest city in the country in the next three years. Pune city has the potential to become a global hub for education, electric vehicles, and medical facilities, he said.
Girbane gave information about the work of MCCAI. Deputy Chief Minister Fadnavis released the 'Mission Vayu' report and the annual report of the MCCIA.
MLA Madhuri Misal, Siddharth Shirole, former Mayor Muralidhar Mohol, Pimpri Chinchwad Municipal Commissioner Shekhar Singh, Collector Dr Rajesh Deshmukh and dignitaries from the industry were present at the event organised at MCCIA Trade Tower on Senapati Bapat Road.
Join Punekar News Whatsapp Group, Telegram, Instagram And Twitter  For Regular Update about Pune City And Pimpri-Chinchwad
Also Read Political News On Sarkar Khabar