Pune University joins hands with startup DeepTek to work on AI, healthcare research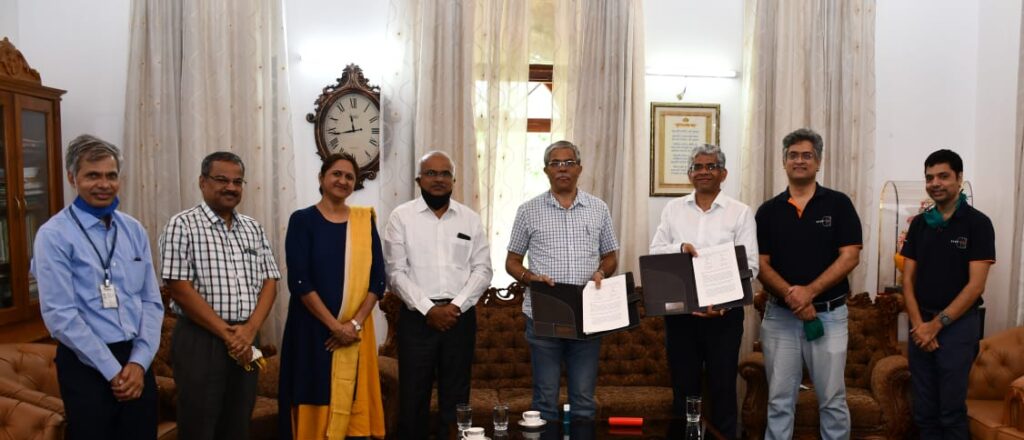 Pune, 30 July 2020: A letter of intent was signed between the Centre for Innovation, Incubation and Enterprise(CIIE) at Savitribai Phule Pune University (SPPU) with healthcare startup DeepTek to provide market linkage and work on innovative research proposals in healthcare and Artificial Intelligence (AI) domain jointly.
SPPU Vice-Chancellor Dr Nitin Karmalkar, Pro VC Dr Umarani, Dr Apoorva Palkar-Director Innovation at SPPU and co-founders of Deeptek Ajit Patil, Anuruddha Pant and Dr Amit Kharat were present on the occasion.
"SPPU is keen to support startups working in COVID diagnostics and provide them access to the ecosystem. This aligns to our vision set up for the proposed centre for molecular diagnostic and research centre being set up at the University", informed Dr Nitin R Karmalkar, Vice Chancellor SPPU.
Dr Apoorva Palkar, Director IIL-SPPU, "Centre for innovation helps startups for validating and scaling up and Deeptek a startup that provides innovative solution using AI in image processing through X Ray and CT scan is a novel initiative that can be a great breather when testing is most crucial."
CIIE will support the healthcare startup working in the space of radiology artificial intelligence to validate the innovative "Radiology Optimization Platform" called Augmento. Augmento has innovated the space of diagnosis and radiology reporting by embedding AI artificial intelligence (AI) in medical image analysis and workflow thereby augmenting imaging experts, radiology administrators, floor managers and hospital administrators. This breakthrough solution will be administered in various COVID-19 Hospitals in the coming months
Augmento is an ancillary tool for diagnosis of Covid19 pneumonia-like pattern from Digital Radiographs and CT. Augmento allows to do an instant triage and prescreen from an Xray and/or CT imaging into normal or suspicious for Covid19 within few seconds and it can be supplemented with a clinically validated structured quantified radiology report within 60 minutes of completing the study.
Augmento has a powerful analytics tool which has been used for disease detection, notification, generating instant alerts and strengthening patient follow up and last-mile screening, a tool especially valuable for nodal officers monitoring infectious diseases and will be very useful for Covid19 screening. This tool also has empowered imaging experts, thereby allowing them to significantly reduce radiology report turnaround time in hospitals and/or mobile van-based x-ray screening.
CIIE is working very closely with startups and focusing on healthcare and diagnostics. Currently, it has more than 40 startups working in the centre.
"Over the last 12 months, more than one lakh patients have been screened using the AI-enabled smart platform for TB screening. Apart from TB, the platform screens digital chest radiographs for 18 different pathologies including Covid19 like pneumonia patterns", said DeepTek MD Ajit Patil.
DeepTek is a Pune based startup funded by NTT DATA Japan, Nobori, Japan and GHV accelerator.