Pune: Unscientific theories and misconceptions over breast-feeding should be rejected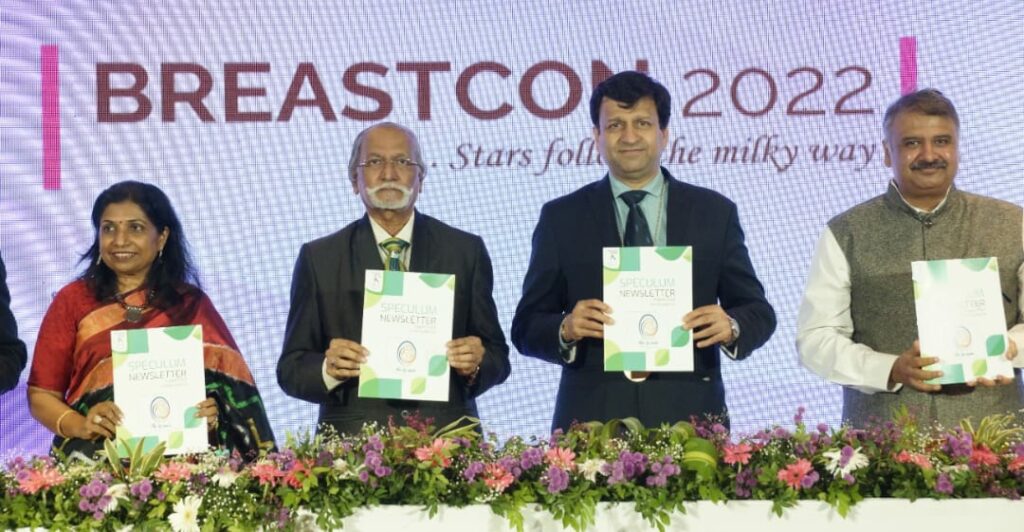 Pune, 16th August 2022: 'Awareness on breast-feeding and breast health is an important aspect and it's necessary for all gynaecologists and obstetricians to learn its fundamentals. Lots of misconceptions about breast-feeding and unscientific theories like giving gold and honey to a new born baby are disseminated through the media, which otherwise is contrary to the standard practice the gynaecologists follow. It is important that the baby should be breast-fed as soon as it's born as the milk helps build immunity and also prevents infections. Also for a mother, it helps in improving her health by reducing chances of bleeding and anaemia as well as breast cancer, endometriosis and obesity,' opined doctors during the inauguration ceremony of BREASTCON 2022 organized by the Pune Obstetric & Gynaecological Society (POGS) over breast health awareness at Hyatt Regency.
Chief Guest, Dr P. K. Shah, Past President of Federation of Obstetric and Gynecological Societies of India (FOGSI), Guest of Honour, Dr Jaydeep Tank, President Elect FOGSI, members of POGS including Dr Parag Biniwale, President, Dr Milind Dugad , Dr Uma Wankhede, Vice Presidents, Dr. Ashish Kale, Secretary and Conveners including Dr. Mangala Wani , Dr. Charulata Bapaye and Dr. Sneha Bhuyar were present during the conference.
"It's the gynaecologist who sees the pregnant woman for the first time in their clinic and that's the time when the actual promotion of breastfeeding starts. Unfortunately, as far as breastfeeding is concerned, we don't include that in our statistics and there's lots of resistance as some gynaecologists and obstetricians do not consider the awareness over breast-feeding essential," said Dr. P.K. Shah.
Speaking on the subject, Dr. Parag Biniwale said, "We as health care providers for women promote breast milk for all its benefits but unfortunately world over, only 40-50% women start breast-feeding immediately after birth. If a mother has less quantities of milk, supplements and medications can be given to the mother rather than giving formula feed to the baby. If the mother is unable to feed the baby, she can learn proper feeding from a lactation specialist. It is recommended that a mother should feed her baby exclusively on breast milk for a minimum of six months and should avoid getting misled by irrational theories."
Dr. Jaydeep Tank said, "The pressure on pregnant women to do the 'right thing', which starts from Whatsapp messages and Youtube videos is incredible nowadays. Breastfeeding is important but we have to introduce a non-stigmatizing way of supporting women who fail to breastfeed. There will be occasions where they will be unable to breastfeed despite their best efforts due to several problems."
"The primary aspect of the conference is to endorse the importance of breastfeeding, which is good for the baby as it reduces morbidity, mortality and other illnesses. We want to spread the message of breast health to decrease the incidences of breast cancer or atleast have an early diagnosis," said Dr. Mangala Wani.