Pune: VH1 Supersonic Is Coming Back With A Bang From 24th-26th February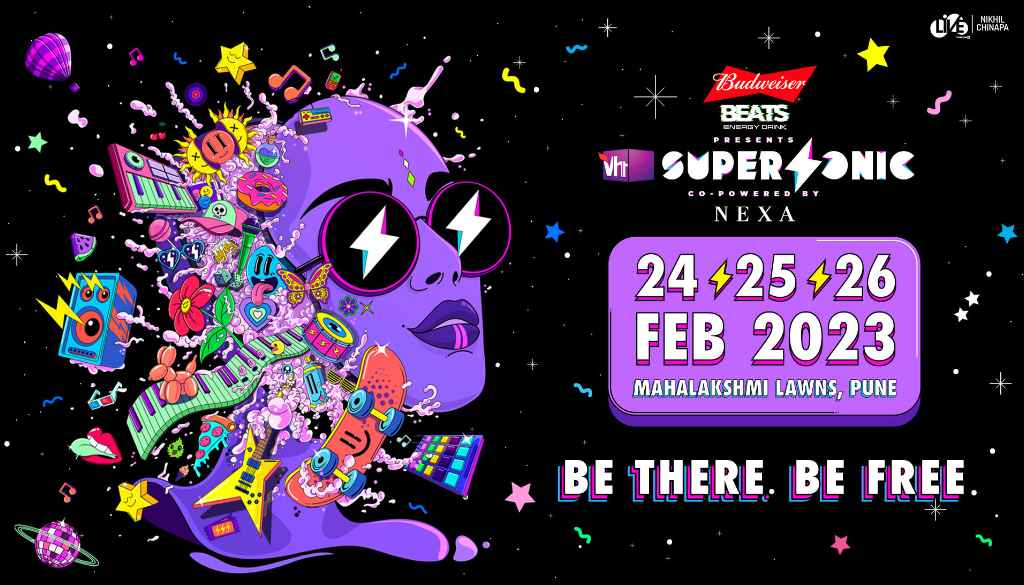 Pune, 9th January , 2023: Uniting music lovers and lifestyle enthusiasts, Vh1 Supersonic, the much-anticipated multi-genre music and experiential destination is all set to return after a hiatus of two years, celebrating all things music, food, art, fashion and gaming!
The one-stop shop for all things pop-culture is here to help everyone escape from the mundane life and revel in things that make them feel young, wild, and free. Vh1 Supersonic gears up for an unparalleled experience from 24th to 26th February 2023 at Mahalakshmi Lawns, In Pune.
Riding high on its successful 7 previous editions, Viacom18's marquee property, Vh1 Supersonic 2023 has not only onboarded sponsors and forged partnerships with the category leaders across sectors, that transcends genres, boundaries, cuisines, artists, and experiences, all at one place! The total sponsorship value has levelled up, with Budweiser Beats on board as the Title Sponsor, with them curating multiple one-of-a-kind experiences across the festival like bringing back the much loved Budweiser Beer Garden along with their very own Techno & House stage; BUDX Spectrum, a dancefloor which thousands have graced over the years, amongst other exciting engagements at the festival.
Along with powered by sponsors onboarded such as NEXA, and eminent partners such as World-renown Audio partner, JBL & cocktail partner – Jimmy's Cocktail, there are sure to be lifelong memories of a multi-sensory experience.
Travel Partner – Make My Trip, youth partner – Under25 Club, Vibe Partner – Slim Jim (India's biggest Hemp Lifestyle Brand), and Fitness Partner – Gold's Gym – are also coming together to provide never before seen offers exclusively for the buyers of Vh1 Supersonic Passes. Last, but not least – Impresario Entertainment & Hospitality Pvt. Ltd will be partnering with Vh1 Supersonic with a more holistic consumer experience in mind. They will offer a one-of-a-kind food and beverage experience, to give consumers an elevated experience of a fest within a fest!
Speaking on the brand partnerships and support received for this edition of Supersonic, Mahesh Shetty, Head – Network Sales at Viacom18 Media Pvt Ltd said, "As one of the biggest multi-genre music and lifestyle festivals in the country, Vh1 Supersonic has evolved into an unrivalled cultural phenomenon. It has established itself as one of the premiere destinations for youth brands to reach their target demographic. Our seamless brand integrations keep us ahead of the game; leading global brands like Budweiser partnering with us once again as well as partners like NEXA and JBL joining us in this journey is a sterling example of the success of Vh1 Supersonic each year."
Gaurav Mashruwala, Business Head, Viacom18 LIVE (Integrated Network Solutions) added, "For over a decade, Vh1 Supersonic has carved an unequivocal legacy for itself, becoming synonymous with an exceptional experience that combines music, love, food and art. It continues to cross benchmarks with phenomenal support from like-minded brands. Our Superfam can look forward to an unrivalled new edition, across multiple consumer touchpoints, thanks to our incredible support systems – our partners and their distinguished offerings."
On the partnership with Supersonic, Vineet Sharma, VP Marketing – South Asia, AB InBev, said, "Vh1 Supersonic has come to be known as one of India's most iconic music festivals with its larger-than-life experiences, genre-defying music and as an established culture-shaper. These are tenets that strongly resonate with our brand, and we're thrilled to be collaborating again to bring back the newest edition of the festival, after a 2-year wait. We will see the return of some of Budweiser's most coveted experiences at Supersonic, but beyond that, with Budweiser Beats, we promise to level up the energy with new and unforgettable moments for fans and festival goers to enjoy the music this year."
Synonymous with Vh1 Supersonic, Festival Curator Nikhil Chinapa, said, "We're been away for two difficult years and we're thrilled to be back.. and back with a bang! Much has changed while much remains the same. Incredible international and indie artists, phenomenal production, flea market, food and fashion streets… but most of all, our SuperFam is back and I can't wait to see them all! I'm beyond excited and I can't wait to make new friends and catch up with old ones at Vh1 Supersonic 2023!"
To ensure a hassle-free super-trip, festival enthusiasts can buy the Supersonic Pass inclusive of Travel and Hotel deals through curated, special holiday packages by Travel partner, Make My Trip. As the Youth partner, Under25 will organize on-ground Supersonic Townhalls in colleges to create engaging, learning & festival-focused activities via college ambassadors while also providing potential jobs/internships to the young, budding talent across India today who want to see what this entertainment industry is all about! Coming on board as the Vibe partner, Slim Jim will give away exclusive Eco – Friendly, Hemp-based products only to Supersonic pass holders with 50% off, before and during the festival. To fulfil the hunger pangs of all, trailblazer Impresario Entertainment & Hospitality will not only have the self-programmed SOCIAL stage with SOCIAL-dedicated bars across the festival but also the most exciting integration will be the curation of the Superflea; with specially curated experiences and pop-ups by restaurants under the Impresario portfolio such as SOCIAL, Smoke House Deli, Salt Water Cafe, Slink & Bardot, Boss Burger, Lucknowee, Prithvi Cafe & many more! To add to the extravaganza, the Superflea will also feature a few brands that are 'Friends of Impresario'!