Punekar News Launches "Pink Hope" Initiative To Empower Women Against Breast Cancer – Calling For Volunteers And Collaborations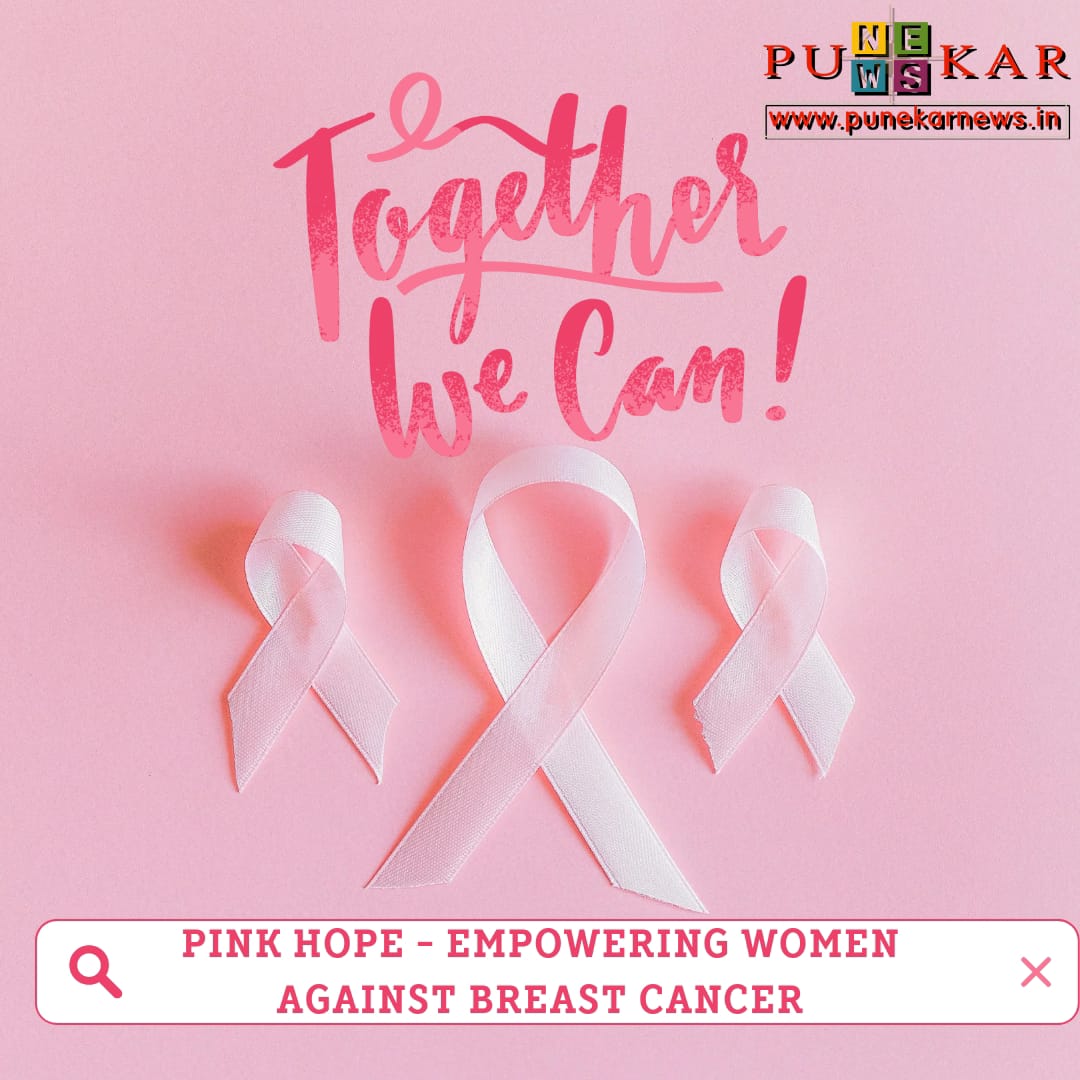 Pune, 2nd September 2023: In a significant step toward enhancing community health and raising awareness, Punekar News is proud to introduce "Pink Hope," an initiative dedicated to Empowering Women Against Breast Cancer. Running for 60 days from September 1st to October 31st, this campaign aims to create a brighter future for women by promoting breast health awareness and early detection.
The Pink Hope Initiative: Pink Hope is a comprehensive program that combines various components to address the critical issue of breast cancer. 
Here's what you can expect:
Workshops and Seminars:

 Pink Hope will host interactive workshops and seminars to educate individuals about breast health, prevention, and early detection. Our goal is to empower communities with knowledge that can save lives.

Recognition Events:

 We will honor the courage of breast cancer fighters and recognize the contributions of individuals and institutions that have made a difference in the fight against breast cancer.

Empower Her Talk Series:

 Tune in to our insightful "Empower Her" Talk Series featuring medical experts, survivors, and health professionals. Gain valuable insights into breast health, early detection, and empowerment.

Awareness Campaign:

 Pink Hope will launch an awareness campaign with a series of informative articles and impactful social media posts. Help us spread the word about breast cancer awareness, screening, and self-care practices.

Online and Offline Reach: 

We aim to reach a million individuals through a combination of online engagement and offline activities. Join us in our mission to provide vital information about breast health to people's lives.

Collaborations: 

We are collaborating with medical experts and students to amplify our outreach. Together, we can make a significant impact in the fight against breast cancer.
How You Can Help:
Volunteer

: If you are passionate about community health and breast cancer awareness, consider volunteering with Pink Hope. Your time and dedication can make a real difference.

Collaborate

: We welcome collaborations from organizations, medical professionals, and anyone interested in supporting this vital cause. Your collaboration can help us expand our reach and impact.

Sponsor

: Become a sponsor of Pink Hope and directly contribute to the success of this initiative. Your sponsorship will cover expenses for various campaign components, enabling us to reach more people.
Join the Pink Hope Movement: Breast cancer is a global issue that requires collective action. Pink Hope aims to create a supportive community where every woman is empowered with knowledge and resources to fight breast cancer.
Join us on this journey by volunteering, collaborating, or sponsoring Pink Hope. Together, let's create a world where breast cancer is detected early, lives are saved, and women are empowered.
For inquiries, volunteer opportunities, collaborations, or sponsorship details, please contact Amit Singh: 
Whatsapp: 7385008366 Email: amit@bimsindia.in
PunekarNews.in, established in 2014, is the leading English-language hyperlocal news portal serving Pune and Pimpri Chinchwad cities of Maharashtra, India. Known for its commitment to civic issues, human interest stories, and community well-being, Punekar News has a strong presence with over 50 lakh monthly views and a vast organic social media reach.
Follow us on social media and stay tuned for updates about the Pink Hope initiative. Together, let's make a difference in the lives of women and communities.