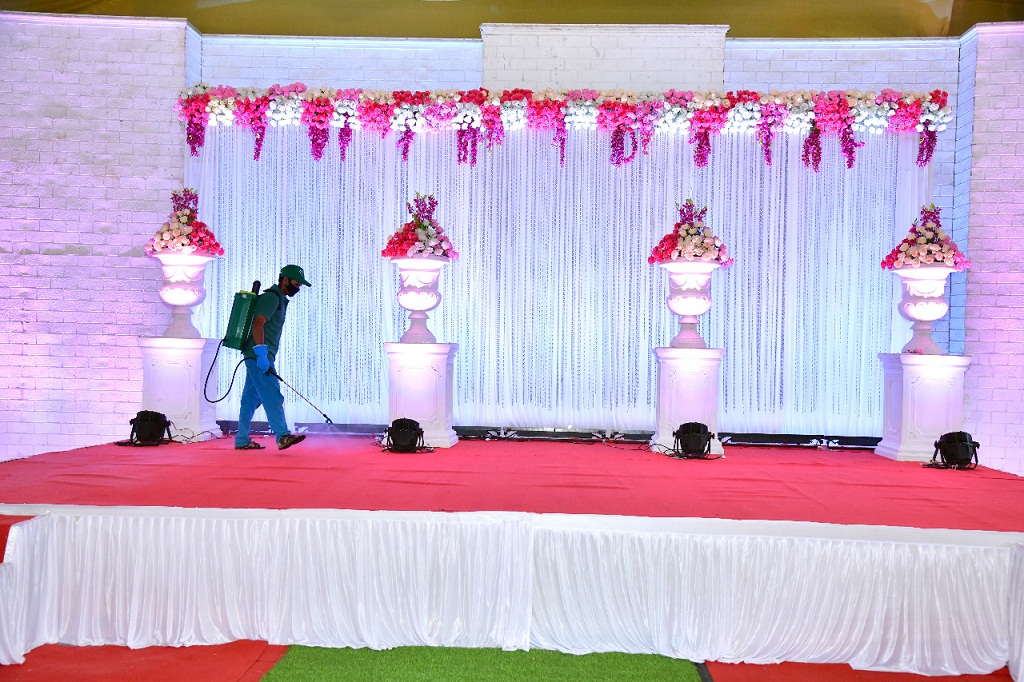 Mehab Qureshi
Pune, August 25, 2020: The Coronavirus pandemic has truly changed the face of weddings. To say COVID has affected marriages is truly an understatement. It might sound strange, but more weddings were performed during the ongoing lockdown period, claimed several marriage bureaus.
The sole reason for this is saving money as lockdown restrictions helped people avoid expenditure on lavish functions. As the number of people is restricted to 50, most of the wedding halls and banquets in Pune have decided to give an enormous discount to their customers.
"The number of people who can attend the weddings is less. So, we have decided to give a 25-30 percent discount to our customers. We have given upto Rs 10,000 discount to our customers for lockdown weddings. We also ensure the utmost safety of our customers by taking all the preventive measures directed by the State Government," said Vandana, who is a Venue Manager at Occasion lawns.
Meanwhile, the organisers at Mantra Halls have also decided to give a flat discount of 10-15 percent owing to the pandemic. "Safety during this crisis is our concern, so more precautions are being taken. Kitchens are being sanitised regularly. We ensure chefs wear chef hats and the utensils are washed properly," said one of the organisers while speaking to Punekarnews.in.
Famous Raga lawns in Mundhwa, which provides incredible green lawns and a vast banquet hall, has decided to give their customers at least a 15-20 percent discount. With a unique arrangement of security for the family, the organisers will also provide the catering and decor services, and at cheaper rates compared to the pre lockdown period.
The organisers of Siddhi Gardens and Lawns at Erandwane have decided to give a flat discount upto Rs 50,000. "The area of the lawn is huge since less people are allowed. We are giving this discount. We will also help with the catering and decor services," said an organiser.
Mahalaxmi Lawns is an alluring wedding venue in Pune. It is usually booked for grand weddings banquets, the price of the lawn is affordable, claimed the organiser, stating that they had offered an extra 10 percent discount and high precautionary measures for COVID.
We asked a few couples who married during the lockdown period. This is what they have to say:
Engineer Sanyukta Shinde and Content Writer Tushar Lohar: During this time of emergencies, it was a great experience to keep the wedding simple and old school. We could enjoy every small detail of the wedding, and honestly, this felt like an intimate celebration rather than inviting 100s of guests. Inviting a few made us feel even closer. Yes, we missed our friends, but they were able to watch us digitally and send wishes. So no regrets about it
Homemaker Rita Singh and Businessman Amrit Singh: Quite a different experience, everyone was wearing masks, and few people who meant so much to us were invited. Yes, there are some strict customs, but we didn't let them spoil our mood. We didn't buy any designer clothes, we wore something more meaningful and personal.
Chetan Tulaskar and Liya Tulaskar, who are IT professionals: We believe that marriage during the lockdown is comparatively better because we could save so much money. Had it been for a typical wedding, the expense would have been a lot, but this was different, and we are glad that we did save quite a bit. With our savings, we could plan a better honeymoon and use the money for our future.
All the above experiences tell us that there is no right time to get married, it is only you, and your partner knows when it's right, not the society.
Follow Punekar News: