Pune's Most Innovative Police Commissioner K Venkatesham Thanks Punekars For Their Unconditional Love 
Mubarak Ansari
Pune, September 19, 2020: As he was relieved from his duty as Commissioner of Police Dr K Venkatesham thanked Puneites for their warmth and unconditional love in a heartfelt message. One of the most efficient police commissioners of Pune, Venkatesham can be credited for gaining the trust of Puneites as a top cop. 
He had joined Pune police in August 2018 and has completed two years tenure. Venkatesham will now take charge as the Additional Director General of Police (Special Operations), Mumbai. 
He believes that "Every challenge is an opportunity to serve better". He has been innovative to improve services within the constraints of government rules and the limited available resources in the government setup. 
What He Did For Pune? 
SEVA: Service Excellence & Victim Assistance: Police used to record the name, phone number, photo and reason for visiting police chowky or police station on a Tab. After a few days, a team sitting at the Control Room would call up to know the feedback and also whether their grievance was redressed or not. The senior officers right from the police inspector to even Police Commissioner would call back people randomly for their feedback. If the issue was not resolved at the police station level and then senior officers would intervene to get it done. 
Visitors' Waiting Room: Though Venkatesham changed the face of the police commissioner's office, one of the first things he did was converting a huge hall into a visitors' waiting room. Many people visit the CP office to meet the officers without a prior appointment at around 4 pm every day. Earlier they had to stand or some of them would sit on a sofa near the staircase. Venkatesham got the hall cleared (from clerks) and made it neat and clean. Now it's an AC hall with television, adequate chairs, sofa and drinking water dispenser for the visitors. 
Bharosa Cell, a platform to support women, children and senior citizens through counselling, legal support, etc., was Venkatesham's dream project. He had also carried out this project earlier in Nagpur. Puneites lauded him for this project. He also helped turn the image of Pune police in people's minds affirmatively. To set up this cell, he relocated the traffic branch office at Yerwada and established the Bharosa at CP Office in place of the traffic branch.
Tuesday Review Meeting (TRM): As the name suggests this meeting used to be held on every Tuesday and had become one of the most hated initiatives for the officers and police personnel. All senior police inspectors, ACPs and DCPs would spend at least three days in the documentation for the review meeting. A visit to the police stations during the weekend would be futile as inspectors would be away meeting their DCPs for presentations related to TRM. Many officials believe that TRM helped in disposing of hundreds of pending cases.  
In my 10 years of crime reporting in Pune, I found Dr Venkatesham to be the most innovative officer (after Meeran Borwankar) who thought out of the box and took many steps. Whenever I met him one thing I always heard from him is "Poona ko changla karna hai (have to make Pune a good place). He would always note down the suggestion in his diary and ensured that it was followed up. Being a CP he never hesitated from calling reporters. He didn't differentiate between the brand of the newspaper. He would respond to calls and messages. And would call back if not able to receive phone call. 
He was always enthusiastic. He was also involved with the colleges and private agencies in doing research (most of them gave positive reports about Pune police). As police are one of the government departments which come in contact with a large number of people daily, there are many who are not satisfied with the way department functions. 
He once took a meeting of all hafta collectors or Vasuli, who used to engage in organised hafta collection (done mostly on monthly basis) on behalf of police stations and Crime Branch units. He asked those involved in it to refrain from their this 'work' and within a few days, most of them were shunted out of the police stations, units and attached to the police headquarters in Shivajinagar. He did a lot to reign the illegal activities and organized crime. But the release of a notorious criminal from jail just ahead of the last assembly elections dented his image. Most officials say it was a political move. Another case which was criticised by a section of people was the investigation of Elgaar Parishad case.
Adapting with the times, the use of social media (especially Twitter) and technology increased during his tenure. QR code scanning for beat marshalls and app to check externed (Tadipar) criminals are some of the examples which he launched to maintain law and order situation. Many staff especially the constabulary is yet to adopt it fully. 
In his message to the people of Pune, Venkatesham thanked the citizens for their support and feedback. On a lighter note, he also said that Puneites helped him refine his knowledge of Marathi language.
About Dr Venkatesham's Life
Dr K Venkatesham belongs to a rural village near Hyderabad, Telangana. He studied in Telugu medium till 10th class in a Zilla Parishad school. Later he got selected through state-level competition test to a Residential College for meritorious students funded by the government. He is post graduate in Microbiology, Gold medalist in graduation, a fellow of "Indian Council of Agriculture Research" in post-graduation. 
His favourite leaders are Mahatma Gandhi (for he did whatever he taped), Swami Vivekananda (for inspiring youth for Service and Sacrifice), Dr APJ Abdul Kalam (for igniting the minds of a number of Indians).
For a greater platform of public service, he chose civil service and got selected for the coveted Indian Police Service (IPS). In the IPS service, he excelled in various capacities as ASP, SP, DCP, Addl. CP and Commissioner of Police of Nagpur and then Pune. 
He has been rewarded with DG insignia, Police Medal for Meritorious Service, President Medal for Distinguished Service. His variety of experience in policing, Uniqueness in approach, indefatigable interest in searching for alternative solutions and Uncompromising commitment for the service defines him. His basic motto in service is "POLITE but FIRM".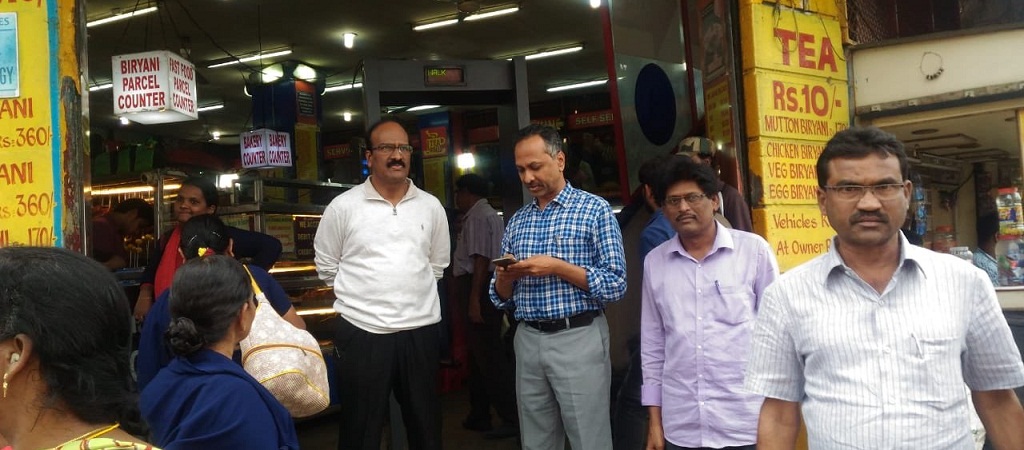 The former CP's last message to Punekars
Thank you
Dear Punekar.
Thank you for the SUPPORT  given to our _INNOVATIVE_ POLICING experiments,
Thank you for giving this great OPPORTUNITY to SERVE the needy,
Thank you for giving us ENCOURAGEMENT when we needed it,
Thank you for UNDERSTANDING our _honest_ intentions and genuine _mistakes_,
Thank you for ALLOWING us to create new BENCHMARKS in policing and crime control,
Thank you for giving feedback on our frequent reports of OUTCOMES,
Thank you for refining my Marathi,
Thank you for partnering the COMMITTED team (of DCPs, police officers and constabulary) and Making Pune a _safer_ _place_ to live,
Above all,
Thank you for the warmth and unconditional Love of Pune
It has been an amazing journey.
Regards
K Venkatesham, IPS
CP Pune ( now transferred).