Punjab Chief Minister Amrinder Singh Resigns, Ministers Also Submit Resignation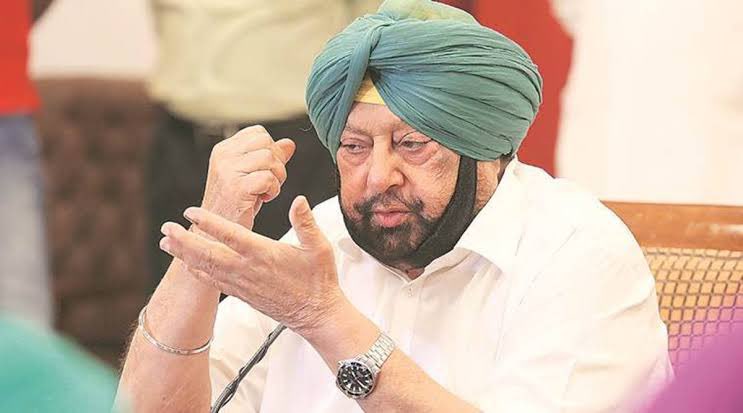 Chandigarh, 18th September 2021: Punjab Congress Chief Minister Captain Amarinder Singh has resigned from his post after prolonged turmoil. Before the Congress Legislature Party meeting at 5 pm, he also held a meeting with his close MLAs and after that went to the Raj Bhavan and submitted his resignation to the Governor.
Capt Amarinder Singh reached Raj Bhavan exactly at 4:30 pm and resigned. Apart from himself, Amarinder Singh has also submitted the resignation of the entire Council of Ministers to the Governor.
When he reached the Governor's House to resign, his wife Preneet Kaur was also present with him. After submitting his resignation to Governor Banwari Lal Purohit, Captain Amarinder Singh openly expressed his displeasure with the Congress high command.
Captain Amarinder Singh said that I had decided to resign this morning itself. In the manner in which the meeting of MLAs was called three times in Delhi and Punjab in the last one month, it was clear that the high command has doubts about me. In such a situation, I have resigned from the post and now the party can make whomever it wants as CM. Apart from this, he has also indicated to leave the party saying that the options for future politics are open.
Angered by the working style of Captain Amarinder, 40 MLAs and ministers complained to the party high command. The MLAs and ministers said that it is very difficult to meet the Chief Minister even for important work. Earlier, Harish Rawat had tweeted on Friday and said that the party MLAs of the state have written a letter to the party high command demanding an immediate meeting of the legislature party, in view of which the decision has been taken to call this meeting at 5 pm on September 18.
Captain Amarinder interacted with many MPs and supporting MLAs including Pratap Singh Bajwa, Gurpreet Aujla. He also interacted with top party leaders including Sonia Gandhi and expressed his displeasure. Sources said the chief minister was asked to resign. The Captain had told Sonia Gandhi that his removal would be an insult which he would not tolerate. He can even leave the party.