Rajarshi Shahu College of Engineering embarks upon a new journey with Academic Autonomy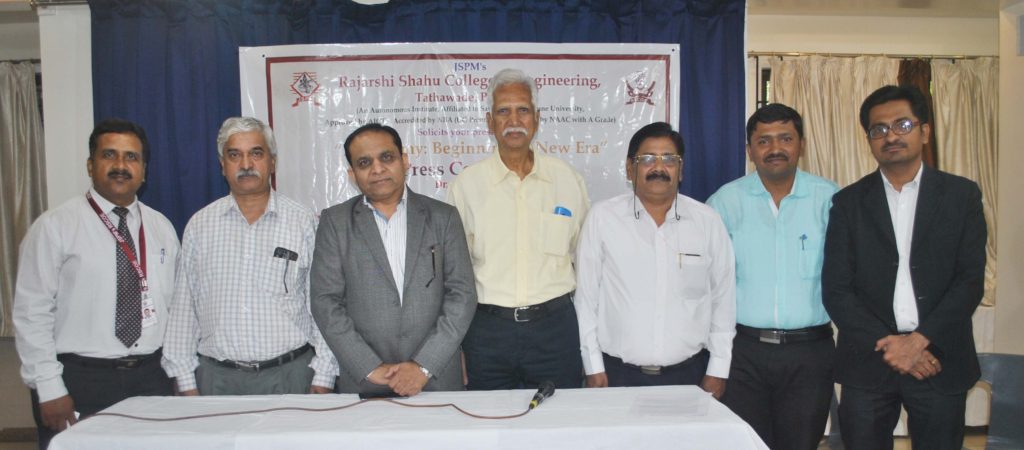 Pune 25 April 2019 : JSPM's Rajarshi Shahu College of Engineering (RSCOE) has embarked upon a new journey with academic autonomy. The autonomous courses will start this academic year from June and will include Computer, IT, Mechanical, E&TC Electrical, Civil engineering streams besides MBA and MCA. This information was given at a Press Conference by Dr R.S Joshi Director JSPM , Dr P.P Vitkar Campus Director RSCOE , Dr R.K Jain Principal RSCOE , Prof. S, L. Bhilare, Mr. Ravi Sawant, Dr Avinash Devasthali Vice Principal, Prof. S.P Borde Dean Training and Placement , Prof. Dr. Sachin Shendokar – Dean International Relations at RSCOE.
At the outset, Dr P.P Vitkar Campus Director RSCOE opened the session with Brief Overview of Journey of JSPM and RSCOE as he laid the foundation of the institute in 2001. Since then RSCOE grew from 110 students to today more than 4500 students. He reiterated that academic autonomy is an important milestone for RSCOE, which reveals the Confidence JSPM's institutes have garnered over the period of last 20 years from Savitribai Phule Pune University, Students Fraternity and Industry alike. Today JSPM along with another sister group TSSM stands tall with more than 78 institutes catering education from kg to PhD in diverse Higher education fields of Engineering, Pharmacy, Management and Research. Our world class infrastructure coupled with Highly Dedicated and Competent Faculty would prepare students for the future, who would not only strive for academic excellence and be industry ready, but also add value to the quality of life of common people by offering solutions through research based learning. He emphasized that, We are determined to exercise our Academic Autonomy for Designing Curriculum which is Student Centric and provides Project based Hands on Learning.
Speaking on the occasion Dr R.S Joshi Director JSPM said that the we got the formal nod in September last year and we took time to get inputs from current will start the autonomous courses from this academic year . The total intake of students would be 720 across various streams of engineering. With academic autonomy we would aim to give impetus to research based learning . The contemporary curriculum will be designed according the requirements of the industry and Students Aspirations for Global Education, but moving ahead we also want our students to excel in research and find solutions to the common problems faced by people.
Dr R.K Jain Principal RSCOE said that with autonomy RSCOE promises Impactful Pedagogy with Extensive Flexibility with Choice Based Credit Systems (CBCS) , subjects Emphasizing Project Based Experiential Learning doing away with Rote Copy book Learning. There would be better Subject Choices and Electives from Second Year itself to suit to Student Interest, Global Employability Skill Enhancement, Foreign Languages (German, Japanese, English, French) and Personality Development are included with Credits for Online / MOOCs Certification including for GMAT/ CAT/ GRE /GATE / TOEFL /IELTS. There would be four Choice Based Tracks that would be offered for Final Year students including Industry Internship & Project (IIP), Undergraduate Research Experience (URE), Entrepreneurship Development (ED) with Start-Ups and Regular Capstone Project (CP).
Prof. Borde, who is leading Students Progression including Training and Placements convened that, the Biggest advantage of Autonomy for Engineering Students at RSCOE will be alignment of Curriculum with Industry improving employability of graduates. He added that, we are targeting our Long term Industry Alliance with TCS, KPIT, Siemens, Reliance Jio, Flash Electronics, Sigma Electric, Tata Group of Companies including Tata Automation Limited and Reality Automation to coin up Curriculum specific to their Industry needs and to assure Summer Internships of 60 days so as to get Industry ready Graduates. The novel perspective with RSCOE to have alignment with Industry will be involvement of Professional Associations like ISHRAE, IEEE, RSI, BAI, ASME, SAE, CSI, FSAI, MEPA, CII and the likes to Offer Certifications on Practical training Programs which are specific to Latest Industry Needs.
Dr. Shendokar who himself has PhD from USA and has worked with AICTE to formulate QIP-Foreign program added that Collaborations with Foreign Universities for Students and Faculty Exchange is a priority agenda for him as Dean- International Relations. Universities like NCA&TSU, USA, NUS, Singapore, Feng Chia University, Taiwan, RMIT and Flinders, Australia, University of Malaysia, Pahang and other universities from South Korea, Germany, Canada and Japan are in talks to sign MoU with JSPM's RSCOE. The advantage of these Foreign Collaborations for students studying at RSCOE will be they will get to spend one semester at these Universities and their Course Credits will be transferred to RSCOE. Furthermore, this global exposure for students from RSCOE will at very economical terms considering the aspirations of growing middle class in India. With some Universities possibility of Stipend on Merit Basis will also be possible.
Thus JSPM's RSCOE is destined to Deliver the Advantages of Autonomy in 360 degree manner to the Engineering Students.