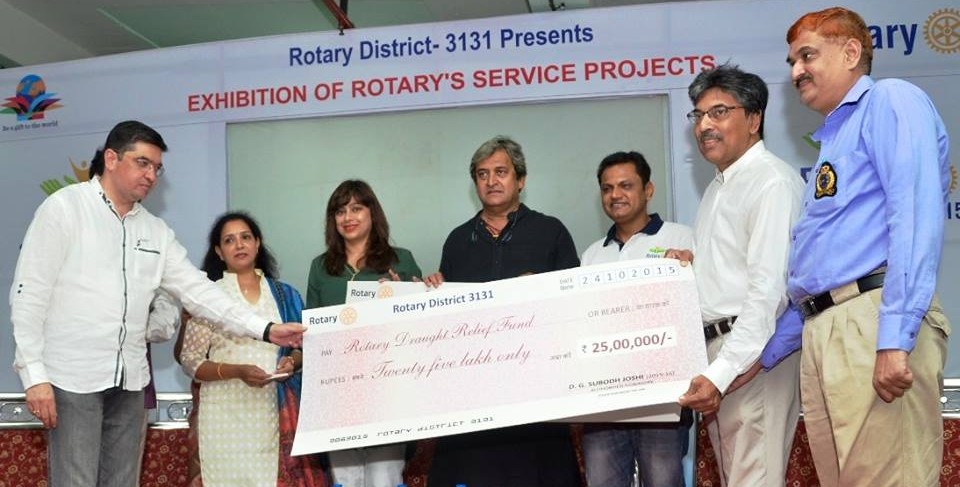 · Both organizations donate Rs.25 Lakhs each for this cause
· Rotary International to adopt a village in Maharashtra
Pune, 24th October : An actor, writer, director, producer, MICTA awards founder and an individual with a social responsibility – Mahesh Manjrekar donated Rs.25 lakhs today to Rotary International for the support of the drought affected farmers in the state. Rotary Club has also contributed Rs.25 lakhs towards this cause. This contribution was made during the inauguration ceremony of a Service Expo 2015 organised by Rotary District 3131 at Ganesh Kala Krida Mandir, Pune.
Marathi International Cinema and Theatre Awards (MICTA) had recently announced an aid of Rs. 1 Crore to drought-hit farmers of Maharashtra. Along with them Rotary Club had also announced to lend a helping hand of Rs 1 Crore to these farmers. The first share of this aid amounting Rs.25 lakhs each (Rs. 50 Lakhs) was donated to Rotary International by both the organisations today. Rotary Club will then adopt villages in drought affected areas to undertake developmental work with the help of these funds.
Dignitaries like Subodh Joshi – District Governor of Rotary District 3131, Abhay Gadgil – District Governor Nominee, Rotary District 3131, Ulhas Kolhatkar – Post District Governor, Rashmi Kulkarni – Director, Public Image, Deepak Wani – Director Service Project, Nikhil Kibe –District Governor, Rotary District 3030, Deepak Pofale – District Governor, Rotary District 3030, Deepa Abhay Gadgil and Medha Manjrekar were present on this occasion.
Speaking on the occasion, Mahesh Manjrekar said, "Drought affected farmers is a serious concern for the state. However support only in the form of donations will not be enough. We must aim towards the integrated village development and thereby making our farmers self dependant. MICTA will now be supporting Rotary in fulfilling this mission. With this first share of Rs.50 lakhs and more to come, Rotary will be adopting villages in drought affected regions of Maharashtra and work for its development as a first step towards this mission."
Rotary District 3131 has organised a Service Expo 2015 to exhibit all the service projects which are undertaken by various Rotary Clubs in the state of Maharashtra. Apart from Rotary's many outstanding projects, the exhibition will showcase NGO's who do good humanitarian work and few consumer stalls. The exhibition will be open for all till 9.00pm on Sunday, 25th October at Ganesh Kala Krida Mandir, Pune.
Follow Punekar News: