RPF Recovers 'Fursat' Cigarettes Worth Rs 6.96 Lakh At Pune Railway Station, 3 Persons Detained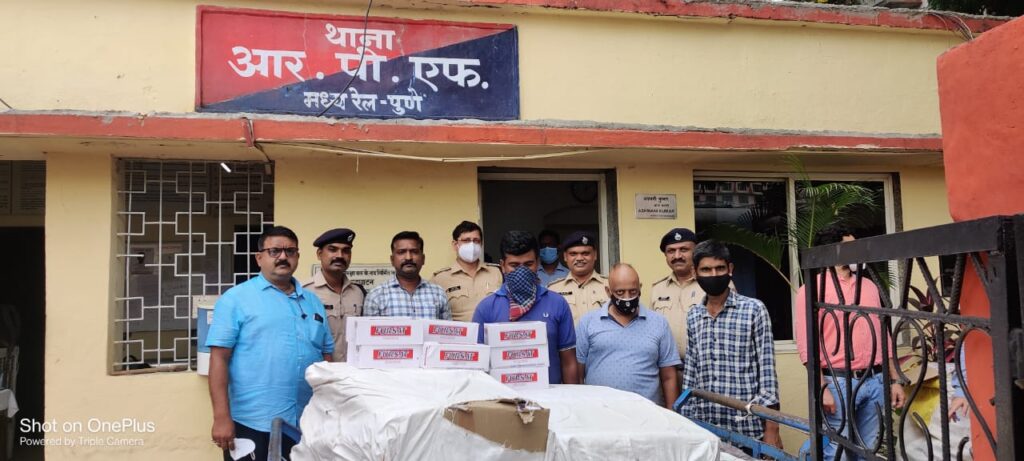 Sumit Singh
Pune, 11th June 2021: Acting on reliable input, officials from the Railway Protection Force (RPF) today nabbed three persons and seized 'Fursat' brand cigarettes worth Rs 6.96 lakh at the Pune railway station.
The accused persons have been identified as Mohammad Saad Shaikh (37), Raja Bakshi Gous Modin Shaikh (37) and Mahendra Sampatla Vedmutha, all residents of Bhavani Peth. The seized cigarettes and accused persons have been handed over to the Central GST team for further investigation.
According to RPF, after getting information about the unloading of some cigarette consignment from train number 02150 (Danapur-Pune Special Train), a team comprising head constable Anil Pawar and constables G V Gaikwad and V R Pansare were instructed to keep watch on the said consignment. The said staff noticed 10 plastic gunny bags being unloaded from the front SLR in suspicious condition with STA-PA marking.
Also Read Now, Pune University To Charge Rs 1,000 Per Month From Morning And Evening Walkers
Around 10 am, Mohammad Saad Shaikh and Raja Bakshi Gous Modin Shaikh approached the Pune parcel office and took the delivery of the said consignment when Inspector S N Reddy and said staff apprehended them.
"During questioning, the duo said the consignment belonged to Vedmutha who was also called to RPF police station Pune. Vedmutha accepted that the consignment belonged to him but failed to produce bills. When the consignment was checked, a total of 24000 packets of cigarettes worth Rs 6,96,000 was found", an officer said.
Also Read Pune: PMC Issues Revised Guidelines; Malls, Coaching Classes To Reopen
Later, RPF handed over the three accused persons and seized cigarettes to Sachin Patil, Superintendant CGST, Pune, for tax saving crime.
Join our WhatsApp Group, Telegram, and Twitter for every update about Pune and PCMC
Follow Punekar News: