Sayaji Pune brings Punjab to Pune with Chak De Phatte – Punjabi Food Festival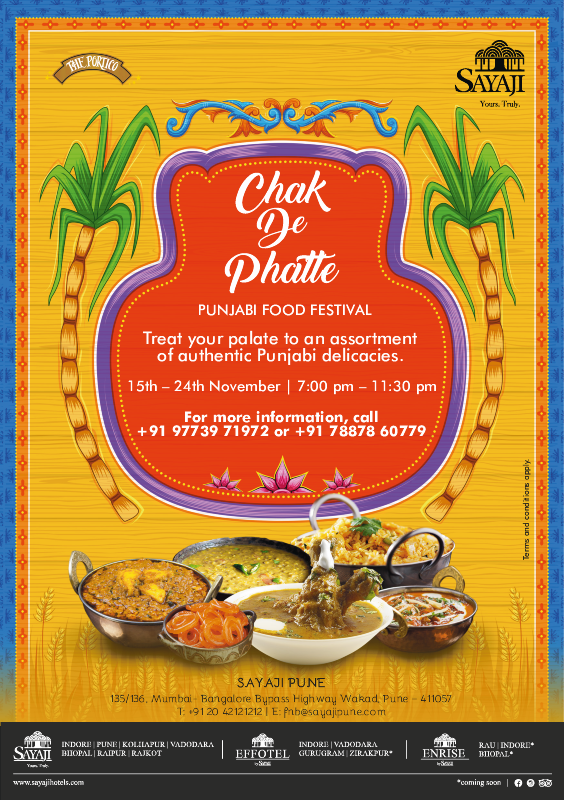 Pune,13 November 2019: Punjabi cuisine is arguably the most popular North Indian cuisine that finds equal acceptance from gastronomes all across the country. With the rich flavours and appetizing aromas from the land of five rivers, Sayaji Pune will take food lovers on a gastronomical journey to gorge on their favourite Punjabi delicacies at their Chak De Phatte – Punjabi Food Festival. Offering a wide variety of both vegetarian and non-vegetarian fare, there is no option but to dig in as the chef has crafted a menu that will offer a culinary experience from the royal kitchens in Punjab.
The 10-day long food festival will serve authentic Punjabi dishes such as Lassi, Sarson da Sag, Makai di Roti, Dal Makhani, Baingan da Bharta, and Butter Chicken and so on. Apart from an array of vegetarian and non-vegetarian dishes, you can end the meal with the likes of Jalebi and Rabdi that will be a lip-smacking feast for all the food connoisseurs. Not only will the ambience be wonderful with various props used to depict the Punjabi theme but the servers will also be dressed in traditional Punjabi attires to give you a small tour of the heartland of Punjab.
So, visit Sayaji Pune and fall in love with the mouth-watering cuisines all the way from Punjab and enjoy a culinary an experience that easily can be described as one of the best of Punjabi fares.
When: November 15, 2019 to November 24, 2019
Where: Sayaji Pune
Timings: 7 PM to 11:30 PM
Price: INR 875 Plus Taxes