Stop illegal activities in Pimpri Chinchwad Police Commissionerate: MLA Anna Bansode writes to Deputy CM Pawar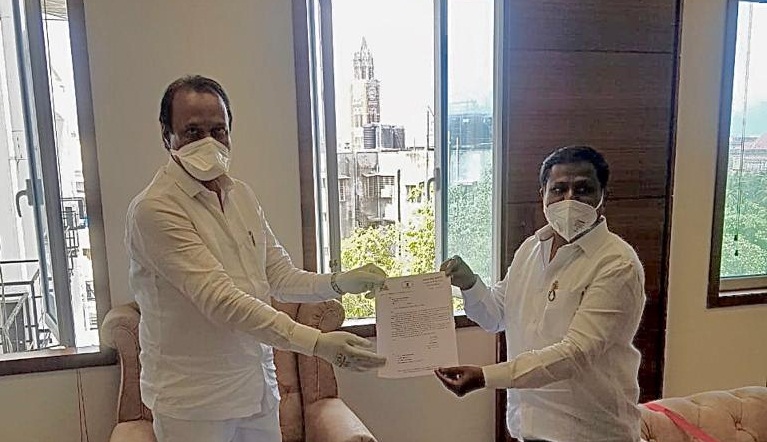 Pimpri-Chinchwad, July 3, 2020: "With the blessings of Pimpri-Chinchwad police, illegal activities are rampant in Pimpri-Chinchwad. In the corners of the city, gambling, prostitution under the name of massage centre, sale of gutkha and illegal liquor, hookah parlour are being run", alleged MLA Anna Bansode. He has submitted a list of such activities to Deputy Chief Minister Ajit Pawar and Director General of Police, Maharashtra State.
"The daily turnover of these illegal trades in the city is in lakhs of rupees and has been on the rise since the Pimpri-Chinchwad Police Commissionerate was started. Since every police station, crime branch is taking large amount of money from these businesses, no action is being taken against them. Money is being looted from the pockets of the hard-working masses as the illegal activities continue through the back door by taking showy action. In the area under the jurisdiction of Pimpri-Chinchwad Police Commissionerate, 60 gambling and 55 spas (half of which are direct prostitution businesses) are being run", Bansode said.
He further said, "There is a Mahavikas Aghadi government in the state and the image of the government in the minds of the people is being tarnished due to some corrupt police officers. Therefore, action needs to be taken against all the officers, who are supporting these illegal trades. The commissioner is instructing the junior officers to 'stop illegal trades' but 'hafta' collection is not stopped. Therefore, action needs to be taken against the inspectors of the police stations where illegal activities like gambling, spa-prostitution are going on. Pimpri-Chinchwad city police force has become a breeding ground for corruption."
MLA Bansode listed gambling dens police station wise which includes eight in Wakad, four in Sangvi, five in Hinjawadi, two in Chikhali, two in Nigdi, two in Chinchwad, seven in Bhosari, four in Dighi, three each in Alandi and Chakan, four each in Mhalunge, Dehuoad and Talegaon Dabhade, two each in Pimpri, Ravet, one in Talegaon MIDC and three in Bhosari MIDC.
"Illegal trade is on the rise in the city and the police are failing to curb crime. The police are busy collecting hafta, which has created a climate of fear among the people," Bansode said in a statement.