Students of 16th batch of MIT School of Government on National Study Tour to Delhi from 8th March till 24th March 2021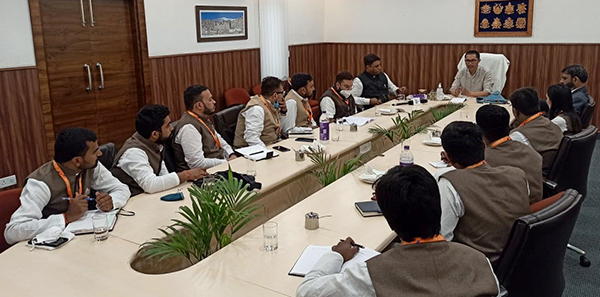 Pune, 9th March 2021: The students of two-year MA in Political Leadership and Government, batch 16 have embarked on their two-week National Study Tour to Delhi from today. The objective of the study tour is to get the exposure of politics and system of government at the ground level. This tour gives them the opportunity to witness first hand proceedings of the parliament, visit offices of the political parties and interact with national level leaders, interact with officials of eminent organizations like – Election Commission of India, Niti Aayog, various Ministries etc.
During today's visit they met –
Kailash Choudhary (Minister of State, Ministry of Agriculture and Farmers Welfare). During his interaction with the students iterated, that – Within two months of losing assembly elections then winning lok sabha elections shows Politics depends on short term and long term factors, identifying and sticking to the long term goals are important. Your Political career should consist of 'Andolan/Revolution' which should be based on the demands of the people and not self-created one. People are able to differentiate between those who have criminal background and those who do not when these fight for peoples' cause. It is imperative to align one's ideology with that of party. One should have an alternative source of income while planning a career in politics. Politics should always be clean devoid of any aberrations, irrespective of whether you are in opposition or in ruling party.
Jayant Choudhury: Vice President, Rashtriya Lok Dal while interacting with MIT-SOG students said – Barriers to entry are too many for youth in Politics, understand them properly. There's an urgent need for an ideological think-tanks in India, so that proper deliberations on law making and policies can happen in the country. Lobbying as an exercise should be promoted in India. Youth should have varied skills, especially communication skills. Leadership requires capacity of 'Wearing various Hats'. There are requirements for team work in politics – for logistics, Funding, a niche team to get the things done. Political leader needs to be strong headed and a daredevil in politics, not to get demoralise with losses in electoral politics. Nurture and maintain relationships in the meantime.
Jamyang Tsering Namgyal – Hon. Member of Parliament, Lok Sabha (Ladakh, BJP) during his interaction spoke on understanding the gap between Theoretical vs Practical aspects of Politics as it is one of the toughest careers having  no defined career path and  principle of impermanence dominates here. In politics remember to keep equilibrium between ground work and the higher positions you get. It is important to give people the dignity of lives. Patience and Continuity is key to long lasting career in politics. Always carry on good deeds, it helps in long run. Character and Integrity are crucial in Politics. As a Politician it is imperative to have knowledge on diverse subjects. Spiritualism is an important quotient for having continuity in Politics.
Som Prakash – Hon. Minster of State for Commerce and Industry during interaction with students said – there has been an erosion of democratic values in last few decades in India. It is now up to the youth in Politics to correct it. Parliamentary disruptions, protest in the well of the House, Violence in Elections, Corrupt system in Elections have led to erosion of democracy. Increased role of State/Regional Political parties have sometimes led to dominance of state/regional issues over national issues. To be successful and sustainable in politics, human values are more important than any other. He told students to become the problem solver for the people and study the contribution of senior Leaders of the country, understand their thinking behind upholding of different important values.