Successful entrepreneurs must come forward to contribute for development of Northeast India- Padmanabha Acharya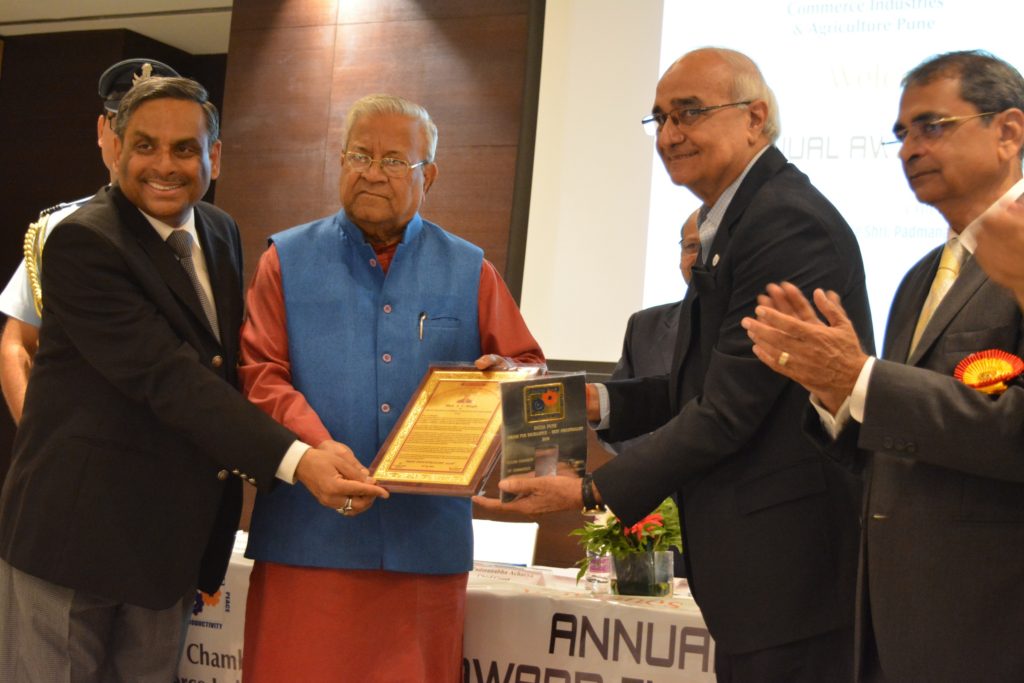 Pune, September 28, 2018: "It is necessary to change the mindset of the other people of the country to look at the northeast India. Successful entrepreneurs should take the lead in providing opportunity to the northeast Indians who are waiting for the opportunity," expressed Padmanabha Acharya, Governor of Nagaland during an event held in the city.
Under the leadership of Prime Minister Narendra Modi, many things are changing in the northeast India and its moving towards development. Entrepreneurs must come to northeast in the spirit of atonement and not with commercial motto to help the development, appealed Acharya while talking at 17th Annual Award Function 2018 of Deccan Chamber of Commerce Industries and Agriculture' (DCCIA), Pune organised recently.
Acharya conferred upon "DCCIA Lifetime Achievement Award' to Om Prakash Agarwal, Chairman, Prakash corrugated Ltd and "DCCIA Award for Excellence – Best Industrialist 2018" to L.C. Singh, Executive Vice Chairman, Nihilent Technologies.  Earlier Prakash Dhoka, Chairman DCCIA and H.P Srivastava, Vice Chairman DCCIA in their joint address highlighted the journey of Chamber during last 25 years and shared their vision for coming years.
On this occasion DCCIA Awards were also conferred on John Deere India Pvt Ltd for 'Best Human Resource Practices' and to Foseco India Ltd for 'Best Security Practice'.
Acharya further stated, "People who make wealth by making spectacular progress in the industrial field should be proud of themselves. But we should not forget that we have to also give back something our country. Northeast India is rich in natural resources and also has good universities. The industrialists should set up their own branches of industries in the North-Eastern states and also help northeast Indian students to pursue education."
Deccan Chamber of Commerce Industries & Agriculture (DCCIA), formerly known as Nagar Road Industries Chamber of Commerce and Agriculture (NRICCA) is a prominent Chamber of Commerce of Pune, which is entering in its 25th year and is having a membership of about 170 organisations which is mainly dominated by Manufacturing Sector. The Annual Award function of Chamber is aimed at recognising the outstanding achievers as well for presenting role model to the society.