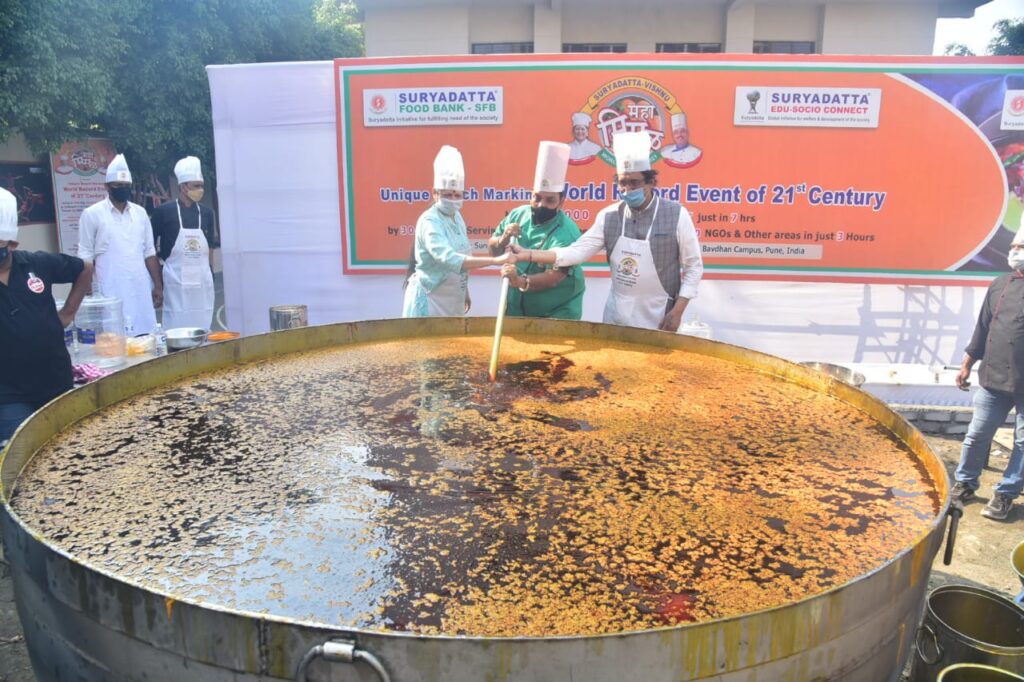 Pune, 14th March 2021: Suryadatta Food Bank & Suryadatta College of Hotel Management & Travel Tourism (SCHMTT) has set a world record through 'Suryadatta – Vishnu MahaMisal' by making 7000 kgs MahaMisal in 3 hours by 30 people. It was distributed to 30,000 needy, deserving people with the help of 300 NGOs from Pune and surrounding areas. This world record MahaMisal was prepared at an event today at Suryadatta Institute's Bavdhan campus.
This event breaks all previous records of making in such a large quantity of Misal, that too during Covid–19 Pandemic by following all necessary rules strictly on the receipt of official & legal permissions from all concerned Govt. Authorities. This was Suryadatta Edu Socio Connect Initiative of preparing 7000 Kgs of MahaMisal by 30 Students, Faculties from Suryadatta College Hotel Management under the guidance of World Famous Chef Vishnu Manohar in 7 hours & the same served to 30000 people belonging to 300 NGOs in just 3 hours.
Misal is a Maharashtrian wholesome meal in itself containing legumes & pulses, the same is generally consumed along with Bread. In this 7000 kgs missal, 1500 kgs sprouted matki, 500 kgs onion, 400 kgs oil, 250 Kgs Ginger and Garlic pest, 180 Kgs Kanda Lasoon Masala, 50 Kgs Chilli Powder, 50 Kgs Turmeric Powder, 25 Kgs Salt, 115 Kgs Coconut powder, 15 Kg Tejpan, 1200 Kgs Farsan, 4500 Liter of water, 50 Kgs Coriander leaves used.
'Suryadatta–Vishnu MahaMisal' created awareness about Misal as a wholesome meal & served as food for over 30000 NGO members. Students and Faculty of all the institutes got hand on experience through this event. Such a challenging time gives a lot of exposure to them. They learn how to manage large scale events in short time as well as short manpower, stated by Prof. Dr. Sanjay B. Chordiya, Founder President & Chairman, Suryadatta Group of Institutes. He further added, "It helped to give the knowledge & memorable experience for Students, Faculties & all the participants witnessed this event virtually." He appreciated the efforts taken for organising this event by all students & faculties of Suryadatta Group of Institutes.
"The biggest paratha, 5,000 kg of khichdi, 4,000 kg of Baingan Bharta, the largest kebab have been set by many world records. Thousands of people throng each world record, but this time only 25-30 people set the world record due to the corona pandemic. It feels like a different experience to follow the rules of corona in the absence of people, "said master chef Vishnu Manohar.
Suryadatta College of Hospitality Management and Travel Tourism, Suryadatta Institute of Fashion Design, Suryadatta Institute of Business Management and Technology, Suryadatta Institute of Management and Mass Communication and other institutes students and staff contributed a lot to the success of the event. Chef Vishnu Manohar, Prof Dr Sanjay Chordia, Sushma Chordia, Siddhant Chordia, Prof. Shailesh Kulkarni, Sachin Itkar, Prof. Sunil Dhadiwal, Prof. Pratiksha Wable, Prof. Shefali Joshi, Sameera Naik, Prof. Ajit Shinde, Nayana Godambe, Prof. Mandar Diwane and many others were present.
Guinness World Records, Guinness Book of World Records, Limca Book of World Records, Golden Book of World Records, Hirens Book of World Records, India Book of Records, Marvelous Book of Records, Fantastic Achievement and Records, Fab Star Book of Records, India Star World Record, Republic World Record, Uttar Pradesh World Record, UK World Record, Women's World Record, Hope International Record, Wow World Record, Forever Star World Record, Assam Book of Record, Bengal Book of Record, Wake Global Book of Record, Wake Book of Record International, The Tribune International World Record, Razors Record, Pondicherry Book of Record, Dream High India Record, Dream High World Record, Gujarat Book of Record, Hind Book of Record, Indian Talent Book of Records will be used to record this world record.