Pune, September 21, 2020: The team from Pune Institute of Computer Technology (PICT) consisting of Tanmay Jain (20) and Krisha Bhambani (19), third-year B.E. (Computer Engineering) students was announced the runner up team in the global category for their solution CoVidSpy, at the Better Health Hackathon: #CodeForCovid19, winning a prize amount of USD 10,000. 
The international event which concluded on the 28th of August with its grand finale was organized by HCL technologies in collaboration with Microsoft. The team's solution stood second-best among solutions from more than 200 teams and more than 7,500 participants from 50+ countries. The CoVidSpy is an AI-enabled, computer vision-based pandemic management system developed by PICT students Tanmay Jain and Krisha Bhambani. These students are mentored by Dr Kavita A. Sultanpure and provided all support and encouragement by the Management & Director of Pune Institute of Computer Technology,
The event was a platform to engage a global community of talented, purpose-driven and passionate tech innovators and developers – harnessing their creativity, digital skills and entrepreneurial spirit to inspire solutions that address immediate concerns and long-term global challenges to better prepare for current and potential pandemic-related problems.
The event that kicked off in the second week of June was a 12-week long affair, wherein the teams had to go through multiple rounds to qualify for the finals. They were given nearly 3 months to come up with a solution aligning with one of the tracks of the hackathon. The various tracks included "Prevention & containment", "Diagnosis, treatment & therapeutic management", "Recovery and return to normal", "Systemic solutions for crisis & pandemic management". The PICT team chose the "recovery and return to normal" track for their solution. The track mainly focused on how technology can safeguard communities that will return to workplaces, mass transit systems, public spaces, dining & retail outlets as well as gradually into sports arenas, cinemas, theatres and concerts.
The judging and advisory panel for the hackathon included academicians and influencers from institutions such as Johns Hopkins, Cambridge University, Tuck School of Business, International SOS and subject matter experts & thought leaders from Merck's and co., Johnson & Johnson, Novartis, Blue Cross Blue Shield North Carolina, and more industry leaders from the Life sciences and healthcare, joined by technology disruptors from HCL and Microsoft.
The team's solution along with all the other solutions was judged on the criteria such as innovation, technical execution, and relevance to Covid-19. For the first round, along with the other teams, the team had to submit a functional prototype, a video presentation with recorded demonstration, a PowerPoint presentation, and pictures of their solution –CoVidSpy. After which they were declared one of the top 32 teams to qualify for the preliminary-final round. In this round, the team had the opportunity to deliver a tele-pitch of their solution followed by a one-on-one question and answer session with a panel of eight judges. After successfully clearing this, the team qualified for the grand finale and were declared one of the top 8 teams internationally. The team thereafter went on to compete with seven others which included a team of students from Stanford University and other teams with most participants holding PhDs and postgraduate degrees in their respective fields. Tanmay and Krisha were two of the youngest finalists. The Grand Finale included tele pitches by all 8 teams and was streamed live on multiple platforms like Facebook, LinkedIn and YouTube. At the end of the finale, the team was honored with the runner up prize in the global category by the CEO of HCL Technologies, C. Vijayakumar, and the Global Head of HCL technologies, Arthur Filip.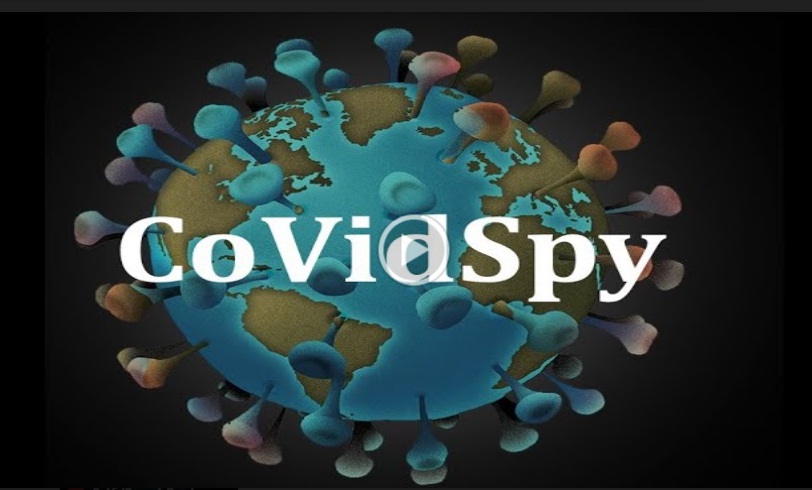 Why the name CoVidSpy?
This is just a play on words. "Co" because CoVidSpy encourages the cooperation of people to fight the Covid-19 pandemic. "Vid" because it is primarily a video-based management system. CoVidSpy because we will essentially be "spying" on the Covid-19 virus to ensure members of a community aren't affected by it.
The team's inspiration behind Project CoVidSpy:
People spent months in self-isolation to limit the spread of the pandemic, the community began to grow restless, which resulted in an inevitable attempt to get back to "normal". With this, establishments and public places were again opened up to the public.
These organisations took measures to ensure that rules to reduce the risk of infection like social distancing and mask-wearing, were being followed.
As of now, a human element is required to enforce these rules. This puts the essential workers at risk, and hence also increases the risk of infection for the people interacting with them. Human error is of course there due to which several violations may even go unattended.
The 4 main modules of our project:
1) Fever detection
2) Mask detection
3) Social distancing Violation detection
4) Dividing a room into zones to detect areas where social distancing violations are taking place, referred to as zoning
What is CoVidSpy?
CoVidSpy is a comprehensive management system to monitor people who face a higher risk of infection and also alert others about a higher risk of infection at a particular time in an area.
The primary use case of this project is safety norm enforcement in public organisations and institutions like offices, malls, colleges and so on.
CovidSpy first and foremost evaluates whether a patron or an office worker is already infected, using computer-vision based temperature estimation to determine whether or not a person has a fever, with an infrared camera.
CoVidSpy uses an object detection algorithm to identify faces with and without masks, as well as whole people.
At the entrance, it will also be checked whether a person is wearing a mask or not. If the person seems to have a normal temperature and is wearing a mask, he/she will be allowed entry into the organization.
Once a person enters the organisation, he or she will be under surveillance at all times.
CoVidSpy attempts to ease the efforts in enforcement of safety norms like mask-wearing and social distancing within the organisation. Each person's position is evaluated with respect to another person's position to determine whether or not they're maintaining the recommended social distance. The recommended social distance can be configured according to local community guidelines.
Our zoning module facilitates this ease in efforts of detection in violations so that it can be easily evaluated where these violations are taking place at a given time. There is the flexibility offered so that any number of zones can be configured in any shape or direction. If there is a social distancing violation being detected in a zone, zone alert lights are triggered, which are a visual indication to alert people that they are not maintaining the recommended social distance at a given time.
These zone wise violations are relayed to the authorities with a timestamp, using an admin web page we have created. The logs of occurring violations, that include the number of violations per zone at a given time, the total number of people in an area, etc, are also stored in a database and are accessible using the admin webpage. This webpage also consists of analytical tools such as graphs for zone-wise, as well as time-wise recording of violations.
This feature would be useful in say a mall where a particular store sees crowding at a particular point in time. The number of people allowed in that area can be limited by the authorities.
People walking in areas, even with the intention to maintain proper social distance sometimes forget, or are unaware of its violation. Hence, a visual indication using a lamp will be provided so that people can take measures to distance themselves from others.
Essentially, CoVidSpy is a fully compiled frontend and backend system that has immense potential for usage in all corners of pandemic-affected countries.
The Future of CoVidSpy
There is immense scope for scalability of this project, since the fps for video processing here is quite high, and the accuracy reaches upto 95%. The team is proud of the fact that they have been able to come up with a solution that can be used in both: large establishments, with multiple cameras, and high computational power, as well as smaller organisations, with few resources.
PROJECT LINKS:
● HCL Project Page link: https://hclbetterhealth-platform.bemyapp.com/#/projects/5f346b18e29f37001b836526
● HCL Finals Live Stream link:
https://www.youtube.com/watch?v=lzD97msii_g&feature=youtu.be&t=50m40s
● Video-description of Project CoVidSpy:
https://www.youtube.com/watch?v=53fDd14n36Q&t=1s