"There Must Be Some Conspiracy, No One Tried To Save Him," says Kashmiri Pandit Rahul Bhatt's Wife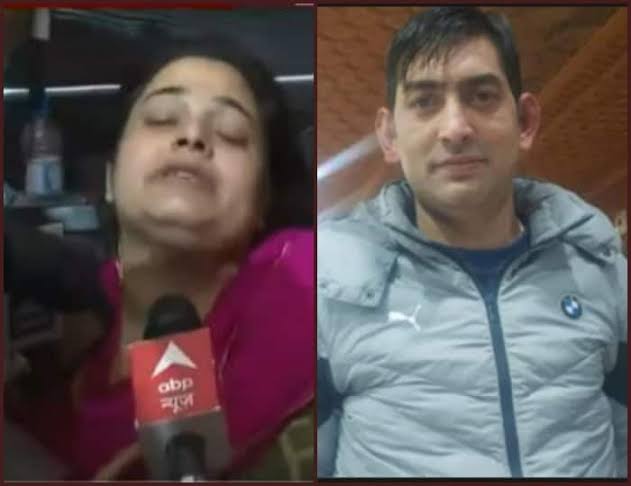 Kashmir, 13th May 2022: Terrorists assassinated Kashmiri Pandit Rahul Bhat inside the Tehsildar's office in central Kashmir's Budgam district, reigniting wrath in the Valley. Rahul Bhat's wife is in poor health.
She claimed that the terrorists had to have inquired about him since how else would they have known. Rahul Bhat has no grudges against anyone. His assassination was the result of a massive plot.
Before killing Rahul Bhat, the terrorists took information from certain persons in his office, according Indian news agency ANI.
Rahul Bhat, according to his wife, used to declare that everyone treats him nicely and that no one can harm him. Why therefore, did no one try to save him?
"They (terrorists) must have inquired about him," she continued, "or else how would they know who Rahul Bhat is?" The Kashmir Tigers have claimed responsibility for the death of Rahul Bhat, a suspected member of Jaish-e-Mohammed.
Significantly, many in the Valley are upset following the assassination of Kashmiri Pandit Rahul Bhat on May 12. On Thursday, Kashmiri Pandits blocked the Jammu-Srinagar route, and on Friday, they rallied against the administration. During this time, police officers and protesters clashed. To disperse the gathering, authorities resorted to employ lathi charges and tear gas.
The body of Rahul Bhat arrived at his house earlier in the day, and the last rites were performed in front of hundreds of Kashmiri Pandits, including his family. Concerns have been made about the safety of Kashmiri Pandits living in the Valley as a result of the occurrence. Members of the community, notably Rahul Bhat's family, have charged the BJP-led federal government for failing to provide proper security.
Bitta Ji Bhat, Rahul's father and a retired police officer, urged a high-level investigation into how the killers broke into a government building and committed the crime. "The killers of my son should be brought to justice," he stated.