This Sunday, Pune witnessed 2,000 runners on the road to raise awareness on organ donation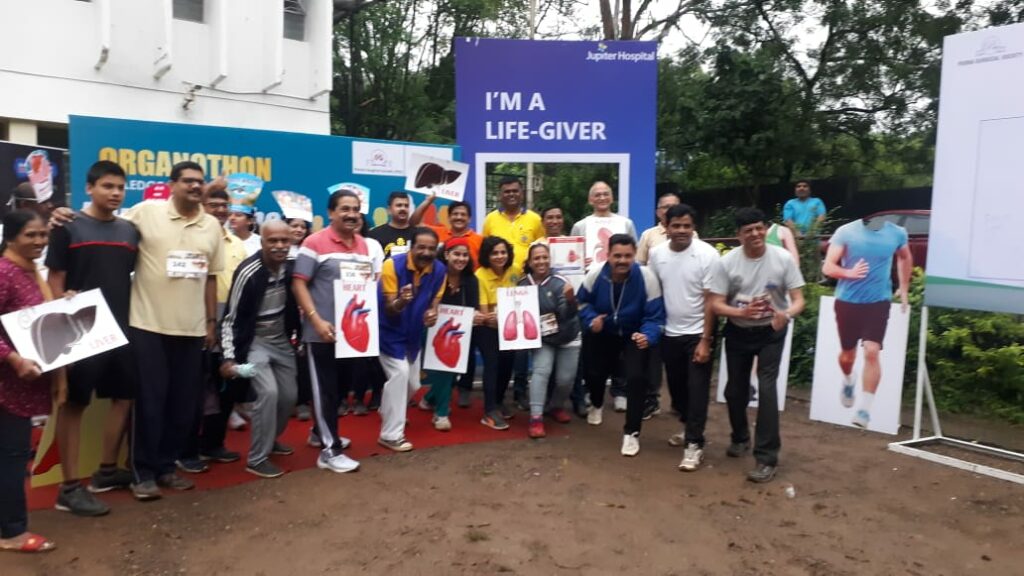 21 October 2019, Pune- Poona Surgical Society & Pune Running organized ORGANOTHON – A Run to Save a Life: Be an Organ Donor, in an association with Jupiter Hospital to raise awareness of organ donation. A large number of people took part in a marathon.
The run took place on October 20, 2019, and saw impressive response from more than 2000 runners from across Maharashtra including Kolhapur, Satara. Around 150 members from Jupiter Hospital, including doctors, surgeons, organ transplant donors and patients participated in the Dream Run which gave out messages on the importance of organ donation.
Starting from the least The 3km category route of marathon started from Darode Jog School then MMF Ratna Memorial Hospital going through Regional Passport office and finished at BMCC Road. The 5 km route started from Darode Jog School then MSBTE Head Office Covering Dr. Babasaheb Ambedkar library and finished at Kamla Nehru Park. Another Route of 10km Started from Darode Jog School then Marido Colony Going through Chaturshrungi Temple Then MSBTE Office then Parimal Garden And Finished At Kamla Nehru Park. The last route of 21km started from Darode Jog School then Lantana Garden Covering Armament Research And Development And finished At Kamla Nehru Park.
Dr. Ajay Thakker, Chairman and Managing Director of Jupiter Hospital said, "Runners have experienced a very immersive and unprecedented experience with patients and doctors. For the first time in Pune such an event was organized by Jupiter Hospital & gave people the message of donating organs breaking the myths and fear which generally people have in their mind about organ donation. And the run was more unique as recipient-donor pair ran together and demonstrated how a transplant can save a life and also fulfilled noble deed for the donor."
"Organ donation is the need of the hour. Currently around 300-350 liver transplants are being done in Maharashtra every year. Around 70 to 80 of these are deceased donor transplants. Around 600 to 700 patients await liver transplants in Maharashtra every year. There is presently a huge gap between the number of organ donations and the number of transplants required. Twenty percent of patients die awaiting a transplant. The situation is improving with increasing awareness amongst the population and the medical fraternity and we hope that this gap narrows down soon. Said Dr. Gaurav Chaubal- Chief Transplant Surgeon, Jupiter Hospital.
An organ donor who ran the marathon said "People who are willing to accept an organ should be willing to donate too. I am glad I could be of some help to my family member and save a life. Every person should know that this noble deed will only do more good and less harm to the donor".
A kidney transplant recipient said, "We are here to spread awareness on organ donation. Transplants can save or transform the life of a person.  Until I want through it myself, we were unaware that the organ and tissues of a donor can help transform the lives of more than 10 people. We are thankful that I got a new lease of life. Through this run I want to motivate other people who are suffering, and give them a hope through the option of organ donation."
Dr. S. S. Bhalerao, Dr. Gaurav Chaubal, Dr. Aditya Nanavati, Dr. S S Bhalerao , Dr. Pavan Hanchanale , Dr. Shailesh Kakade, Dr. Apurv Deshpande , Dr. Vaishali Solov The whole team of organ transplant at Jupiter Hospital participated In The Marathon.